Sensing Solutions

To comply with the current requirements of different markets, Epson has developed a number of different motion sensors and sensor systems. In this category Epson combines long-term experience in the production of crystal products with its own expertise in ultra-low-power microcontrollers. Thanks to the synergy of these two product groups, Epson offers perfectly matched complete systems.
Inertial Measurement Unit (IMU)
The proprietary QMEMS technology has enabled Epson to develop a range of high precision inertial measurement units (IMUs) with a unique combination of high precision, small size and low power consumption. This enables our customers to use those IMU's in many industrial applications, existing products are either too expensive or do not have the required accuracy and stability.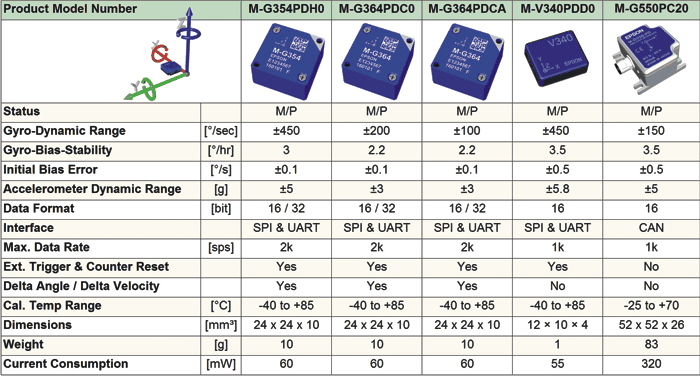 Due to its own good bias stability, IMUs are suitable for many industrial applications in motion analysis, in the field of navigation in which a GPS solution is not the appropriate (e.g. drilling) and also as a measuring system for position controls with increased stability and accuracy. Thus, the Epson IMU clearly stand out from the strongly drifting products of other manufacturers, which were designed for use in mobile phones.
Suitable applications for Epson IMUs:
Motion analysis & control
Indoor and outdoor Navigation systems
Vibration control and stabilization
Precise position tracking
High-precision measuring instruments
Unmanned vehicle control and tracking
Camera stabilization and vibration suppression
Borehole trajectory measurement
---
More Sensing Products on demand