Events
Click and connect in a sec with the mikroBus™ TINY BLE Click board
Thu, Jan 21, 2021 2:00 PM – 3:00 PM CET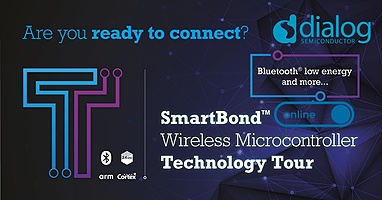 MikroElektronika mikroBUS click boards are plug-in play solutions designed to revolutionize the way users add new functionality to development boards. The user can push a click board into the innovative new mikroBUS socket and use it with zero hardware configuration. Categories of mikroBUS adapter click boards include wireless connectivity modules, wired communication modules, sensor modules, display modules, interface modules, and miscellaneous modules and accessories.
The TINY BLE Click is a Click board™ compatible Bluetooth Low Energy solution – featuring the SmartBond DA14531 BLE 5.1 module. This enables a user to quickly develop simple stand alone BLE applications or add-on BLE data pipe to an MCU. The BLE TINY Click is pre-programmed and supported by a simple to use SDK from Dialog along with a number of useful software examples including an AT-Command based solution requiring little or no code development.
It's also supported by MicroElektronika's mikroSDK, which includes functions that simplify software development.
During this webinar we're going to
Highlight the mikoBUS and DA14531 Module – what is it?

Show some SW and HW examples of what you can do with it.

Demonstrate how simple it is to start prototyping, using the TINY BLE Click board™
The webinar will be hosted by our technical team, and will be supported by live chat Q&A throughout.
https://register.gotowebinar.com/register/8613833986540702477
---
Ultra Low Power Wifi : A smart home alternative to Zigbee & Z-Wave
Thu Feb 4, 2021 10:00 AM – 11:00 AM CET
Thu Feb 4, 2021 6:00 PM – 7:00 PM CET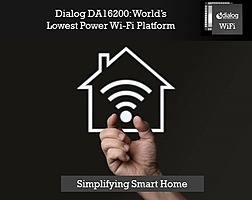 The promise of the smart home was to make things simple for you. It was supposed to cook your food, do your groceries, clean itself automatically, and gently wake you up by parting the curtains. But the reality is far from that.
In this session, our experts will discuss what went wrong with the vision of Smart Home? What are the key barriers to adoption for smart homes? And how does Dialog's ultra-low power Wi-Fi technology address some of these issues?
In this webinar, we will discuss:
The promise of smart home

Why the smart home is not smart YET?

How can ultra-low power Wi-Fi simplify smart home

Introduction to DA16200 & its applications

Beyond DA16200 & the future
The team will be available online throughout and afterwards to answer any questions live.
https://register.gotowebinar.com/rt/4359859784415163664
---

Technical Training for Embedded Control Engineers
Technical training courses on embedded control topics available 24×7.
In addition, special educational events will be offered throughout the year.
On-Demand Courses
Superior learning for Microchip clients has been delivered over the last 23 years at our annual users conference for a fee of $1,995.
Courses are now being offered online for free at this time.
On-Demand courses will be added each month.
Recorded Webcasts
The following webcasts were recorded from live sessions and can be accessed by clicking on them.
https://secure.microchip.com/mu