USB

USB HUB controller for Automotive
S2R72A54
Specially developded for on-board devices, the S2R72A54 is a USB HUB controller LSI which can be used under the highest operating temperature in the industry from -40℃ to +105℃.
The greatest feature of this product is that stable communication can be performed even in sever environments where there are excessively long cables,many junctions and etc.
Furthermore, the S2R72A54 also supports low power consumption designs and on-board quality.
On-board Quality
Features
Low Voltage Operation
Small Size Package
QFP48-pin 7mm x 7mm, QFN36-pin 6mm x 6mm, QFN36-pin 6mm x 6mm Wettable
Extensive Operating Temperature Range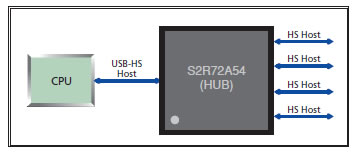 ---
S2R72A4x series
Abundant Product Groups
S2R72A42:Down stream port ×2(HS×2)
S2R72A43:Down stream port ×3(HS×2, FS×1)
S2R72A44:Down stream port ×4(HS×2, FS×2)
---
Re-Synchronization IC
S2R72A11
S2R72A11 is the Re-Synchronization IC which re-synchronizes the HS packet of USB 2.0 (Universal Serial Bus Specification Revision 2.0).
Stable longer connection using various USB applications, such as car navigation / car display audio to the smart phone / portable audio player.
S2R72A11 is complying with the automotive level grade quality and support the max temperature range up to 105℃.
On-board Quality
Excellent data communication characteristics (HS 480Mbps)
HS transmission: Transmission waveform with low jitter - Support HS transmission current control
-Support HS transmission current control
HS reception: Very high reception tolerance
Automatic USB line monitor and control function
HS communication: Re-synchronize with HS Synchronizer
Except for HS communication: Passes through with analog switch
Small Size Package
QFN32-pin 5mm x 5mm Wettable
Extensive Operating Temperatrue Range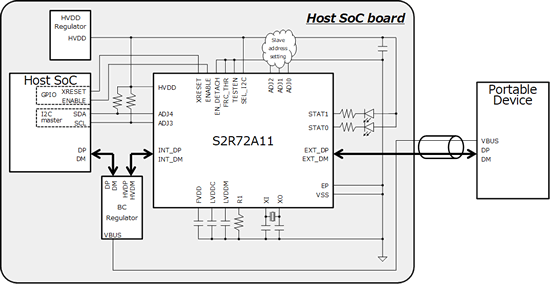 ---
USB bus switch ICs

The bus switch IC from Epson, who produced excellent result in USB controller.This USB bus switch ICs supports USB 2.0 high-speed transmission by reduced switch pin capacitance. This product features the low power consumption and compact package.
USB bus switch ICs spec table

Main specifications
Status
Manual
Data sheet
Products
Input voltage range
Operational power
consumption
ON resistance
Pin capacity
Package
MP
S1F77310M0A
3.0V to 3.6V
14µA (Max.)
5.3Ω (Typ.)
1.7pF (Typ.)
PLP-8pin
MP
S1F77330B0A
3.0V to 3.6V
14µA (Max.)
6.0Ω (Typ.)
D-system: 2.7pF (Typ.)
D*-system: 1.45pF (Typ.)
WCSP-10pin
MP
-
-
S1F77330M0A
3.0V to 3.6V
14µA (Max.)
6.0Ω (Typ.)
D-system: 2.7pF (Typ.)
D*-system: 1.45pF (Typ.)
PLP-10pin
Note) D-system: DX, DY D*-system: D1X, D1Y, D2X, D2Y
Characteristic examples of USB 2.0 Eye-Pattern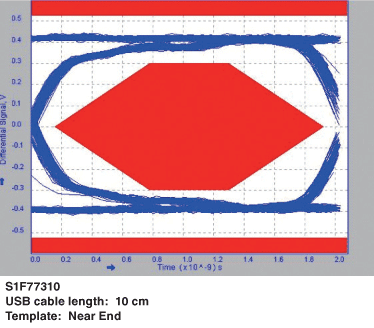 Block diagram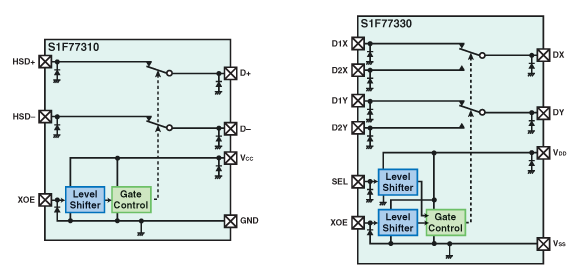 ---
USB
Epson USB, ATA controllers (Interface ICs) will be continuously supplied to the customers, however the technical support from Epson will be finished by March 31, 2010.
For more information, please contact us.