Novosense – MEMS Pressure Sensors & Signal Conditioning ICs!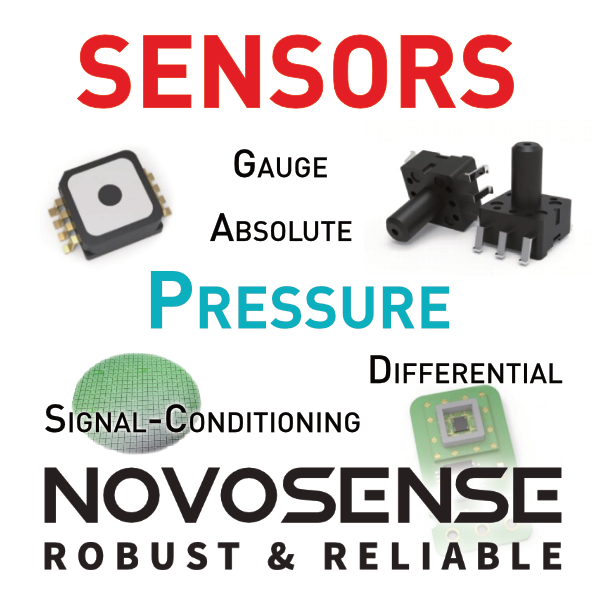 Novosense offers MEMS pressure sensor elements & sensors as well as signal conditioning ICs. In general pressure sensors can be classified by their measurement modes and measurement ranges.
MEMS pressure sensors from Novosense are available with the following measurement modes:
Gauge: measuring pressure relative to the local atmospheric pressure
Differential: measuring pressure relative to the difference between two points
Absolute: measuring pressure relative to a reference of zero pressure, close to vacuum
Their measurement range is low (+/- 1kpa) to mid pressure (<500kpa) which is typical for this type of sensors. Let's dive into them in more detail!
These sensors adopt high-performance signal conditioning circuits to calibrate and compensate for the temperature and pressure of the MEMS sensing unit. Novosense offers the following parts sorted by measurement mode:
MEMS Absolute Pressure Sensing Solutions
In this sub family Novosense is offering sensor elements but also ready to use sensors
The NSP1632, NSP1631, and NSP1630 sensor elements are automotive-qualified and available as MEMS wafers or dies on tape. These high-performance and highly reliable sensor elements offer analog voltage output. They are designed to operate within temperature ranges from -40ºC up to 150ºC and provide pressure measurement ranges of up to 500kPa, depending on the specific type.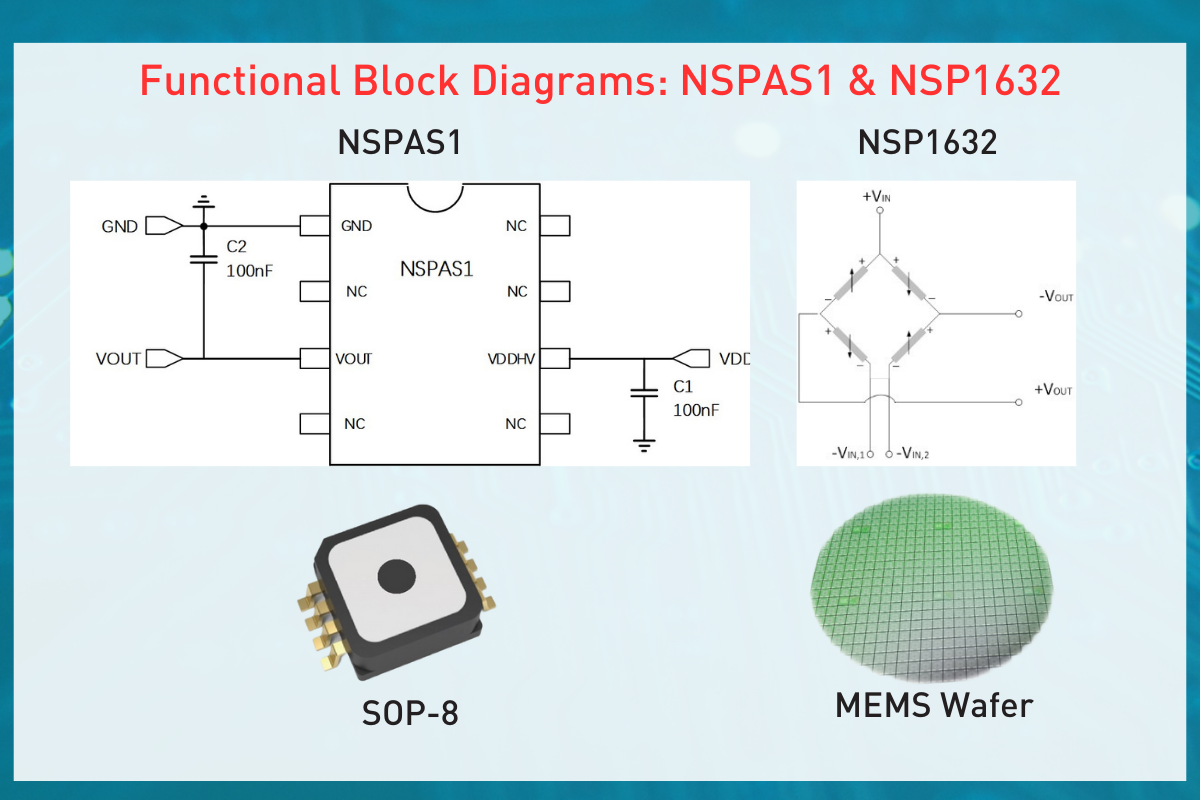 The NSPAS1 and NSPAS3 series are sensors come in SOP-8 packages and are automotive qualified too. These sensors offer high accuracy (better than ±1%F.S. in the range of – 0℃~85℃ and better than ±1.5%F.S. in the range of -40℃~125℃). They have a fast response time of less than 0.8ms and support absolute output/ratio-metric voltage output, with customizable output range. Additionally, they come with features such as disconnection detection, output clamping and output alarm function. In addition, other advantages like a customizable measurement range are available.
Typical applications:
Automotive: motorcycle three-in-one sensor, vehicle TMAP intake pressure detection, BPS battery pack thermal runaway pressure detection, EGR-TMAP exhaust gas recirculation pressure detection, EV/HEV vacuum boosting system sensor, canister desorption pressure detection, VBS vacuum assist sensor, ECU/VCU atmospheric pressure detection, seat air bag pressure detection.
Industrial: pressure transmitter, industrial vacuum degree testing, etc.
MEMS Gauge Pressure Sensors:
These series include calibrated gauge pressure sensors suitable for household appliances and healthcare. They come in air nozzle packages, easy to install and seal.
The NSPGD1 integrated sensor has an optional pressure range from -10kPa to 10kPa and is available in a DIP-8 package. It is well-suited for non-contact liquid level detection and offers various output options, supporting analog output, I2C digital output and unique frequency output. Additionally, it operates within the temperature range of 0℃ to 70℃.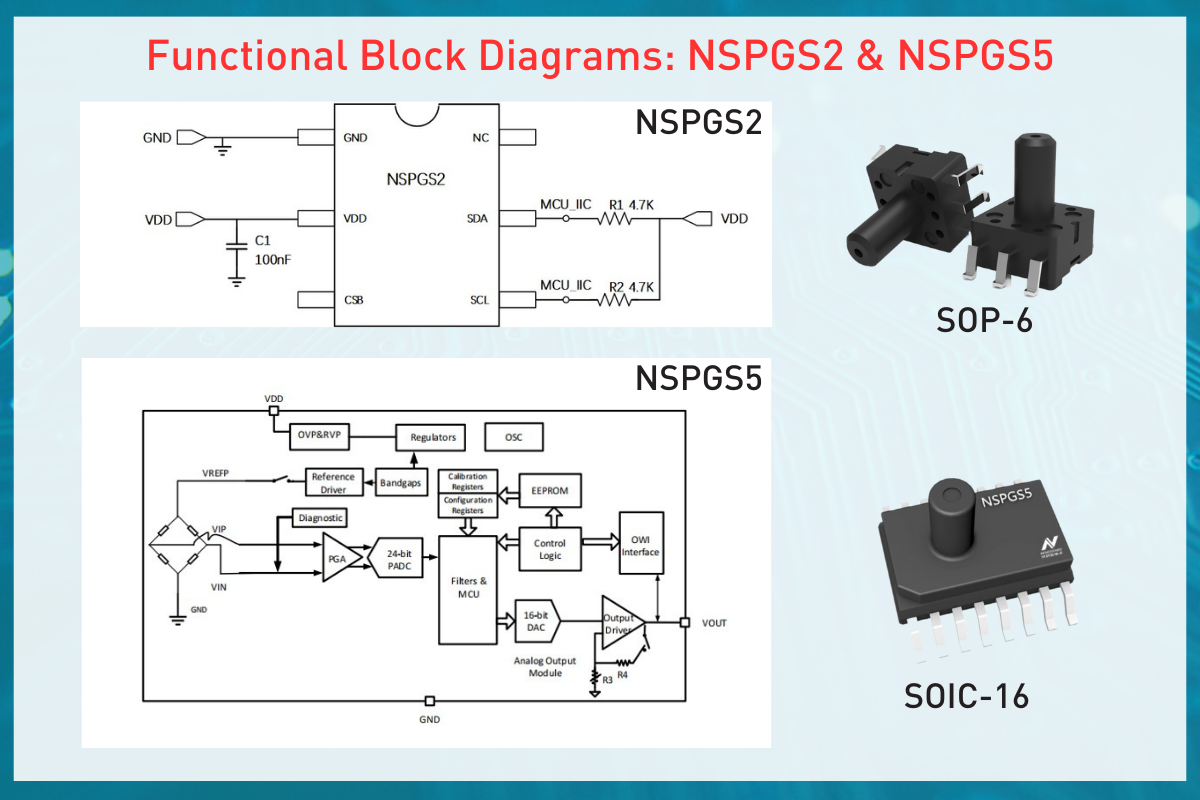 The NSPGS2 integrated sensor offers an optional pressure range from -100kPa to 250kPa and is available in a SOP-6 package. It is suitable for pressure detection of non-corrosive gases and is compatible with the structural materials of pressure-sensitive components. The sensor operating temperature range is -40℃ to 70℃.
The NSPGS5 utilizes a CMOS mixed signal conditioning chip to amplify, calibrate and compensate the output from the MEMS die. This enables the sensor to convert pressure signals from -10kPa to +10kPa into both analog signals, with a customizable output range of 0-5V, or to a digital I2C output. It is available in a SOIC-16 package and operates within a wide temperature range of -20°C to 85°C.
MEMS Differential Pressure Sensors:
The differential pressure sensor elements NSP183x from Novosense are available in MEMS wafer packages and are primarily based on the piezoresistive effect of silicon using NOVOSENSE's independent R&D MEMS micromachining process design. Their key features include:
Operating temperatures range from -40ºC up to 150ºC, depending on the sensor.
The accuracy and stability throughout the life cycle are better than 1% F.S.
Automotive-qualified (IATF16949-certified process platform).
Different pressure ranges up to+/-500kPa.
The single chip sizes are available from 1.65mm x 1.65mm x 0.4mm (NSP1832) up to 2.5mm x 2.5mm x 0.4mm (NSP1833).
Typical Applications
Automotive
VBS vacuum boosting system sensor
EGR system differential pressure detection
Crankcase ventilation pressure sensor
Industrial
pressure switch
negative pressure vacuum detection
gas flow monitoring
Home Appliances
coffee machine
vacuum cleaner
vacuum juicer
Medical
Anesthesia device
Biosafety cabinet
Blood pressure monitors
Consumer
Air mattress
massage chair
air pump
Signal Conditioning ICs for Resistive & Capacitive Senor Elements
As mentioned in the name of Novosense, sensing is a core application. So their portfolio of signal conditioning ICs is wide. From thermopile, MEMS microphone, PIR and magnetic to the ones for pressure sensor signals.
In this sub family the sensor conditioning ICs of Novosense are suitable for all kinds of resistance-bridge or capacitive sensor elements.
They are specified for at least -40°C to +125°C operating temperature and integrate functions for normalization and linearization. This makes them ideal for industrial and automotive use.
All kinds of Interfaces are available:
Analog voltage output
PWM output
Serial interfaces: LIN, SENT, I2C, SPI, OWI
Industrial transmitter standards: 0-5V / 0-10V / 4-20mA output
NSA2890X – General Signal Conditioning IC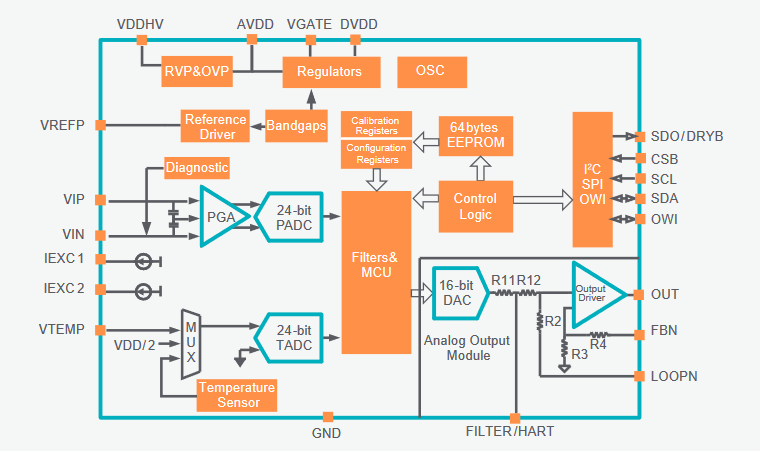 As an example we would like to introduce the NSA2360X series in more detail. This flexible IC comes in a 4x4mm² QFN20 package and is intended to be used with a voltage output sensor like Wheatstone bridge pressure sensors, thermocouples or resistance temperature detectors (RTD).
24-Bit ADC for the primary signal and for temperature measurement guarantee high resolution and temperature compensation capabilities.
An MCU core is integrated to run the calibration algorithm. This allows to compensate the offset and sensitivity temperature drifts up to the 2nd order. The non-linearity is compensated up to the 3rd order. As the result the calibration error is less than 0.1% of the full span. An integrated EEPROM holds the chip configuration and sensor calibration coefficients.
With the 16-bit DAC wide established sensor interfaces like 0-10V or 4-20mA are directly integrated. The integrated controller for an external JFET can be used to realize the power supply from the 24V rail of a typical 4-20mA loop. This saves external components and enable a very small PCB footprint for the whole sensor solution. If other interfaces are needed SPI, I2C, OWI and PWM/PDM outputs are also supported.
You found the perfect solution for your application and would like to get more information? Or are you not sure which sensor to choose? Just give us a call or send us your request with the form below. We are happy to assist you!