Intelligent Memory Products are offered by their official distributor Ineltek. Intelligent Memory (IM) is a joint-venture of industry experts and companies with one common mindset: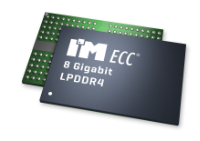 "Making innovative and better DRAM and Flash products that meet the future demands of our industry with the highest capacities, quality and longevity."
Product Groups
DRAM Components (Standard SDRAM up to (LP)DDR4, ECC SDRAM to LPDDR4)
DRAM Modules (Various form factors, Unbuffered, Registered, UDIMMs, SODIMMs, SDRAM to DDR5)
NAND Flash products (eMMC, SD, USB, SATA, PCIe)
Intelligent DRAM Memory products for industrial use
IM's ECC DRAM components bring an integrated ECC error correction.
The on die algorithm corrects single bit errors on the fly, elevating your application to new levels of memory reliability previously only attainable in servers.
IM's ECC DRAM components are drop-in replacements for conventional DRAM chips and do not require hardware or software changes to function. The data correction is performed within the chip itself without noticeable delays or latencies and completely independent of a processor.
Using these DRAM components on modules, combined with enhanced power-management, Intelligent Memory gives designers the option for extreme robust designs for harsh environment.
Get in touch with us about your DRAM and NAND memory needs and take advantage of the hundreds of years of collective experience in the memory industry, aggregating backgrounds from all major memory manufacturers at Intelligent Memory.