Graphic Solutions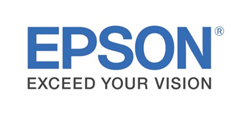 Display Controller
Epson display controllers reduce the load on the main CPU in graphics processing. The original image processing engine performs high-speed rendering while achieving the industry's top class low power consumption. Not only for LCD panels, the product lineup covers a wide spectrum of display devices ranging from electronic paper displays to NTSC/PAL standard TV screens. Epson can offer best-in-class solutions for embedded equipment, mobile terminals, automotive equipment and other applications.
The Display Controller Family subdivides into the following product categories:
Standard LCD Controller
Easy-to-Use LCD Controller (Simple LCD Controller)
LCD Controller with camera interface
LCD Controller for automotive solutions
ICs to enhance picture/video quality
Video Encoder
EPD Controller (support E-Ink Corporation EPD)
EPD Controller Modules (support E-Ink Corporation EPD)
Multicamera-Interface IC for automotive solutions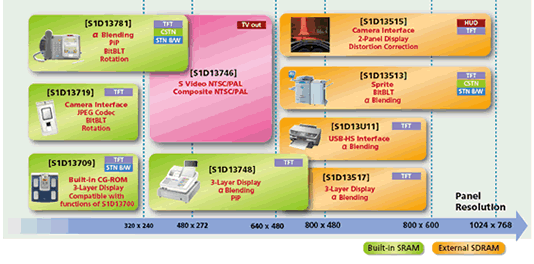 ---
Standard LCD Controller
As a long-term partner for the industrial, medical and automotive industries, Epson has developed a number of different LCD controllers. Due to the long-term availability, these products connect long-life electronic applications with the fast moving LCD TFT market. The S1D13781 and the S1D13748, both with integrated video RAM and standard graphics functions, provide a good starting point.
---
Easy-to-Use LCD Controller
This product family has been derived from the family of standard LCD controller for cost-sensitive applications. The single-chip LCD controller solution comes with integrated video RAM with the availability of widely applicable simple graphics functions. As "smallest" controller, the S1D13L01 family supports typical resolutions of WQVGA (480x272), an SPI host interface, Multi-Layer and PIP and AlphaBlending.
---
EPD Controller
Epson EPD controllers provide a powerful, cost-effective solution for current and future E Ink EPDs (electronic paper displays). The controller thereby relieves the application processor considerably, already including many of the EPD specific features. The special functions range from partial area update to image rotations to update different speeds and different shades of gray.
Product

CPU Interface Support

Maximum Resolution

Gray scale

Factsheet

S1D13521B02B

16bit I/F

Indirect addressing

4096x4096

@50Hz

Gray: Up to 5bpp

S1D13522A00B

16bit I/F

Indirect addressing

Serial I/F

1024x768@50Hz

Gray: Up to 4bpp

S1D13524B00B

16bit TFT I/F,

16bit Indirect addressing

Serial I/F

2560x2048

@85Hz

Color: RGB: 565

Gray: Up to 4bpp

S4E5B001B00A00

8bit/16bit I/F,

Indirect addressing,

Serial I/F

1200x825

16 grayscale

(2bpp to 4bpp)
The last EPD controller module S4E5B001B00A00 listed in the table above, integrates all the necessary components for use of the S1D13522 EPD controller (RAM, power supply, waveform memory clock sources), so that your existing application can be very easily and rapidly expanded with EPD.
---
LCD Driver
With its LCD drivers that were originally developed from display ICs for digital watches, Epson has established itself in the worldwide market for many years (e.g. in display panels of mobile phones).
From many years of technical expertise, Epson has derived a variety of LCD Driver derivatives, thereby enabling the realization of various LCD panels.
---