Power Management ICs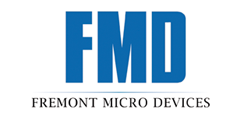 Every application has its own special power supply demands. FMD offers a wide range of solutions, from 0.9 V to 500 V depending on the power requirements.
The highly affordable linear regulators (FT510 ... 33) are high-precision and offer low output noise (<30 μVrms) depending on the type, low quiescent current consumption (~ 1uA) and standby current of no more than 0.1μA.
The (FT435 ... 441) DC-DC power converter, developed e.g. for LED lighting products, combines high performance characteristics and very competitive prices. The most efficient boost converter achieves up to 97%.
FT83 AC-DC power converters are based on FMD's own high-voltage CMOS process which allows the integration of 500V elements and the control circuit in a monolithic chip. This results in the lowest idle power dissipation and maximum efficiency and meets future legal requirements for energy saving in electrical appliances.
---
Overview Voltage Regulators
| P/N | VOUT (V) | Max Vin | Max Iout (mA) | Iq (μA) | PSRR @1kHz(dB) | Output Noise(μVrms) | Datasheet |
| --- | --- | --- | --- | --- | --- | --- | --- |
| FT510xx | 2.8-3.6 | 6 | 250 | 1.1 | 30 | - | |
| FT511xx | 1.2-2.5 | 6 | 150 | 1.6 | 30 | - | |
| FT521xx | 1.2-5 | 6 | 250 | 65 | 72 | 30 | |
| FT531xx | 1.2-5 | 6 | 250 | 36 | 72 | 30 | |
| FT532xx | 1.8-5 | 6 | 400 | 38 | 70 | 30 | |
| FT533xx | 1.8-5 | 6 | 400 | 65 | 75 | 30 | |
| FT550xx | 0.9-1.25 | 5.5 | ±1500 | 207 | - | - | |
| FT560xx | 1.2 | 3.3 | 1500 | 886 | 57 | - | |
---
Overview Flyback Converters
| P/N | Type | Vin(V) | Vout(V) | Efficicency | ILoad | Datasheet |
| --- | --- | --- | --- | --- | --- | --- |
| FT433 | Boost | 0.8-5.5 | 1.8-5.5 | 92.00% | 0.5A | |
| FT435 | Boost | 0.6-5.5 | 2.5-5.5 | 90.00% | 0.2A | |
| FT440 | Buck | 2.5-5.5 | 0.6-5 | 95.00% | 0.6A | |
| FT441 | Buck | 2.5-5.5 | 0.6-5 | 95.00% | 0.9A | |
| FT442 | Buck | 2.5-5.5 | 0.6-5 | 95.00% | 1.2A | |
| FT460 | Buck Buck | 2.5-5.5 | 0.6-5 | 95.00% | 0.6A | |
| FT482 | Buck | 4.75-18 | 0.925-15 | 95.00% | 2A | |
| FT484 | Buck | 4.75-23 | 0.925-20 | 95.00% | 3A | |
---
Overview AC/DC
AC/DC PWM Controller
| P/N | Pout (W) | 500V Start-up | Freq. Modul- ation | Freq. Program- mable | Soft Start | Auto Recovery | Latch Shut- down | Data- sheet |
| --- | --- | --- | --- | --- | --- | --- | --- | --- |
| FT810x | 30-150 | | |   | | | | |
| FT861x | 0-30 |   | | | | |   | |
| FT862x | 30-65 |   | | | | |   | |
LED Driver
| P/N | Pout (W) | 500V Startup | Frequency Program- mable | Operation Mode | PWM Dimming | Liner Dimming | Data- sheet |
| --- | --- | --- | --- | --- | --- | --- | --- |
| FT881x | 0-40 | | | PWM/PFM | | | |
PFC Power Factor Correction Controller
| P/N | PFC Mode | Control Mode | Pout (W) | App. | Dual Output | OVP | Disable | Data- sheet |
| --- | --- | --- | --- | --- | --- | --- | --- | --- |
| FT821AX | CRM | Current-Mode | 0-150 | Adapter |   | | | |
| FT821Bx | CRM | Current-Mode | 0-150 | Adapter | | | | |
| FT822x | CRM | Current-Mode | 0-60 | Isolated LED |   | | | |
AC/DC Primary-Side-Control CC/CV Controller
| P/N | Standby Power | Program- mable Cable Compen- sation | Program- mable Driving Capability | Charging Status LED Driver | Package | Datasheet |
| --- | --- | --- | --- | --- | --- | --- |
| FT830D | 100mw |   |   |   | SOT230-5 | |
| FT831D | 100mw | |   |   | SOT230-6 | |
| FT831B | 150mw |   | |   | SOT230-6 | |
| FT832A | 150mw | |   | | SOP8 | |
| FT832B | 150mw |   | | | SOP8 | |
| FT834D | 100mw | | |   | SOP8 | |
Overview PMU
| P/N | Type | VIN(V) | VOUT(V) | Efficiency | ILoad | Softstart | Datasheet |
| --- | --- | --- | --- | --- | --- | --- | --- |
| FT450 | Buck LDO | 2.5-5.5 | 0.6-5 | 95% | 0.6A | | |
| FT451 | Buck LDO | 2.5-5.5 | 0.6-5 | 95% | 0.6A | | |
---
Overview Power Modules
| P/N | Application | IC | PIN (W) | VIN(VAC) | VOUT(V) | IOUT(mA) | Datasheet |
| --- | --- | --- | --- | --- | --- | --- | --- |
| DB880-C01C | LED Flu. Lamp | FT880Ba | 18 | 90~265 | 38 | 420 | - |