UWB Wireless Transceiver

UWB wireless transceiver have a very versatile use. From low data rate applications like localization TAGs or the realization of high speed data rates for high-quality audio wireless transmissions can be realized.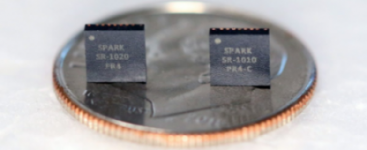 Due to the physical modulation scheme the power consumption for such technology is very low. SPARK Microsystems achieves a power efficiency of only 1.5nJ/bit at data rates up to 10Mbps. This is 40x less than for a typical BLE link.
An other advantage is the low latency of UWB transmissions. They can be 10x better than Bluetooth connections realize. This makes them ideal for gaming and other applications which need a tight sync.
UWB wireless transceiver are working in the frequency bands:
SR1010: 3.10 - 6.00 GHz
SR1020: 6.00 - 9.25 GHz
Typical applications are

high-quality wireless audio
AR/VR/XR applications
localization tags
gaming equipment (keyboard & mouse with low latency needs)
electronic door locks
To support new designs a free of charge software stack is available this covers a lot of applications directly and show the superior performance of SPARK Microsystems solution compared to other UWB products on the market. Get also in touch with us about reference designs which also might cover most of your applications needs.
For more information just get in contact with us directly!