Nuvoton – MS51 Industrial Series – 8 Bit T1 8051-MCU for cost efficient industrial design having the need for long term availability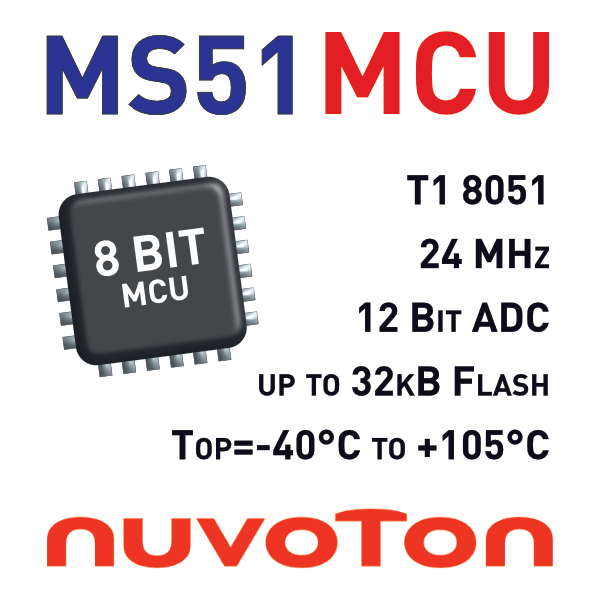 NuMicro® MS51 industrial series microcontrollers are based on 1T 8051 core (single cycle execution), running up to 24 MHz, with up to 32 Kbyte of Flash memory and up to 2 Kbyte of SRAM.
With its high precision 24 MHz internal RC oscillator trimmed to ± 1 % deviation (@VDD=5V) and a slow 10 kHz internal RC Oscillators it can operate at 2.4V ~ 5.5V voltage and – 40 ℃ ~ 105 ℃.
NuMicro MS51 Industrial Series in Detail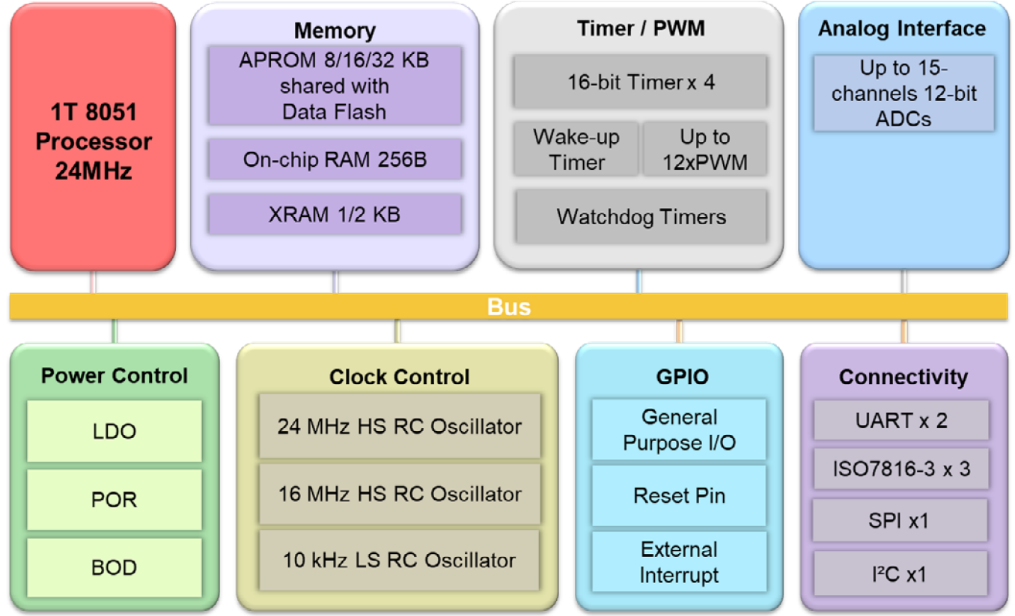 NuMicro® MS51 is equipped with special features such as 12-bit ADC with up to 15 channels @ 500ksps, up to 12 channels of PWM outputs with independent counters and GPIO supporting up to 20 mA driving capability.
With an ESD resistivity of 8 kV and EFT resistivity of 4.4 kV these MCUs can cope with harsh industrial environment or applications where electrical stress can occur on user interaction. Combined all these above high-performance features, MS51 series is suitable for high-reliability industrial and consumer applications.
---
So, what is the best choice for your design?

MS51 series offers 10-33 pin packages and 8kB to 32kB of Flash, see all derivates on the right.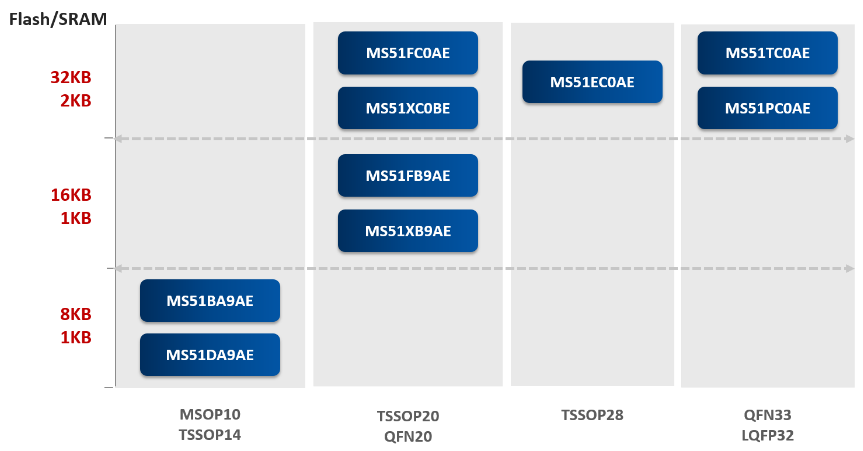 ---
Below you have a first glance to the general specification and features of this MCU family:
---
Operating Characteristics
Voltage range: 2.4V to 5.5V
Operating speed: up to 24 MHz
Temperature range: – 40℃ to +105℃
---
Core
1T 8051-based CMOS microcontroller running up to 24MHz
Instruction set fully compatible with MCS-51
4-priority-level interrupts capability
---
Power management
Two low power modes: Idle and Power-down mode
Power-down current: < 6 μA
Memories
Up to 32 Kbyte Flash APROM
Up to 2 Kbyte SRAM
Up to 4 Kbyte Flash for user program loader (LDROM) share with ARPOM
Configurable Data Flash, shared with APROM
ISP / ICP / IAP programming
Clocks
16 MHz high-speed internal oscillator trimmed to ± 1 % when VDD 5.0 V, ± 2 % in all conditions
24 MHz high-speed internal oscillator trimmed to ± 1 % when VDD 5.0 V, ± 2 % in all conditions
10 kHz low-speed internal oscillator
Timers
Four 16-bit timers
Up to six pairs, twelve channels of pulse width modulator (PWM) output, with Fault Brake function
One dedicated Self Wake-up Timer (WKT) for self-timed wake-up for low-power modes
One programmable Watchdog Timer (WDT) clocked by dedicated 10 kHz internal source
Communication interfaces
One SPI port with master and slave modes, up to 12 Mbps when system clock running at 24 MHz
One I²C bus with master and slave modes, up to 400 kbps data rate
Two full-duplex UART ports with frame error detection and automatic address recognition
Up to three ISO7816-3 interfaces supports UART function
Analog
One 12-bit, 500ksps SAR ADC (up to 15 channels)
ADC support continuous scan mode and data storage in SRAM
Traceability
96-bit Unique ID (UID)
128-bit Unique Customer ID (UCID)
Up to 30 general purpose I/O pins with interrupt capability
Output pins support 2-level slew rate control individually
Supports high sink / source current
Built-in programmable pull-up and pull-low resistors
With this enhanced 8051 (T1) MCU family Nuvoton bring all their knowledge and experience of over 20 years of microcontroller development to the market to give you the ability to realize robust new designs on a very well-known and predictive core using its modern new developed peripherals.
---
We would be glad to discuss your needs for the next development or necessary redesign to offer you the best fit in terms of technical needs but having an eye on total system cost – Contact us!