Identiv's RFID Labels are blank, printed, or transparent radio frequency identification stickers for metallic or non-metallic surfaces.
Tamper-Proof RFID Labels
Identiv's Tamper-Proof RFID Labels integrate state-of-the-art aluminum-etched antennas and an innovative, tamper-proof release coating.
Can be applied to glass, paper, plastic, and other non-metal surfaces
Guaranteed to destruct after the label is torn
Impossible to tear off the complete antenna or label
Once torn, will no longer be functional and cannot be reassembled
Ideal for preserving product integrity in NFC applications
RFID TOM® Labels
Standard RFID tags are not designed for metal. The technology behind our RFID Tag on Metal (TOM®)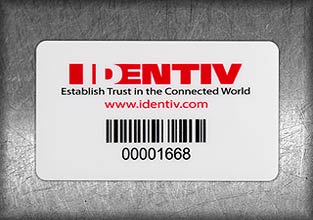 Labels is unique. These high frequency (HF) labels (ISO/IEC 14443 or 15693) are equipped with a shielding technology that provides an optimum read range when applied to metallic surfaces.