8Bit is still alive!
Although some manufacturers are currently turning away from 8-bit microcontrollers, for many applications "8-bit is still alive!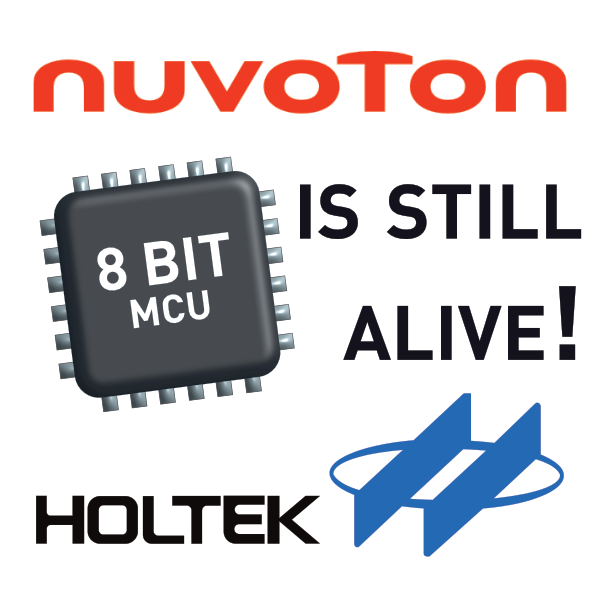 When developing sensors or applications in general that have special requirements on a measurement signal, developers like microcontrollers that are operated with a 5V voltage supply.
Furthermore, the cost pressure for designs with relatively few components and functions to implement is in conflict with the "overhead" that 32-bit MCUs bring along, e.g. in terms of configuration.
This is associated with increased requirements for program memory (32-bit width) and the configuration of complex clock sources (internal and external). Other advantages of 8-bit MCUs are a comfortable GPIO pin handling and a much better I/O driver capability of +/-20mA.
Holtek & Nuvoton – manufacturers who believe "8Bit is still alive!"
Our partners Holtek and Nuvoton continue to focus on these "smaller applications". Both manufacturers have continuously expanded their portfolio with products using 8Bit cores – but with different approaches.
---
Holtek – Very small to specialized
Holtek often has specific applications in mind when developing new products. For applications like thermometers (BH66F5232 – 8Bit MCU with 24Bit ADC), battery charging systems (HT45F5Q-2A – platform incl. production tools)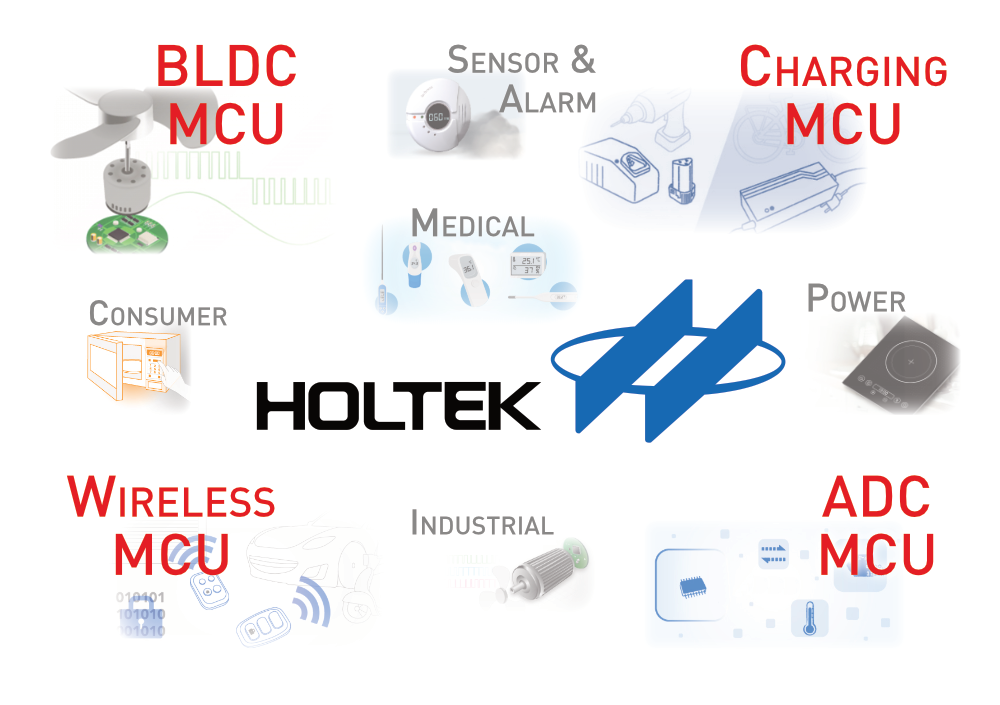 or BLDC motor control (BD66FM5250 – BLDC Flash MCU) Holtek shows how cost optimized solutions can be achieved by combining an 8Bit core with special peripherals.
If your applications have even less requirements (e.g. a switch with delay, larger logic circuits with few IOs) low pin count MCUs like the HT68/HT66 family (Flash based) or HT48 family (OTP based) bring a significant cost advantage.
In addition to these MCUs tailored to specific applications, Holtek also offers a wide range of general-purpose microcontrollers. Some derivatives integrate OPAs others offer USB connectivity. Wireless communication such as BLE, 2.4GHz, Sub 1GHz are integrated in some of the 8Bit MCUs.
---
Nuvoton – 8051 MCUs: single-cycle, predictable program flow with modern peripherals.
Nuvoton was founded from the microcontroller business unit of Winbond. The know-how in 8051 based MCUs, which was already available at the time of the company's formation, is still evolving until today. The current products are based on the 1T-8051 core and require only one clock cycle for the execution of an instruction. Nuvoton divides these into different categories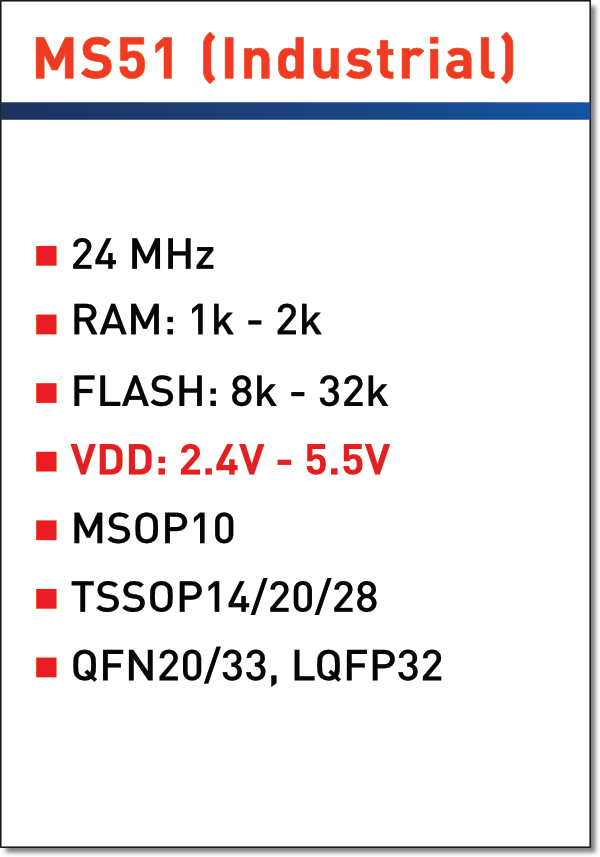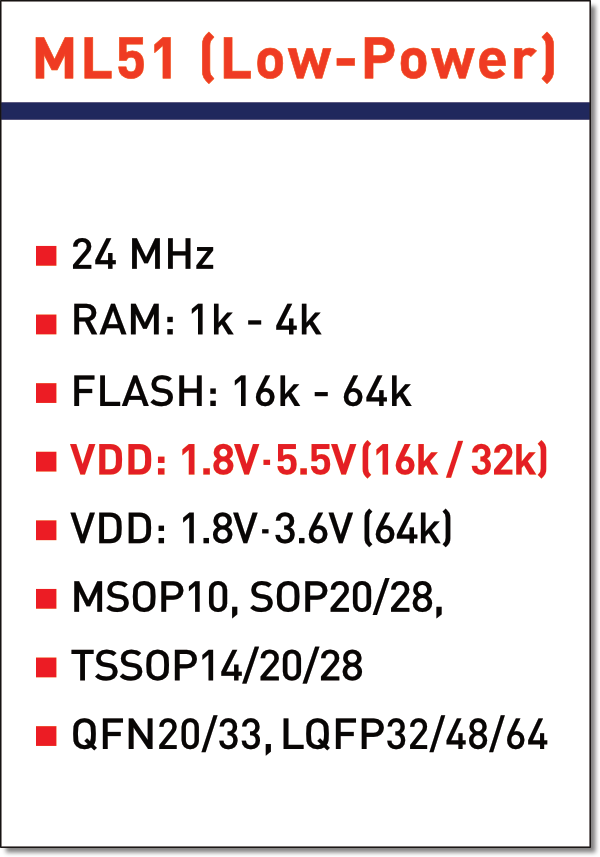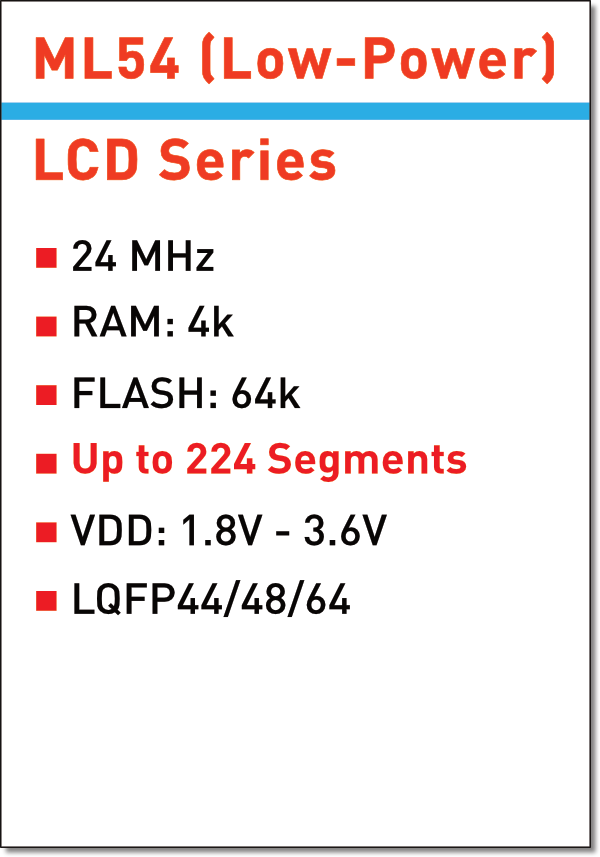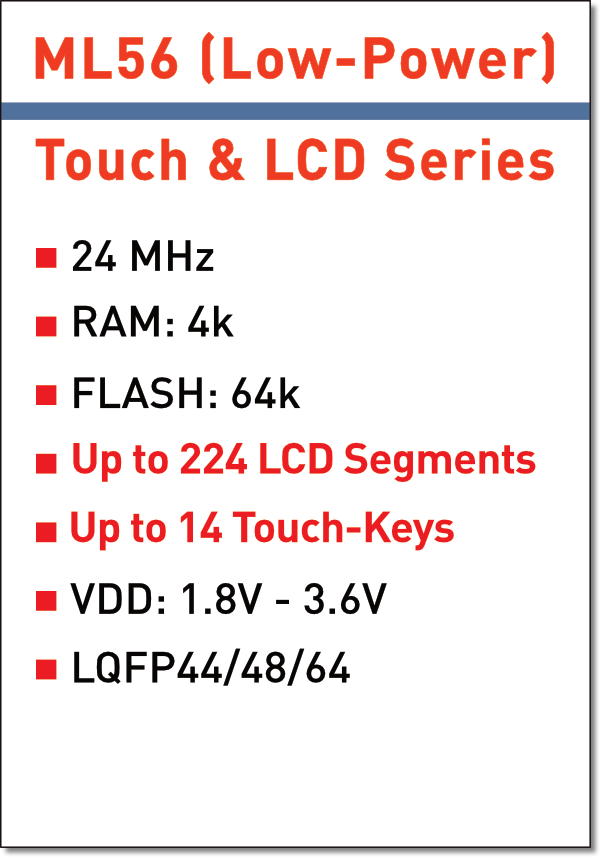 These new NuMicro® families MS51, ML51, ML54 and ML56 typically run with up to 24MHz main clock and support power saving slow clock modes, include up-to-date peripherals like 12Bit ADC @ 500ksps, PDMA, UART, I2C or PWM units suitable for motor control. Optionally a part of the flash memory can be configured for a bootloader and also as dataflash. The internal oscillators are factory calibrated accurate to +/-1%.
ML54 and ML56 Series integrate an LCD segment driver with up to 224 segments featuring internal bias resistors and charge pump for the LCD voltage for stable contrast. The ML56 family also offers up to 14 touch keys. Reference pad and shield electrode allow water resistance and robust results against EMC. A slider or wheel configuration is also possible.
The robust design is shown for example in the ESD resistance of 8kV HBM and 4.4kV EFT of the MS51 and ML51 family. Due to the wide operating voltage ranges of
MS51 (8kB – 32kB):
2,4V – 5,5V
ML51 (16kB & 32kB):
1,8V – 5.5V
ML51 (64kB), ML54, ML56:
1,8V – 3.6V
a right choice is possible for every application.
An extended temperature range of -40°C to 105°C has been standard here for years.
---
Summary:
Despite the fact that in many places the focus is on 32Bit microcontrollers, the use of 8Bit MCUs is still recommended – especially for cost-sensitive applications. With special peripherals like the Holtek MCUs, designs can be realized very efficiently.
If you are looking for a platform for multiple applications, Nuvoton offers with the MS/ML5x NuMicro® families a wide range of 1T-8051 based MCUs with modern peripherals.
---
8Bit is still alive!
---
We are happy to assist you in selecting the right 8Bit microcontroller from Holtek or Nuvoton for your application. Call us or send us your request with the following form