Holtek – Charge and supervise your Li-battery with only one MCU – the new HT45F5Q-2A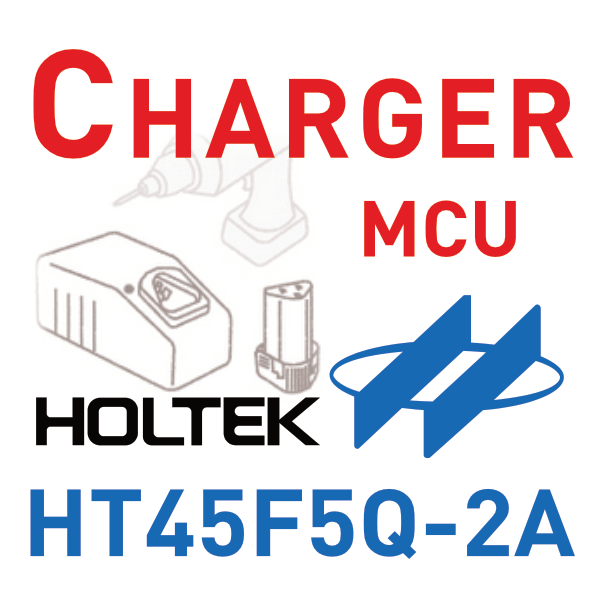 The HT45F5Q Series is based on an 8-bit high performance RISC architecture microcontroller especially designed for battery charger applications.
The new HT45F5Q-2A MCU can be used in lead acid/lithium battery chargers for electric motorcycles, power tools and many other devices. It comes with an integrated flash memory supporting EEPROM emulation, 12bit ADC, 12- and 14-bit DAC and many more features to supervise your battery functions.
The charger management module is composed of two parts. Two groups of OPAs and D/A converters, which are used to control the charging voltage (CV) and current (CC) are the first. The second part of the charger management contains a fixed gain operational amplifier which is used for current amplification. This improves the resolution for the current measurement and allows the use of smaller current detection resistors thus reducing the resistor power consumption.
Excellent noise immunity and ESD protection ensure that reliable operation is maintained in hostile electrical environments.
The Key Features of the improved HT45F5Q-2A
Operating Voltage from 2.2 to 5.5V
Current sense:

OPA (fixed gain = 20)
12bit ADC

UART/SPI/I²C to BMS communication and built-in CRC
BatteryCharging:

14-bitDACand OPA0 are used for constant current control (CC)
12-bitDACand OPA1 are used for constant voltage control (CV)

Emulated EEPROM
Safety: low voltage reset (LVR) & watch dog timer (WDT)
Flexible timer module (timing, pulse, PWM)
Package types: 16/20-pin NSOP
Power charger calibration platform
---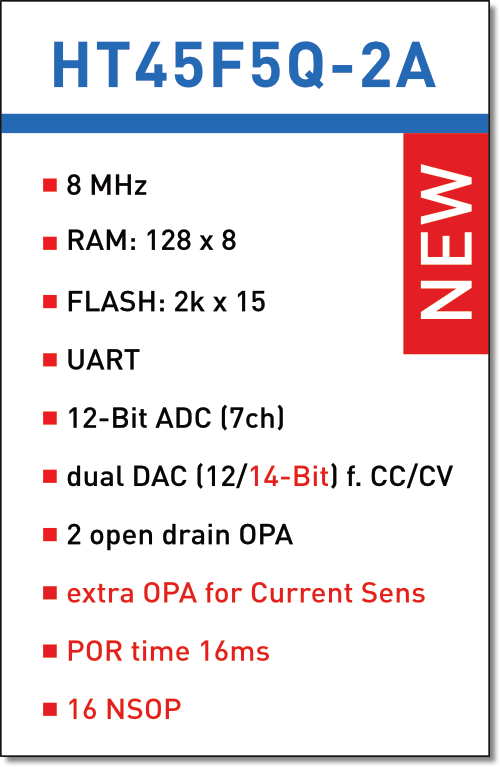 Everything you need to get started!
---
Holtek offers great support for a quick design start. Not only with their development boards but also with their great software.
Manufacturers had to make calibrations for the products before leaving the factory to ensure that the charger output voltage and current values were within specifications. Traditional manufacturers use the method of changing divider resistance for calibration, which consumes labor and cannot speed up volume production, but increases the product costs.
---
Fast Evaluation & Development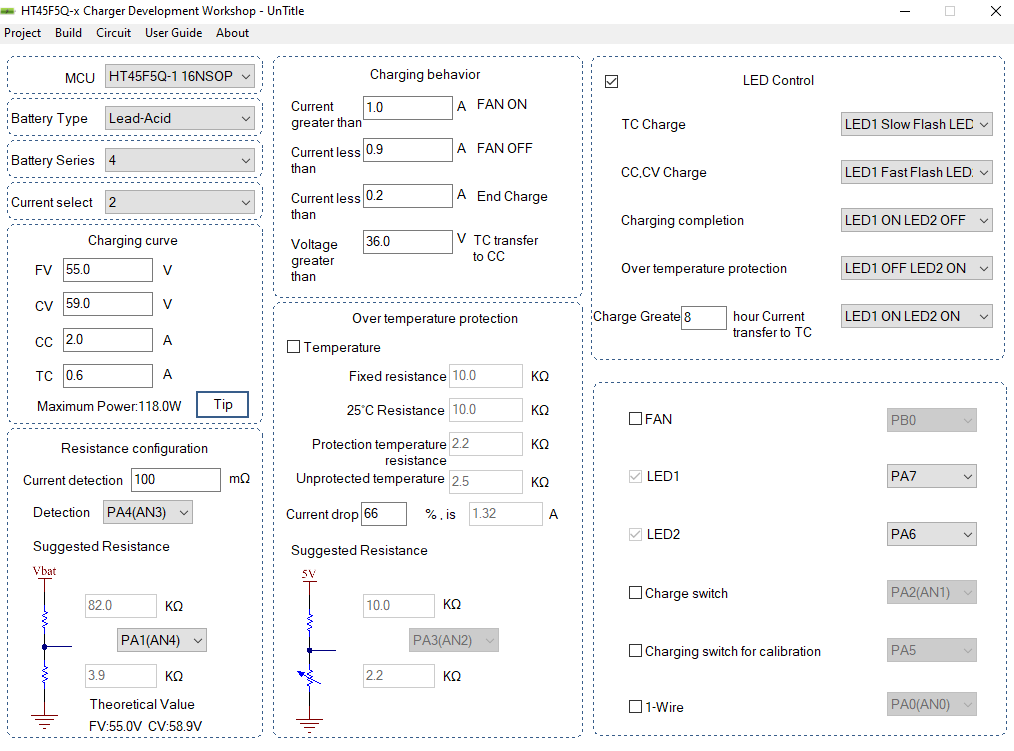 The HT45F5Q-x Charger Development Workshop is used for your development phase, which can be finished quickly by selecting corresponding functions.
This platform also provides recommended circuit preview function, which make users more convenient in development. Both programs are easy to use and can directly be installed on windows. Pick your MCU and your battery type and start developing right away!
---
Calibration in Production
Holtek provides the HT45F5Q-x charger volume production fixture together with the HT45F5Q-x charger production platform to meet customer requirements with different charger specifications.

In the Appnote Power Charger Calibration Platform Application Note Holtek gives developers an insight into the use of the "HT45F5Q-x Charger Volume Production Fixture" as hardware support for calibration in production.
This combination guarantees targeted development and optimised calibration for your production.
---
So don't hesitate to get in touch with us so we can help you right from the beginning in developing your battery charger with Holtek's HT45F5Q-2A.
---