Qorvo – ACT88760 expands new PMIC generation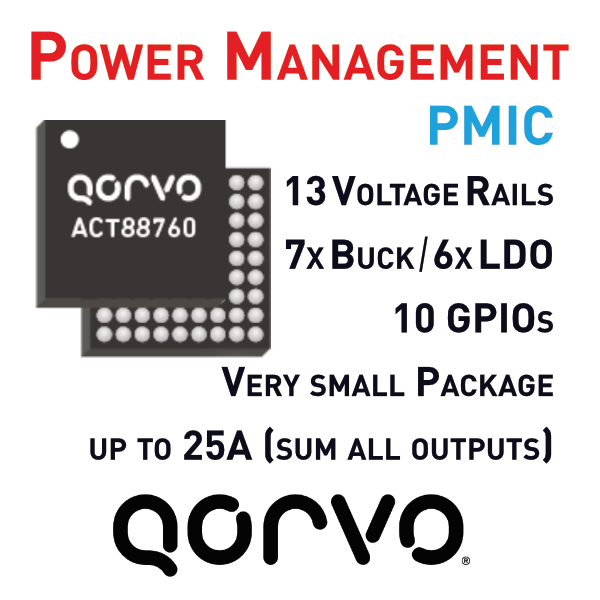 In the middle of last year we already introduced the first new multi-time programmable power management ICs from Qorvo for 3.3V / 5V applications with medium power levels – the ACT88327/8/9/1 family.
The ACT88760 is the high-performance flagship of its series. The device is a power management integrated circuit with ActiveCiPS technology. It is designed to power a wide range of processors,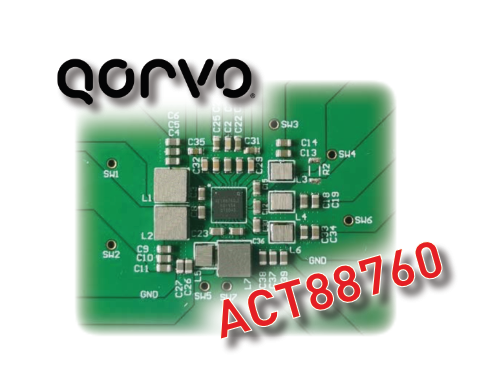 including solid-state drive applications, video and AI processors, FPGAs and computer vision. Extremely flexible, the PMIC can be reconfigured via I2C for different applications without requiring changes to the PCB.
Examples of configurable options include output voltages as low as 0.5 V, start time, rate of rise of voltages, system-level sequencing, switching frequency, quiescent states, modes of operation, etc.
ACT88760 in detail
The core of the IC consists of seven high efficiency switching regulators, six linear regulators which can be used as LDOs or partially as load switches.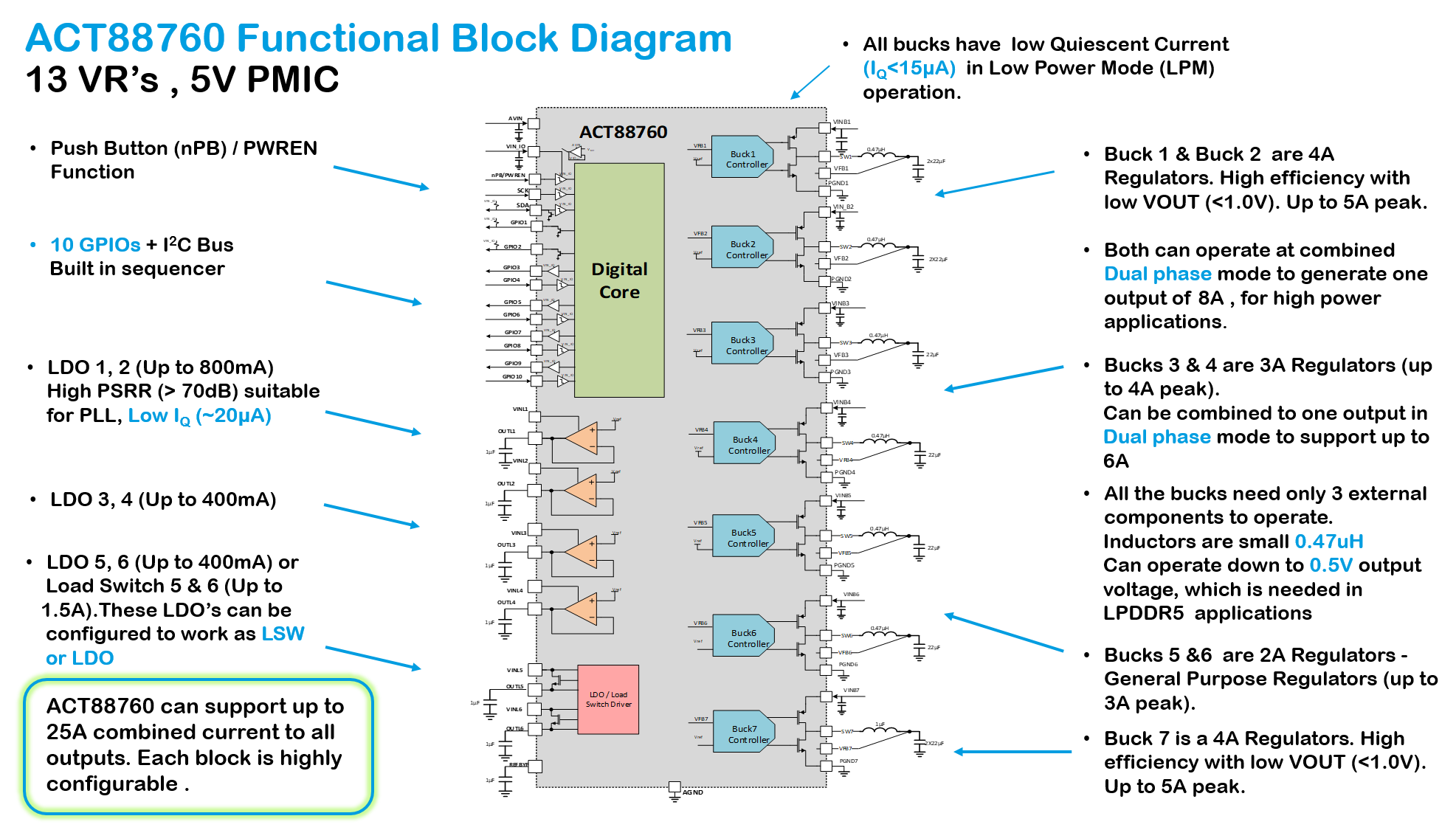 LDO5 & 6 (up to 400 mA) can be reconfigured as load switches accordingly (with typical RDSON < 25mOhm and up to 1.5A output current). LDO 1 and 2 are designed for a high PSRR of 70dB and provide an output current of up to 800mA Furthermore, there are ten GPIOs pins that are configurable and thus can be used for a variety of system functions.
---
The ACT88760 is designed to operate from a single lithium-ion or lithium-polymer battery with an input voltage of up to 5.5 V. It operates on input voltages as low as 2.6 V and can provide on output voltages as low as 0.5 V. The Bucks can operate in two-phase mode for higher performance.
---
Which development tool do you use to properly start the design-in process for your application?
The Qorvo ACT88760EVK-102.E2 Evaluation Kit (EVK). Meanwhile, the Evaluation Tool Users Guide describes the features and operation of the kit ACT88760EVK-102.E2 Evaluation Tool User Guide. It contains instructions for setup and operation, schematic, layout, parts list and test data. A GUI for configuration is also available.
---
Redesign of existing applications
Qorvo, like many other manufacturers, is currently affected by sometimes very long delivery times. Older PMICs such as the ACT8847/48 or ACT8865 are currently in extremely short supply. For the new generation of PMICs, Qorvo has therefore taken care to stabilize delivery times at the current 30 – 35 weeks through forward-looking planning and partner selection. It is therefore worth taking a comparative look at the following graphic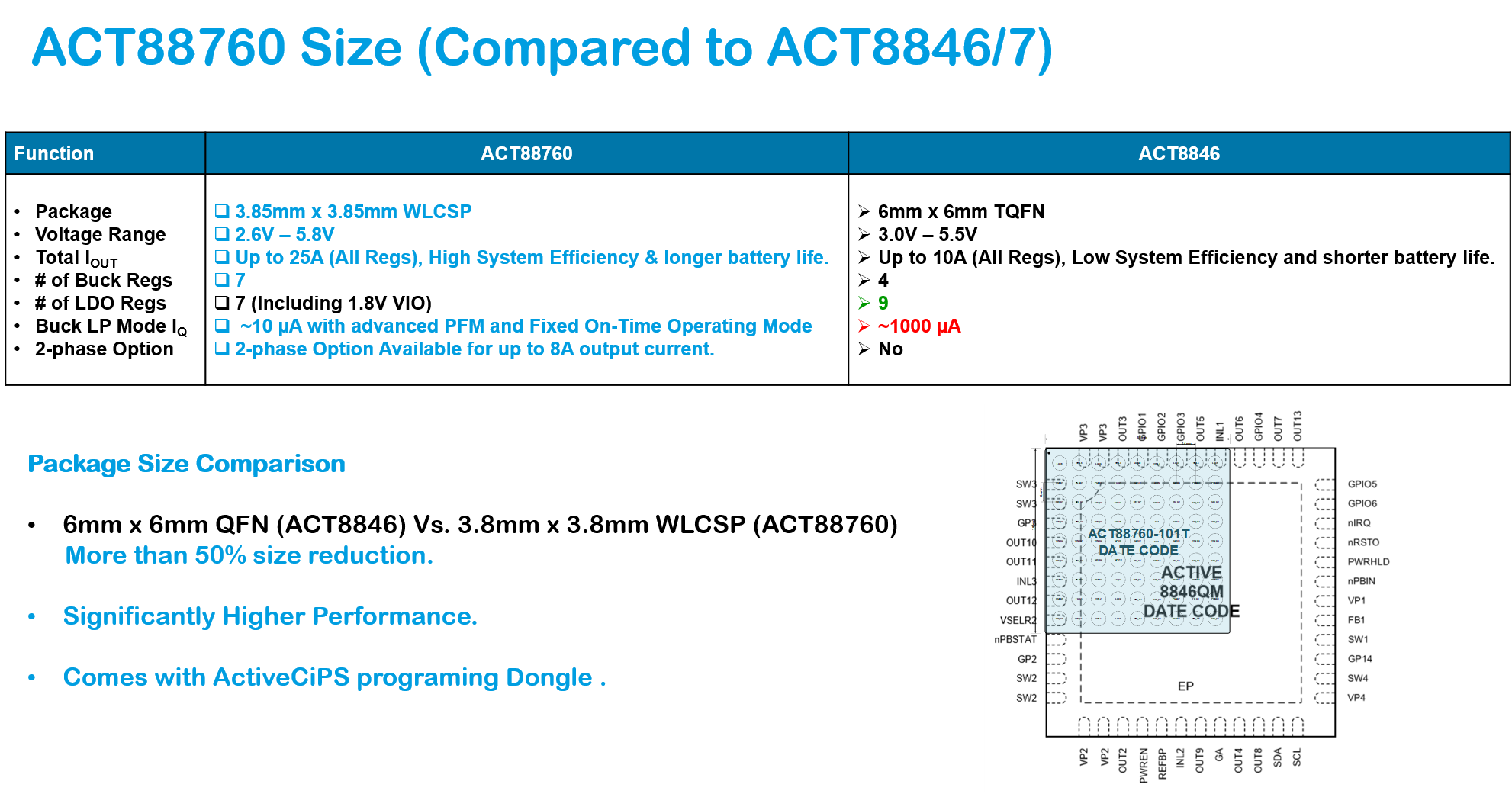 Have we captured your interest? Would you like to learn more about the ACT88760 as a possible solution for your application? Or do you already use the ACT8846/47 and consider the ACT88760 as a possible alternative ?
---
We are happy to assist you with regard to the complete PMIC product portfolio and help you with the correct selection of the available types also with regard to cost optimization and delivery capability. Please contact us!