Qorvo® Launches Newest Generation of Multi-Time Programmable Power Management ICs
Built-in configurability speeds time to market for solid-state drives, video, router, mobile and IoT devices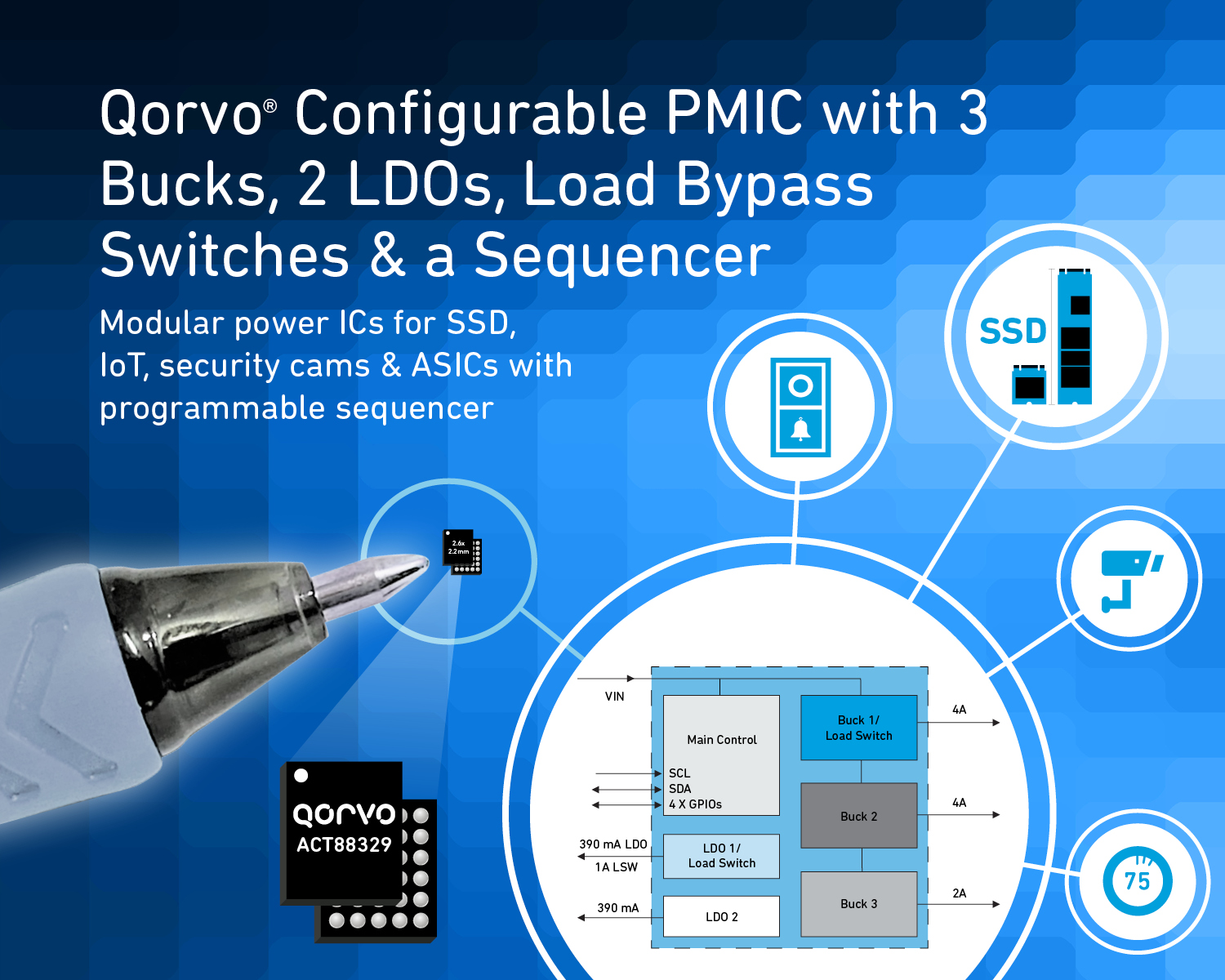 Qorvo® (Nasdaq:QRVO), a leading provider of innovative solutions that connect and power the world, today introduced a new multi-time programmable family of power management ICs (PMICs) optimized for high performance and compact form-factor designs.
---
Key Features: 
2.7V ~ 5.5V Input Voltage Range
Buck 1: 4A Buck / Load Switch
Buck 2: 4A Buck Optimized for Low Output Voltage Down to 0.5V
Buck 3: 2A Buck Optimized for Low Output Voltage Down to 0.5V
All Bucks Work with 0.47uH Inductors
LDO1 : 390mA LDO, can be Configured as Load Switch for up to 1A
LDO2: 390mA LDO
I2C Serial Interface for Monitoring and Control
4 Configurable GPIOs
Optimized Heavy/Light Load Efficiency
PTH board compatible package
The Qorvo ACT88327/8/9/1 Constant-On-Time (COT) PMIC family accelerates time to market by delivering design flexibility for multiple applications, from SSD cards, computer vision – such as security cameras – and routers to low-power mobile uses (LPDDR5), home control and voice assisted devices. The same base part can be used to support different end products simply by changing the PMIC configuration without special software or firmware. Manufacturers can debug their design and change settings in real time without changing external components.
The new PMICs integrate five voltage rails, a sequencer and seven configurable General Purpose IOs (GPIOs) in a very small, 2.18 x 2.58 mm 30-ball WLCSP package. Each PMIC includes three DC/DC step down converters using integrated power FETs and two low-dropout regulators (LDOs). All are highly configurable via the I2C interface. Other configurations include:
Buck1 and LDO1 can be configured as a load switch
Buck1 is a peak current mode, fixed frequency DC-DC step down converter that is optimized for output voltage closest to the input voltage
Buck1 switches at either 1.125 MHz or 2.25 MHz, requiring only three small components for operation
Buck2 and Buck3 use an asynchronous constant on-time, ACOT, control architecture to optimize the load transient response with smaller output capacitors
All Bucks work with 0.47uH inductor and require only three small components for operation
LDO1 can support up to 390mA and 1A current in bypass mode
Both LDOs require only small ceramic capacitors
The ACT88329 is the first integrated PMIC in this configuration to support output voltage as low as 0.5V for low output applications like LPDDR5.
The ACT88327/8/9/1 PMIC family has multiple GPIOs that can be configured for different features and purposes like interrupt, reset, external enable, external PG, regulator ON/OFF, DVS, VID, sleep/deep sleep modes, power recycle, and push button. In addition, they support two-level input voltage monitoring. Other examples of configurable options in the PMIC family include startup time, slew rate, system-level sequencing, switching frequency, sleep modes and operating modes. The proprietary ACOT control mode gives the best performance at low output voltage.
David Briggs, senior director of Qorvo's Programmable Power Management business, said, "Qorvo continues to push the limits of integration and configurability in small form-factor PMICs with multi-time programmability. This enables our customers to bring new products to market faster by shortening design cycle time."
The ACT88327 and ACT88329 are available now. Additional product details can be found at www.qorvo.com. Qorvo's Programmable Power Management business delivers power management and intelligent motor drive expertise to key growth markets. The company's portfolio of analog and mixed-signal SoCs provides scalable core platforms used in charging, powering and embedded digital control systems for industrial, commercial and consumer applications. Qorvo offers Power Application Controllers® (PAC™) and DC-DC power management products that significantly improve system reliability while reducing solution size, cost and system development time. Learn more at www.qorvo.com/products/power-management.