Nuvoton – NUC029 – 5V ARM Cortex-M0 MCU Family for easy replacement for non-available 8 bit MCUs
If you are looking for alternatives for your existing 5V design based on an 8-bit microcontroller due to the current supply situation, we recommend you to keep an eye on the new ARM® Cortex®-M0-based NUC029 series from Nuvoton®. This microcontroller family offers the possibility to use the existing 5V design with its peripherals, I/Os and additional functions and only replace the MCU. This is certainly not done in a day either, but it gives you the possibility with the change of the central component to adapt your application to today's requirements and performance without having to redesign the entire system.
When developing the NUC029 family, Nuvoton® always had the following applications
---
Industrial Control
Smart Home Application
BLDC Motor
Consumer Products
in mind. To meet this wide range of applications you can find 20-pin up to 128-pin packages and memory sizes from 16kB to 256kB Flash.
---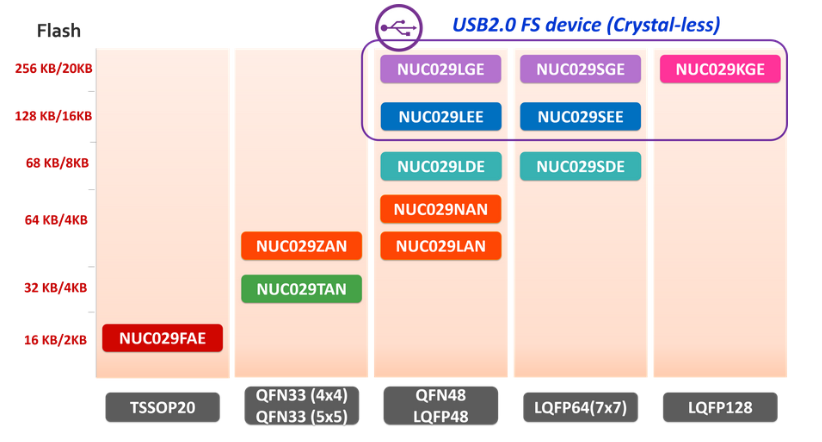 ---
Due to the very robust ESD behavior (ESD up to HBM 8 kV / EFT 4.4 kV* (depending on the package)) this microcontroller family is also ideally suited for a change from the 8-bit to the 32-bit world.
With a main clock of 24 MHz to 72 MHz, the NUC029 provides sufficient calculation speed for almost any application that was previously based on an 8-bit microcontroller. However, the wide operating voltage range between 2.0V and 5.5V also enables today's popular 3.3V designs.
---
To give you an overview after this short introduction, here are the further key features of Nuvoton's NUC029 MCU family:
---
Arm® Cortex®-M0 @ 24 MHz ~ 72 MHz
16 KB to 256 KB
2 KB to 8KB LDROM
2 KB to 20 KB SRAM
up to 2 KB SPROM (Security Protection ROM)
1x 12Bit 1 MSPS ADC (up to 15Ch.)
lots of communication interfaces (up to: 4xUART, 2xI2C, 2xSPI/I2S, 3xLIN, 3xUSCI, 1xEBI)
USB 2.0 full speed device with on-chip PHY (crystal-less design)
Operating Temperature: -40°C up to 105°C
---
An introduction to setting up the development environment for the NUC029 as well as other important links of the Nuvoton Ecosystem can be found in our Technical Documentation.
---
If you are missing features, we offer you to have a look at Nuvoton's broad 5V 32-Bit MCU portfolio with families like NUC230, NUC123 and NUC131 or also at the currently introduced 8051 MCUs of the MS51 series for cost sensitive applications. We will present the Cortex-M23 core based controllers dedicated for DALI applications here soon.
---
But that's not all – for full specifications, more information and recommendations on what best suits your needs, contact us.