Nuvoton – M030G/M031G Series, very small Cortex M0 MCU
With this article we would like to introduce to you an MCU family which comes with small packages 3mm x 3mm and 4mm x 4mm for space saving designs. See what the long term vendor for Cortex-M0 based microcontrollers has integrated in this family.
The M030G/M031G series by Nuvoton is based on Arm Cortex-M0 core with 32-bit hardware multiplier/divider with this
---
Parameters
---
Main clock up to 48/72 MHz
Memories: 64 kB Flash & 4 kB or 8 kB SRAM
Operating voltage: 2.7V ~ 3.6V (with 5V tolerant I/O)
Extended operating temperature: -40°C to +105°C
ESD Robustness: 6kV HBM, 4.4kV EFT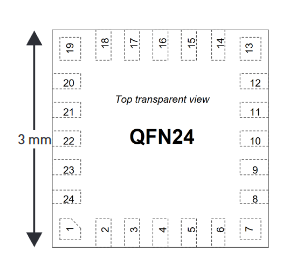 The M030G/M031G series also provides rich analog peripherals including internal voltage reference that can output 2.5V, 1.4 MSPS 12-bit SAR ADC with up to 16 channels and 4 sets of 12-bit DAC.
---
As a special peripheral both of the M030G and the M031G series have a built-in temperature sensor with only ±2°C deviation over full operating temperature of -40°C to 105°C. If your application stays in 0°C to 70°C the tolerances are only ±1.6°C.
---
Beside two sets of strong I2C with 1MHz slave mode and non-stretch mode a lot of timers (6x) and PDMAs (7x), the M031G series, is equipped with a Hardware Manchester Codec with CRC to encode and decode low-frequency dither signal and 1 set of DAC with "Auto Data Generation" function to generate the smooth sine waveform up to 500KHz for the output of pilot tone modulation.
---
Family Overview & MCU details
---
Basically, there is a choice of 2 package options (QFN24 & QFN33), depending on the needed feature set.
---
---
See the main peripherals and components: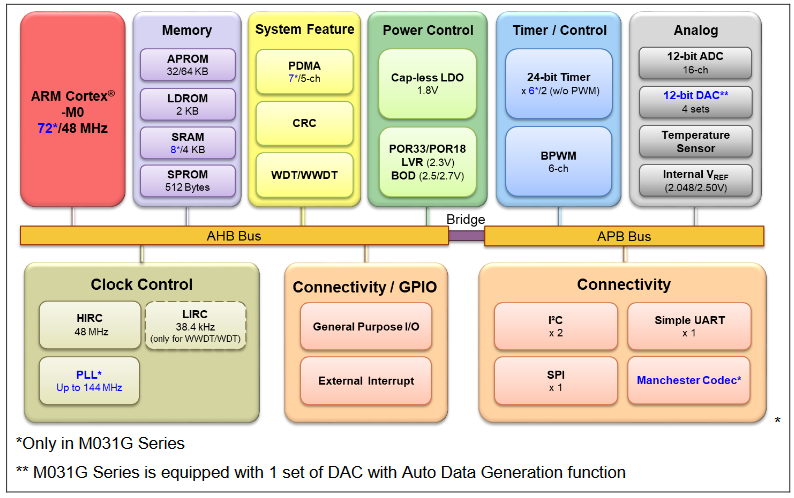 As development ecosystem Nuvoton provides the NuMaker evaluation board and Nuvoton Nu-Link debugger. The 3rd Party IDE such as Keil MDK, IAR EWARM are supported but Eclipse IDE with GNU GCC compiler too. Find more here

If you are interested in a smaller 8bit solution, Nuvoton also has the same small 3mm x 3mm QFN20 & 4mm x 4mm QFN33 packages for their modern 8051-T1 based series MS51/ML51 also. Read more about MS51-Family.
---
Our team will help you to find the right choice from Nuvoton's broad portfolio for your next development but also if you look for alternatives due to extreme long lead times of your current solution.
---