Micro Crystal – Ultra Small RTC Modules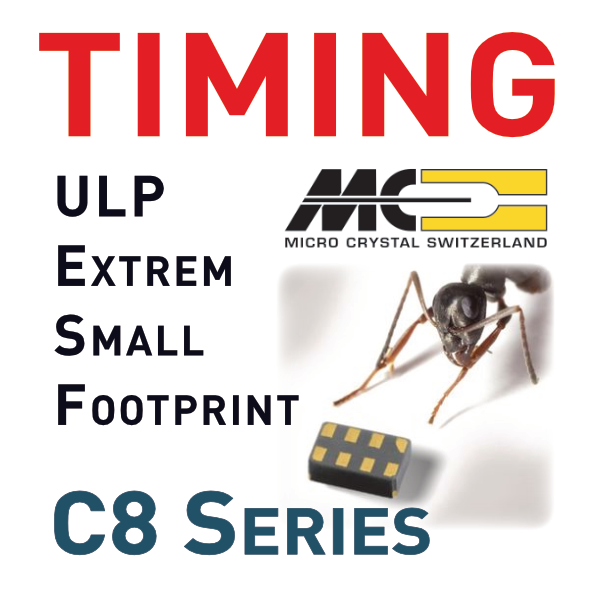 Micro Crystal is one of the world market leaders for watch crystals and RTC modules. As part of Swatch Group, know-how and innovation have been continuously invested in this product area for decades. Miniaturization is an important criterion to enable new designs with extremely small mechanical dimensions while guaranteeing reliability for the application.
In the package design of the RTC modules (which contain a watch crystal and the RTC IC perfectly matched to each other), the package dimensions known from watch crystals were taken as a model. For several years, the smallest package available was the C7 package: 3.2 mm x 1.5 mm. Now Microcrystal offers the first RTC modules in the C8 package!
New RTC Modules in the C8 package – RV-8063-C8 & RV-8063-C8
These new RTC modules are now 50% smaller! On just 2.0 mm x 1.2 mm, the crystal and the RTC IC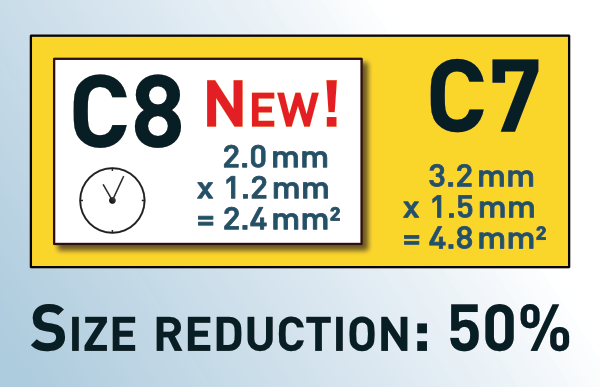 find their place in an 8-pin ceramic package. Ideal for even smaller and lighter electronics. These new RTC modules only weigh 5.1mg.
Like their C7 counterparts, the modules require only 190nA (typ@3V) for timekeeping and offer a wide operating voltage range from 0.9V to 5.5V – ideal for low-power battery applications.
As serial interface the RV-8063-C8 offers SPI, the RV-8263-C8 I2C. As usual, an industrial as well as automotive qualified version will be available.
The complete specification can be found in the corresponding data sheets
Applications for the C8 series
With the parameters outlined briefly above, a very wide range of applications is possible. Such as in products from the areas:
Automotive
Healthcare
Wearables
Wherever space & weight saving but also reliability – especially in low power environment – is required, the RTC modules of the C8 series are the right choice!
We are happy to advise you on the comprehensive RTC module portfolio of Microcrystal – now extended by the Ultra Small RTC modules RV-8063-C8 and RV-8263-C8. Contact us or send us your request in the form below