Bruckewell – Variety of Transient Voltage Suppressors (TVS) Diodes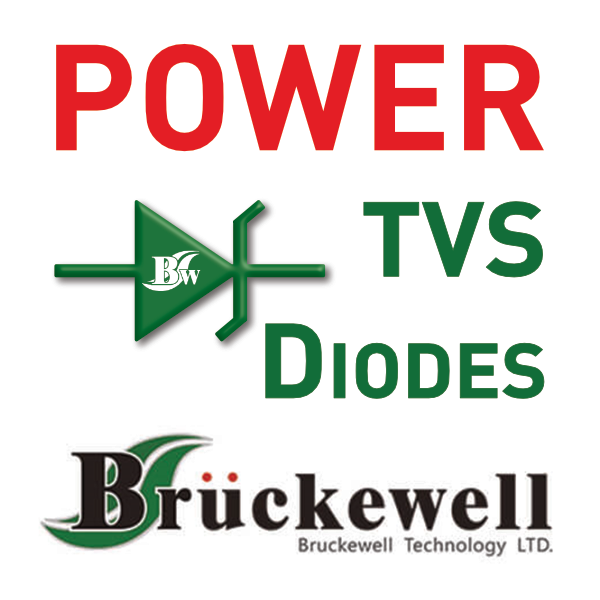 On many bills of material of electronic devices, transient voltage suppressors (TVS) needed. TVS diodes protect electronic circuits and so they are, even though a relatively small component, not to be neglected.
Bruckewell's portfolio of TVS comprises well-known parts like the SMBJ for up to 600W or SMC parts for up to 1500W. But also TVS for 200W or even 5000W are found. So Bruckewell wide range of TVS diodes are suitable for many different applications and designs.
---
Availability and lead time are very important factors these days. Bruckewell does a very good job here and is able to supply parts in short lead times.
TVS portfolio overview
---
See the following table for a rough overview of the 200W-5000W TVS diodes range of Bruckewell. There are so many derivates – please just get in contact with us for details and to find the right part number
---
TVS Series

Breakdown Voltage (VBR)

Reverse Stand-off Voltage (VWM)

Peak pulse Power (10/1000µs surge)

Package

Uni

Bi

SMFxxA

SMFxxCA

6.8V to 220V

5V to 190V

200W

SOD-123

P4KExx(A)

P4KExxC(A)

6.8V to 550V

5.5V to 470V

400W

DO-41

P4SMAxx(A)

P4SMAxxC(A)

6.8V to 400V

5.5V to 342V

400W

SMA

P6KExx(A)

P4KExxC(A)

6.8V to 600V

5.5V to 512V

600W

DO-15

SMA6FLxxA

–

6.8V to 56V

5.8V to 47.8V

600W

SMAF

SMA6FxxA

–

6.8V to 56V

5.8V to 47.8V

600W

SMA

P6SMBxxA

P6SMBxxCA

6.8V to 440V

5.8V to 376V

600W

SMB

SMBJxx(A)

SMBJxxC(A)

6.8V to 220V

5V to 188V

600W

SMB

1.5KExx(A)

1.5KExxC(A)

6.8V to 440V

5.5V to 376V

1500W

DO-201

1SMCxxA

1SMCxxCA

6.8V to 512V

5V to 440V

1500W

SMC

3.0SMCJxx(A)

–

6.8V to 260V

5V to 220V

3000W

SMC

5KPxx(A)

5KPxxC(A)

6.8V to 210V

5V to 180V

5000W

R6
---
Beside Transient-Voltage-Suppressor (TVS) diodes Bruckewell offers a lot more power discretes like SiC Schottky diodes, BJTs or LV to HV Mosfets. We would be glad to discuss your next power design or redesign based on Bruckewell parts. Just give us a call or leave us your request by the following web form
---