SIM7672 – LTE Cat.1 bis modules based on Qualcomm QCX216 by SIMCom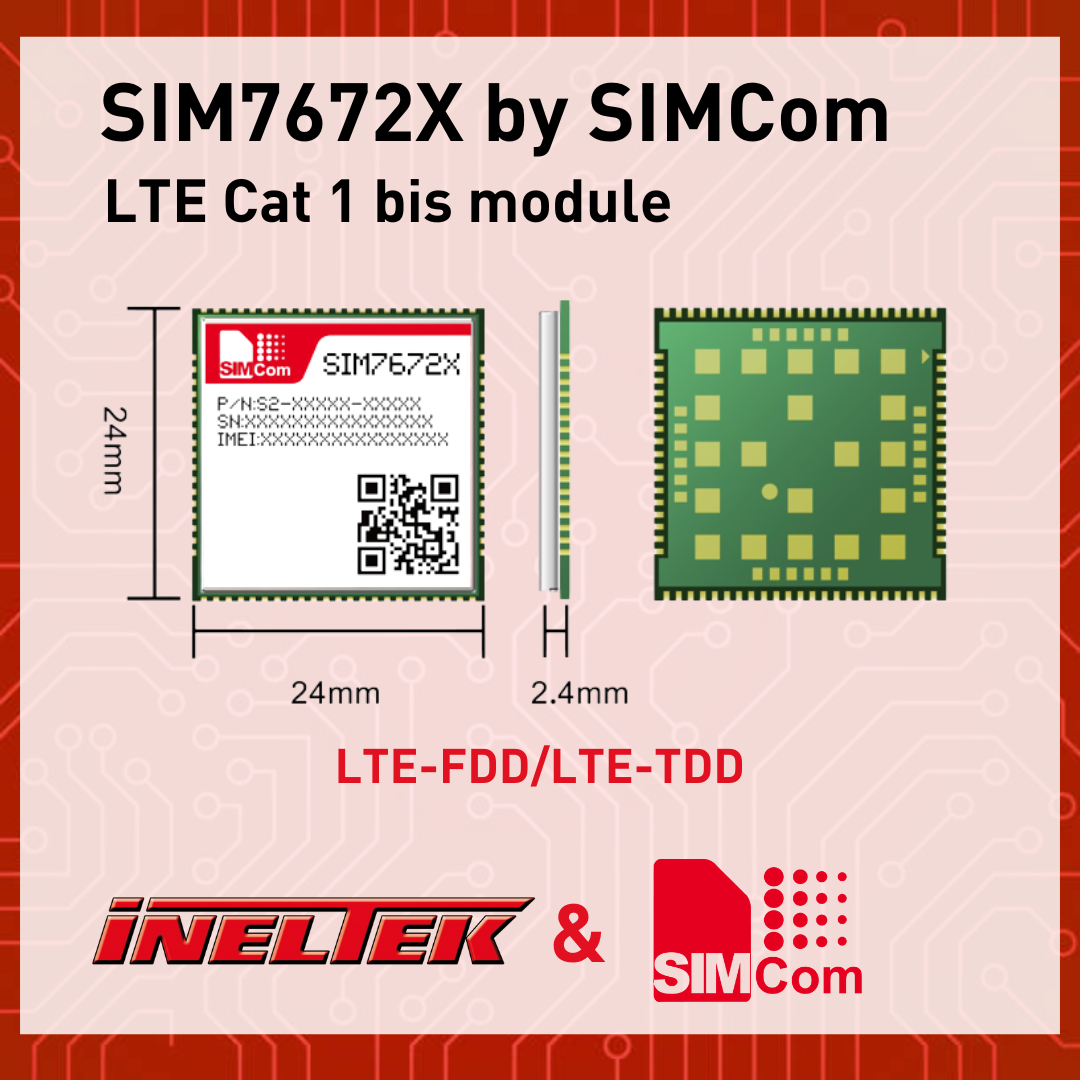 Why SIM7672 – LTE Cat.1 bis modules? 2G and 3G networks are being replaced with less power-consuming technologies that require less maintenance and have global coverage. Numerous operators around the world have already started this transition and have even shut down 2G and 3G networks.
One of the alternatives replacing 2G and 3G in IoT applications is LTE Cat.1 and LTE Cat.1 bis. SIMCom launched the SIM7672 series which is based on the Qualcomm QCX216C platform and brings various benefits to your applications when transitioning to this technology!
LTE Cat.1 and Cat.1 bis
LTE Cat.1 technology offers some advantages, including global coverage and roaming, low latency for rapid transmission, low power consumption, and continuous data streaming. The SIM7672 is an LTE Cat.1 bis module. This technology offers the same features as LTE Cat.1, with the difference that only one RX antenna is required instead of two.
For over two decades, SIMCom has remained committed to delivering diverse cellular wireless modules and solutions, covering 5G, 4G, LPWA, LTE-A, smart modules, automotive modules, and GNSS technologies. With state-of-the-art facilities and expert research and development teams, SIMCom offers advanced products and premium services to more than 10,000 clients spanning 180 countries and regions.
SIM7672 – LTE Cat.1 bis modules at a glance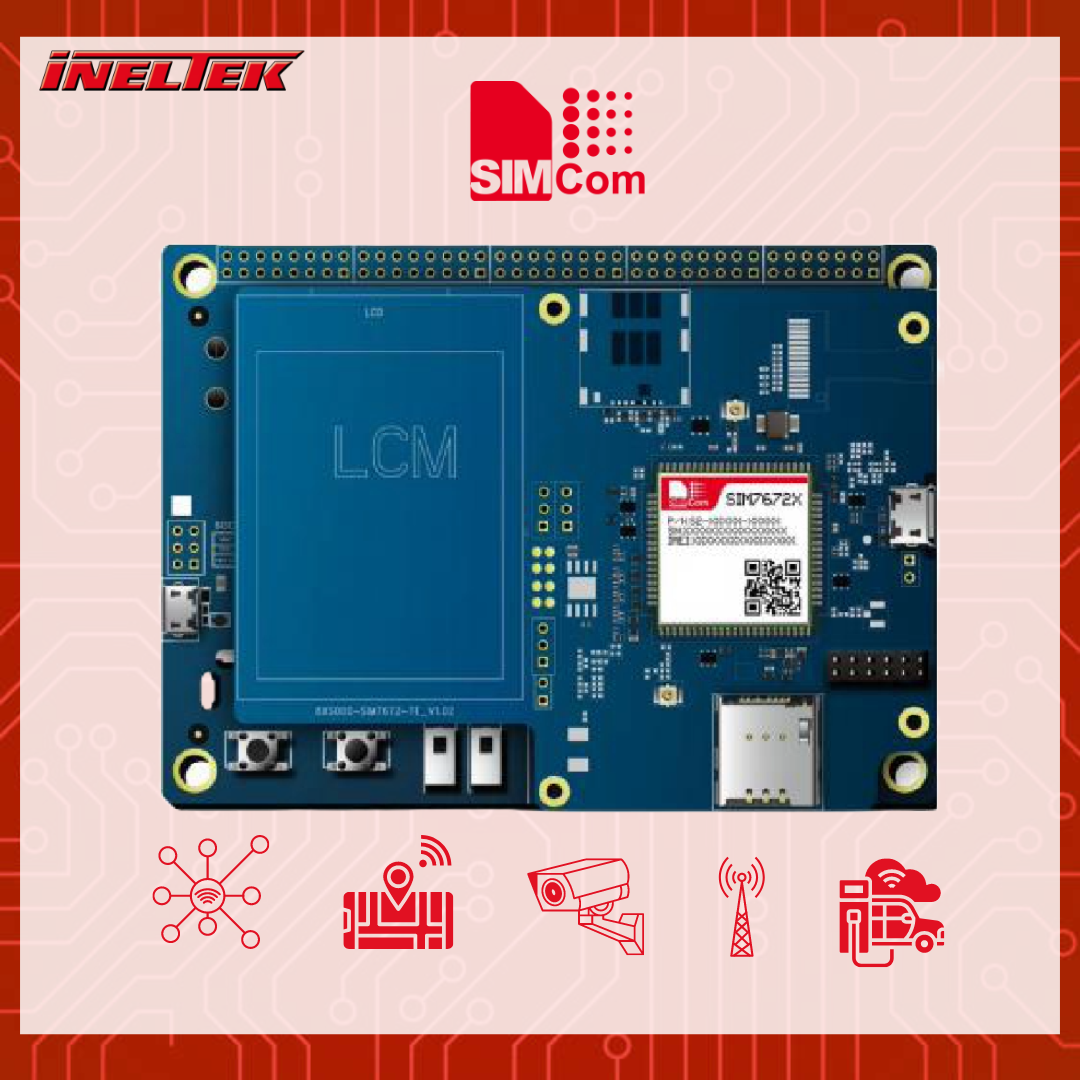 The SIM7672 series by SIMCom offers fast, intermediate, and powerful IoT connectivity with global network coverage, reduced costs, a smaller form factor, and improved power efficiency. Some SIMCom modules supporting technologies such as NB, Cat M, and 2G are compatible with the SIM7672, allowing for a seamless transition to LTE Cat 1. Additionally, if you are already using the Cat.1 AT672 Series, migrating to SIM7672 might be possible.
This series supports LTE-FDD, LTE-TDD, as well as GNSS function interface. It achieves a maximum downlink rate of 10Mbps and an uplink rate of 5Mbps and adopts the LCC+LGA form factor (80 LCC pins and 44 LGA pins).
---
Benefits of SIM7672 Series
Here are some remarkable benefits of choosing the SIM7672 series:
Global coverage: The SIM7672 series supports 3GPP R14 standards and offers three different variants, each supporting various frequency bands. These variants include North America (including US MNOs), European, and global versions that cover worldwide frequency bands.
Cost-effectiveness: The SIM7672 series is highly cost-optimized, integrating all the favorable features for an efficient, budget-friendly design. It supports a data rate of up to 10Mbps, includes multiple built-in network protocols, and integrates tailor-made software.
High-precision GNSS receiver: The SIM7672 Is a two-chip solution! It handles GNSS and LTE simultaneously, since it integrates a high-precision GNSS receiver, enabling applications such as asset tracking, fleet management, and micro-mobility monitoring through multi-constellation positioning and wireless communication.
Compact size: This module can be found in a size of 24.0*24.0*2.4mm.
Power-Efficient: Sleep mode is available, which has ultra-low power consumption. This makes it suitable for applications where low current consumption is essential.
Applications ideal to cover with SIM7672
Thanks to its low current consumption in sleep mode, it is suitable for applications such as smart utility meters, trackers, e-mobility, parking meters, home automation, and security.
The SIM7672 series integrates standard interfaces (UART, USB, I2C, and GPIO) and offers high expandability. This makes it suitable for various IoT applications, including telematics, industrial routers, remote diagnostics, and more.
Have you found the perfect solution for your application and would like to get more information? Or are you unsure about what to choose and would prefer to receive some advice from us? If so, please get in direct contact with us or fill out the following form. We will contact you as soon as possible.