SIMCom – Safeguard commercial vehicles with SIM7600X-H series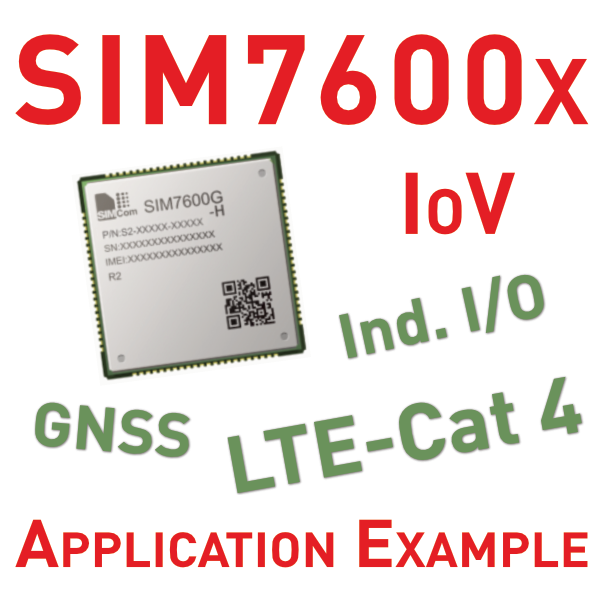 Based on the LTE CAT.4 SIM7600X-H series module, the vehicle-mounted Smart Pre-crash Safety System connects the vehicle, cloud and driver through wireless network to realize the three-dimensional smart security guard of all time, all areas and all-round.
You will find many details below about SIMCom's 4G modules and why they are ideal for IoV applications (Internet of Vehicles).
Application Example on Trucks
Taking truck as an example, the vehicle body is huge so that the driver has blind spots of vision.  Long transportation distance and high labor costal ways lead to fatigue driving. Heavy loads often result in overweight driving. In view of the aforementioned causes of accidents, the Smart Pre-crash Safety System works out corresponding solutions. 
SIM7600X-H series integrate numerous industrial standard interfaces (such as UART, USB, I2C, GPIO) ensuring its powerful expansion capabilities. On this basis, a series of systems with SIM7600X-H modules have been developed.
The Blind Spot Detection system (BSD) can detect collision risks at the blind spots. A Driver Status Monitor system (DSM) can monitor the driver status in real time, and make early warning and intervention. An Automatic Emergency Braking system (AEBS) is like invisible hands protecting the vehicle, ensuring that at the moment of crash, the vehicle can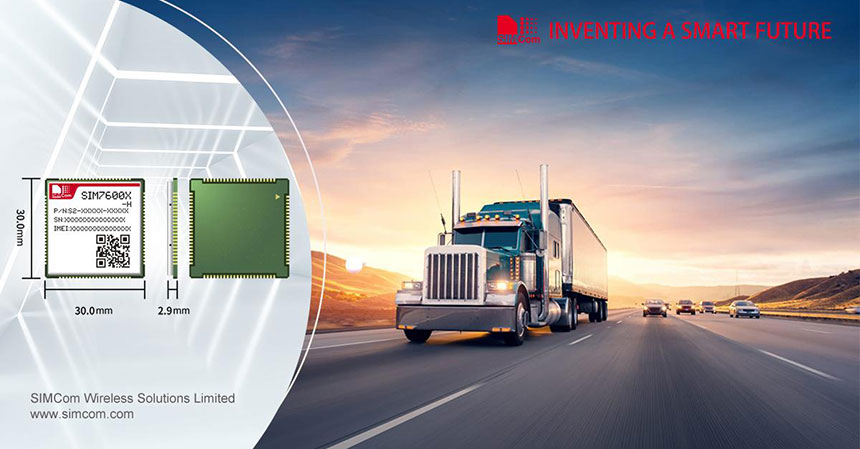 automatically slow down or brake safely and smoothly, minimizing or avoiding collision. 
The SIM7600X-H series supports the maximum downlink up to 150Mbps and the maximum uplink up to 50Mbps. Hence It can respond quickly and transmit commands at the critical moment, triggering the Smart Pre-Crash Safety System so as to realize the automatic emergency braking.
Stable connection prevents driving risks
In practical operation, the backend can display the high-risk road sections in the form of thermal map and update the running status of vehicles in real time due to the multi-constellation high-accuracy GNSS receiver system and the Location Based Service function integrated within SIM7600X-H modules. The information of potential risks automatically identified at backend can be timely sent to drivers to remind them of taking actions.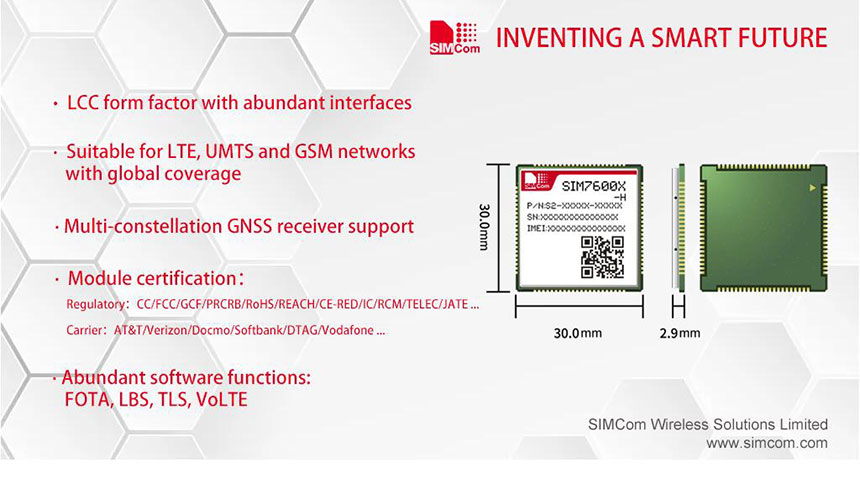 SIM7600X-H series support the networks of LTE, UMTS and GSM with global coverage, which can help traditional commercial vehicles to access the cloud at high speed via 4G network.
The SIM7600X-H series also support wireless communication modes of LTE-TDD/ LTE-FDD/ HSPA+/ GSM/ GPRS/ EDGE etc.
Even if a vehicle passes through an area that cannot be connected to a 4G network, it will fall back to 3G and 2G to guarantee communication connection as much as possible. 
According to the test, SIM7600X-H series modules applied in vehicle-mounted terminal products can ensure stable connection at a speed of 100km/h, and fully meet the real-time requirements of data transmission for major commercial vehicle types such as freight truck, public bus, special vehicles for hazardous chemical, engineering vehicles and so on. 
In addition, a large amount of data generated by running commercial vehicles is completely transmitted to the cloud, which is useful for operators with a large number of vehicles to further analyze and evaluate driving behaviors, which can prompt efficient and transparent equipment and safety management. 
SIMCom and the Internet of Vehicles
With the development of IoV, SIMCom has made a grand layout in the market, taking the lead in the industry in launching 5G modules, C-V2X modules, LTE CAT. 4 and LTE CAT. 1 modules that can be applied to the IoV. SIMCom commits to enabling vehicles to achieve stable and high-speed connection with the IoV and helping people use and manage vehicles more safely, efficiently, environment-friendly and intelligently. With reliable products and high-quality services, SIMCom has established long-term and stable partnerships with many leading players in the automotive industry. 
Are you interested in more details on SIMCom's complete offer? Ask our team on roadmaps, application support and supply chain management