RV-3028-C7, the first Real Time Clock Module with only 45 nA power consumption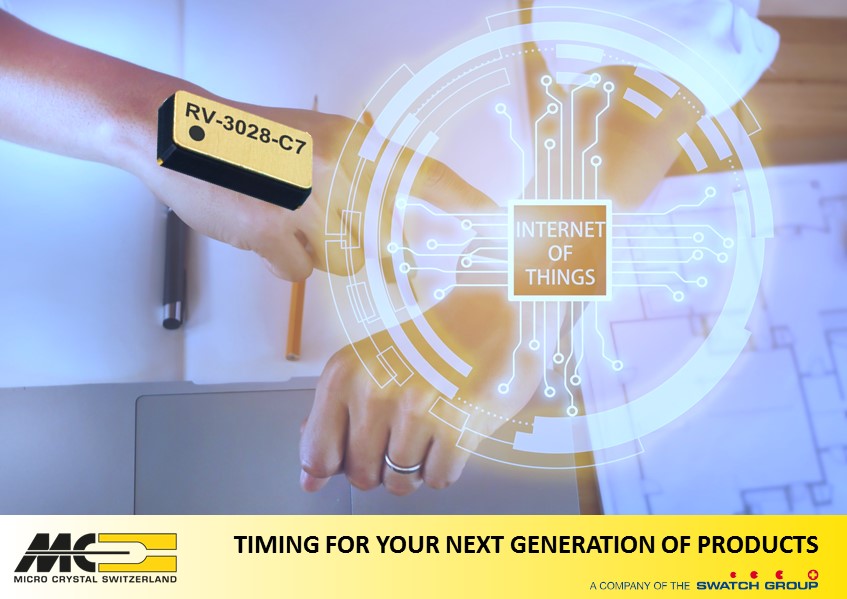 The new RTC‐Module RV‐3028‐C7 sets the new benchmark for lowest power consumption: 45 nA at a supply of 3V. The high accuracy of ± 1 ppm at room temperature eliminates any calibration during manufacturing. The tiny package of just 3.2 x 1.5 x 0.8 mm combines the quartz crystal with the RTC circuit, also offering an integrated battery‐back‐up‐switch. The extreme low power consumption allows using MLCC capacitors to cover the back‐up time. Together with an event detection input, it features all the prerequisites for Wearables, Medical Healthcare and power sensitive IoT applications.
Further properties of Real Time Clocks:
Industries lowest current consumption of only 45 NA @ 3V
Factory calibrated time reference ±1.0 ppm @ 25°C
Integrated 32.768 kHz Quartz Crystal
Event input for time-stamping, also during system power-down
Battery back-up switch with trickle charge, ideal for MLCC and Supercaps
Wide voltage range 1.2 to 5.5 V
Ultra-miniature ceramic SMD package: 3.2 x 1.5 x 0.8 mm
Provides time and date from seconds to years
32 bit Unix time counter e.g. for security code calculations
Password protection for time change, 43 Bytes of user EEPROM
For more info, contact an Ineltek office within your area or contact us at info@ineltek.com.