RTC Modules from Micro Crystal
Micro Crystal is a leader in highly sophisticated miniature Real-Time Clock Modules, SMD Crystals and Oscillators. They offer superior reliability in the smallest device footprint. Their specialities are Temperature compensated RTC-modules, ultra-low power and event monitoring.
Micro Crystals RTC-Modules are a smart combination of different functions and features.
Functions:
Quartz oscillator: Embedded Quartz Crystal Oscillator, factory tuned
Time: Track the current date and time
Alarm: Schedule events to take place at a specific
Timer: Generate a signal of clearly defined length
Watchdog: Supervise the embedded system
Event Detection: External event input, e.g. to trigger an interrupt
Temperature compensation: Accuracy over the whole temperature range
Features:
Small size:

C2: 5.0 x 3.2 x 1.2 mm
C3: 3.7 x 2.5 x 0.9 mm
C7: 3.2 x 1.5 x 0.8 mm

Clock output frequencies: 32kHz .. 1kHz .. 1Hz
Interrupt: Output for alerting the host system
Memory: EEPROM and RAM
Interface: I2C or SPI
Power backup: RTC automatically switches to back-up power for uninterrupted time tracking
Extended temperature:industrial and automotive temperature range
Plug & Play: RTC modules are factory calibrated
Qualification Grading: compliant to the AEC-Q200 standard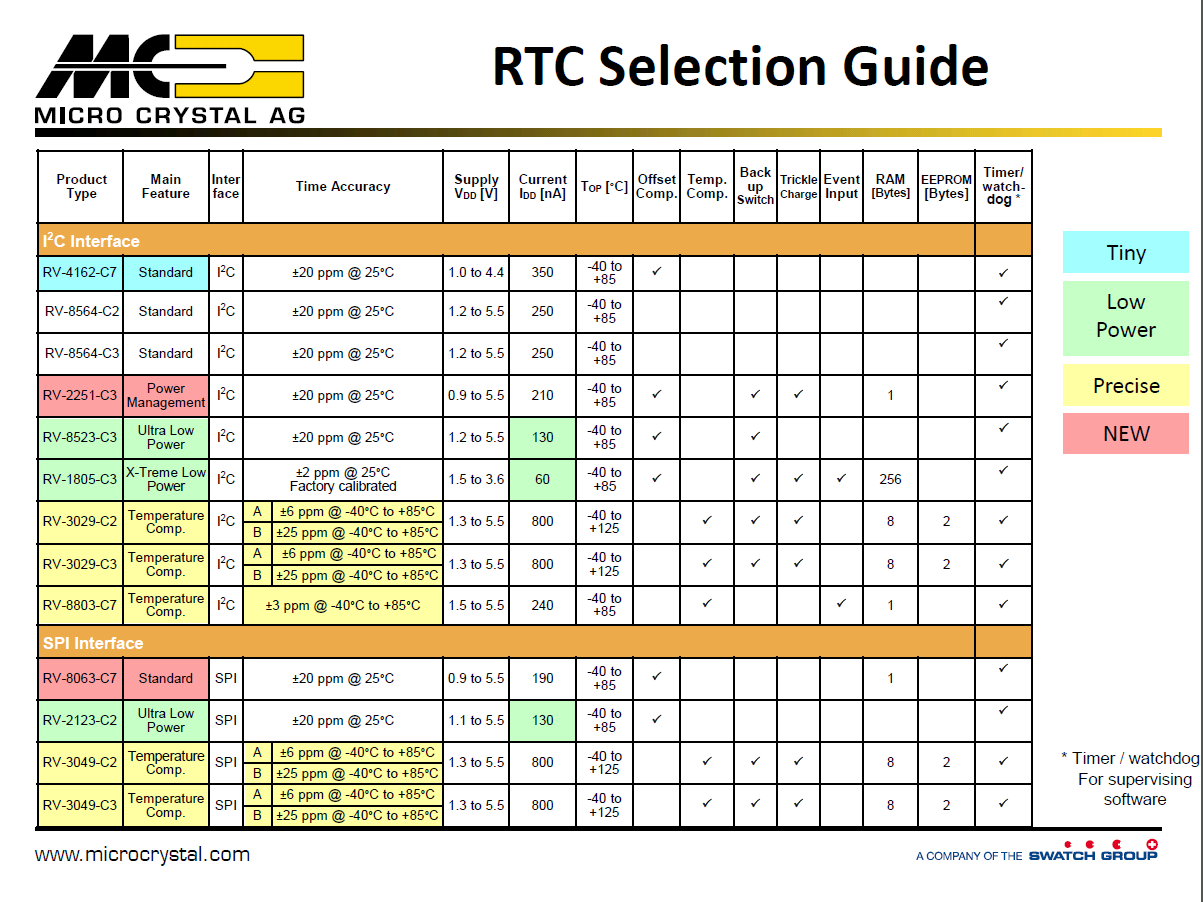 Design-in support:
Apart from downloading application manuals, white papers and software drivers, designers can order 5 free samples plus 1 demo board from the Micro Crystal homepage. The Development Boards are completely assembled and have the tiny Real-Time Clock and all required passive components soldered on the PCB. 
Demo boards have all pins accessible and allow fast and simple interconnection with target application for software development, test and qualification procedures. Linux drivers are available for the most popular RTC modules.
To receive even more information like technical data sheets or price information please contact an Ineltek office within your area or contact us at info@ineltek.com.