Holtek – Sub-1GHz Low-IF FSK RF Receiver BC2502A/B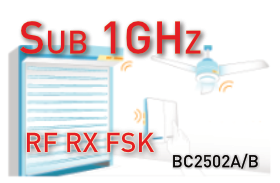 The BC2502x receiver ICs feature a fully integrated low-IF FSK receiver with automatic gain control (AGC) and a fully integrated FSK demodulator. The Fractional-N PLL synthesizer supports 315, 433, 868 and 915 MHz frequency bands and has an integrated VCO. The devices require only one crystal and a minimum of passive components to fully implement the FSK receiver.
With this high level of functional integration, the BC2502x devices provide excellent solutions for low-cost, low-power wireless applications. 
BC2502A & BC2502B Details
The BC2502A operates in the 315/433MHz bands while the BC2502B operates in the license-free sub-1GHz ISM bands.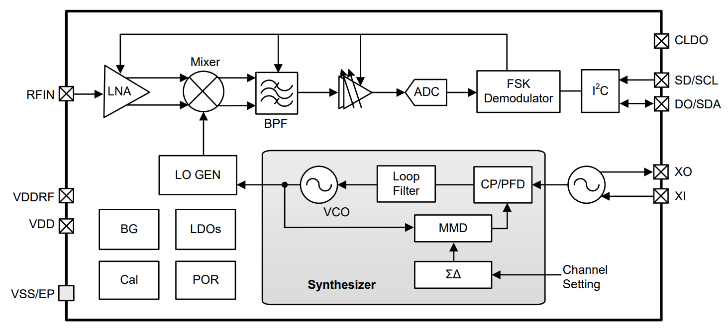 Their supply voltage ranges from 2.4V to 5.5V and have a low RX-current of 4.5mA in the 433MHz frequency band, a high receive sensitivity of up to -109dBm at a data rate of 25ksps, and a maximum transmission rate of 50ksps. The RF characteristics of the devices also comply with ETSI/FCC specifications.
---
The devices support a Sniff-RX-Mode, where the RX mode on/off function can be controlled by an MCU to achieve average power consumption below than in Duty-RX-Mode.
The devices come with an I²C interface, which can be used to set the receiving frequency and other parameters. Other advantages include their high anti-interference properties, which can reduce the effects of interference from power and ambient noise. The devices are supplied in a small 10-pin SOP-EP package and meet the industrial temperature specification of -40°C to 85°C.
---
The BC2502x receivers are particularly suitable for use in wireless receiver products such as metal roll-up doors, ceiling lights, wireless switches, drying racks, wireless doorbells, integrated ceiling fans and other products.
---
Specification in Detail
Configuration & Applications
On-chip VCO and fractional-N synthesizer with built-in loop filter

---

Supports low-cost 16MHz crystal

---

FCC/ETSI compliant
Metal roll-up doors
Ceiling lamps
Wireless switches
Wireless doorbells
Other wireless products
The receivers presented here are part of a large family of radio ICs from Holtek. Talk to us about all possibilities these RX, TX and TRX devices enable for your next project
---