Renata – Lithium Polymer solutions – ICPxxx Series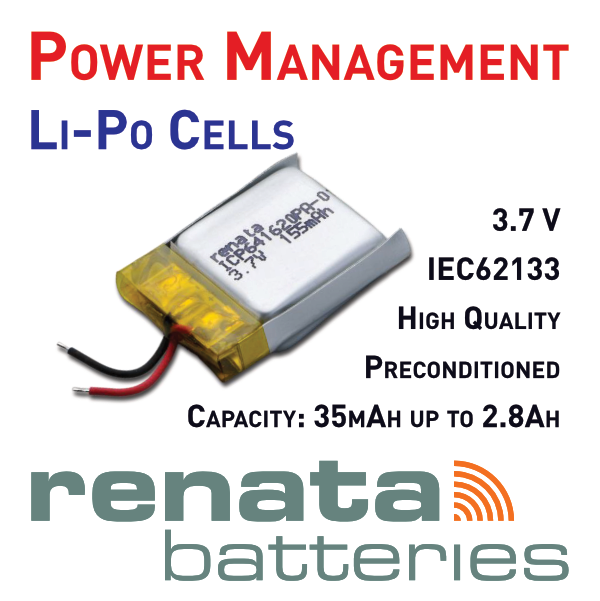 Renata SA, a subsidiary of Swatch Group Ltd in Biel, was founded in 1952 became a leading manufacturer and supplier of Coin Cells and Lithium Polymer Batteries for watches and many other electronic market segments within medical technology -, RFID-, metering industry and others.
In addition to Li button cells, Renata also offers Li-ion polymer secondary cells in the widely used ICP designs.
---
Portfolio
Renata`s rechargeable Lithium Polymer Battery Series ICPxxx is available from a capacity of 33 mAh up to 2800 mAh, with 3.7V nominal voltage, standard charge current of 0.5C, discharge current of 1C and a temperature range from -20°C up to 60°C.
---
Technology and Design
Nickel contacts of the battery enable soldering and welding processes to connect the cell during end product manufacturing process. A high temperature resistant shut down separator is implemented since safety comes first. To achieve a constant capacity over the discharge cycles Renata uses high accuracy in production of the positive and negative terminals. Furthermore, the laminated film case will avoid water diffusion out of the battery which result in very long shelf life and over 800 charge/discharge cycles.
---
Quality and Preconditioning
Another important topic is that there is no critical point related to bulging effects. After production Renata gives the battery a special treatment: The battery will be 100% charged, 100% discharged, degassed and 30% charged before it will be shipped out. By this Renata guarantee high quality and low deviation across production lots. This free the customers from doing all these pre-treatments on their side.
---
All products (table overview) will be delivered by air transportation to avoid uncontrolled conditions during sea freight shipments. In addition to the necessary certifications like UN 38.3, most batteries are already additionally certified according to IEC62133 to meet today's safety requirements in the industry.
---
Contact our team for more information about handling and designing products with LiPo batteries – Our application team can give you some guidance for the best choice from Renata's battery portfolio.
---