Qorvo® Introduces World's Smallest, 20-Watt Single-Chip Programmable Motor Control and Drive Solution for Brushless DC Motors
Integrated, system-on-chip PAC™ is first to deliver intelligent solution with FLASH-programmable MCU and MOSFETs in a single device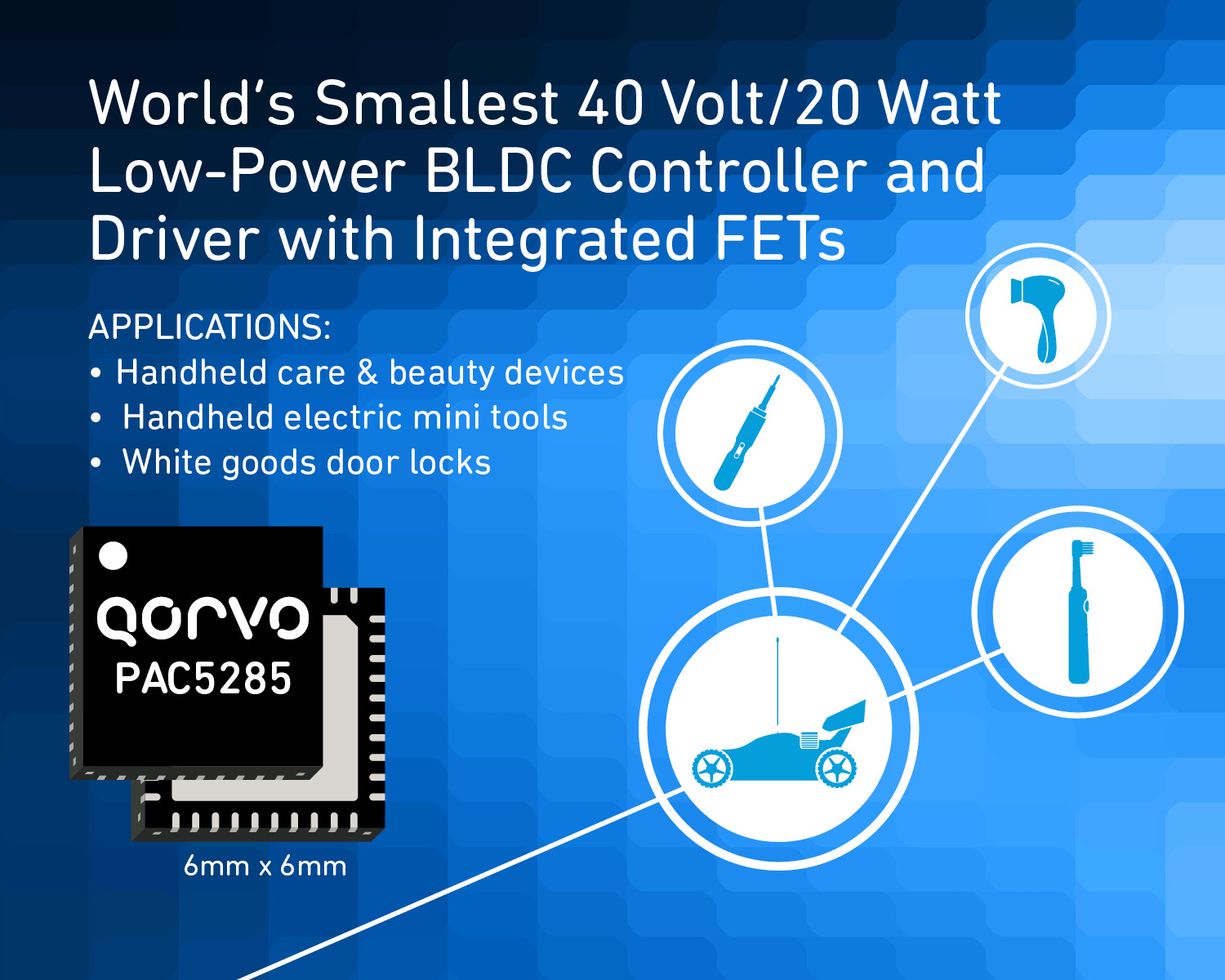 Qorvo® (Nasdaq:QRVO), a leading provider of innovative solutions that connect and power the world, today introduced the industry's smallest single-chip motor control and inverter solution for brushless DC (BLDC) motors. The integrated, single-chip design enables motor control for extremely compact, low-power 2S to 8S battery-powered BLDC motors and opens the door to new markets and electronics in health and beauty, among others.
The Qorvo PAC5285 Power Application Controller (PAC) integrates within a single product a high-performance, 50 MHz Arm® Cortex®-M0 with 32kB of FLASH, power management, gate drivers, integrated MOSFET inverter and signal conditioning components. This provides significant savings on both the PCB size and bill of materials (BOM) count while enabling high-performance motor control with extended battery life.
The PAC5285 BOM has dramatically reduced the number of external passive components – no other ICs or active components are required for this high-performance, programmable BLDC solution. Typical solutions require multiple discrete devices for power management and control. The PAC5285 allows OEMs to design highly integrated, programmable BLDC solutions in the smallest footprint possible.
David Briggs, general manager of Qorvo's Programmable Power Management business, said, "Our customers are looking for integrated, low-power solutions that reduce PCB size and BOM count. Qorvo is delivering that with a best-in-class, FLASH-programmable motor control solution that enables an extraordinarily small BOM, opening new market opportunities and applications."
The PAC5285 is available now and offers these features:
Integrated FLASH-programmable MCU

50 MHz Arm® Cortex®-M0 with 32 kB FLASH
10-bit 1 MSPS SAR ADC with dual sequencer
PWM Timers, Serial Communication

Integrated Power Management

40 V Input Charge Pump DC/DC, LDOs
8 µA@12V low-power hibernate mode

Integrated Gate Drivers and MOSFETs

6 x 40 V / 300 mΩ MOSFETs for BLDC 3-phase motors

Integrated Signal Conditioning

Integrated Differential and Single-ended Amplifiers
Qorvo's Programmable Power Management business delivers power management and intelligent motor drive expertise to key growth markets. The company's portfolio of analog and mixed-signal SoCs provides scalable core platforms used in charging, powering and embedded digital control systems for industrial, commercial and consumer applications. Qorvo offers Power Application Controllers® (PAC™) and DC-DC power management products that significantly improve system reliability while reducing solution size, cost and system development time. Learn more at www.qorvo.com/power-management.