PREMO has developed an upgraded design of its most sold 3D coil 3DC11LP-AOI
Due to increasing integration for thinner profiles and more robust parts in today's cars, as well as the growing trends on the use of 3D antennas inRemote Keyless Entry Systems, PREMO has developed an upgraded design of its most sold 3D coil, including Automatic Optical Inspection characteristic. 
This is a patented design of a monolithic 3D antenna with side metallization that enables lateral meniscus formation during the surface mount (SMD) soldering process in customer's PCB, which allows automatic recognition of soldering process AOI. Additionally, it offers same robustness as PREMO´s 3DC11LP, and all the benefits associated with it, but even more improved electrical characteristics. 
Most of the components used in remote keyless entry systems must exhibit extreme mechanical robustness. Consequently, PREMO transponder coils have been developed to withstand a drop test of more than 1000 drops free fall from 1 m height on concrete floor, and more than 20 drops from 2m. 
3DC11LP-AOI has been designed to show the most stable performance under the full temperature range -40 ºC up to +85ºC. Moreover, the new component is offered in standard value of 7.2 mH @125 kHz with sensitivity higher than 80 mV/A/m and Q factor higher than 20 at same 125 kHz frequency (other inductance value and frequency operations under request).
This series is qualified according to AEC-Q200 and is recommended for use in Atmel, ams, Maxim, NXP and main reference design manufacturers. 
PREMO is continuously researching 3D antenna designs to provide the optimal solution for customer's application requirements.
Samples available from September 2014.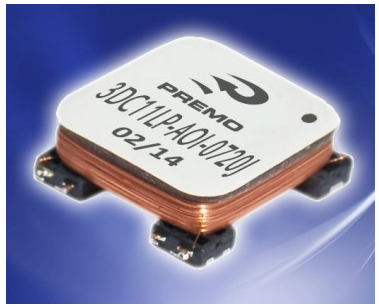 PREMO is a Spain-based company engaged in the development, manufacture, and sale of electronic components with special focus on the growing market of H&EV, Smart Metering and market segments including automotive, telecommunications, and industrial electronics. Our product portfolio includes NFC & RFID antennas (worldwide leader), power transformers, inductors & chokes, current sensors, EMC filters, PLC components and accessories. In addition to our broad range of standard components, off-the-shelf products, PREMO designs custom solutions to fit customer requirements. 
To receive more information please contact an Ineltek office within your area.