Pervasive Displays Inc. and Atmel Collaborate to Bring Easy e-Paper Solutions to Developers
Pervasive Displays Inc (PDI), designer and manufacturer of electronic paper modules for commercial and industrial display applications has partnered with Atmel®, a global leader in microcontrollers and touch, to help developers easily build e-Paper solutions with the EPD (e-paper) Xplained Pro kit.
E-Paper displays (EPD's) are being utilized for reusable transport items, medical display devices, electronic security badges, smart tags, labels, and just about anywhere paper is being used for conveying important information in industrial and commercial applications. In addition, e-Paper is being used to display retail and commercial product pricing and information, diagnostic charts, barcode and QR codes and work instructions for assembly lines and manufacturing. E-paper provides an advantage over traditional paper displays by reducing expenses for paper materials and labor. E-paper also provides paper-like readability, high resolution, high contrast, 180 degree viewing angle, and is an ideal TN/STN upgrade.
Atmel and PDI have developed a new e-Paper shield called EPD Xplained Pro dedicated to Atmel® MCU Xplained Pro kits. PDI has published the EPD driving source code for SAM4L Xplained Pro and SAM D20 Xplained Pro Kit on Atmel Gallery for users to easily download an example EPD project with full source code that is integrated into Atmel Software Framework (ASF). The EPD Xplained Pro extension allows developers to simply drag and drop the code example across a variety of Atmel MCU platforms, which will make it easy for developers to create PDI e-Paper displays and e-Paper solutions.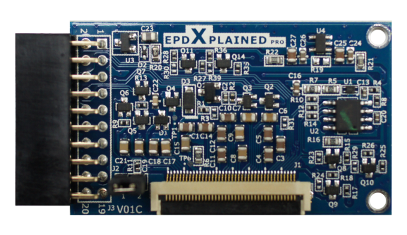 EPD Xplained Pro Board
Other features and advantages:
The Atmel Studio ASF project with EPD Xplained Pro kit supports the Atmel SAM4L Xplained Pro kit andAtmel SAM D20 Xplained Pro Kit for low power designs.
·Developers can adjust the MCU configuration to work with other Atmel Xplained Pro kits or Atmel MCUs easily.
·Developers can plug in the EPD Xplained Pro directly to the header of any Atmel MCU Xplained Pro kit. It will be recognized automatically and direct users to a landing page in the Atmel Studio 6.1 IDE for more detailed information and design resources.
"We are excited to team with Pervasive Displays to enable our developers to quickly make e-Paper solutions with our joint technologies using the EPD Xplained Pro kit," said Joerg Bertholdt, Director of MCU Tools and Software, Atmel Corporation. "E-paper is a new technology that is quickly being adopted by various industries including retail, commercial, logistic segments, and the new EPD Xplained Pro kit will enable developers to quickly – and easily – bring their solutions to this market. We look forward to collaborating on future solutions with Pervasive Displays."
For more product information and to purchase this kit, visit EPD Xplained Pro kit on PDI website. Software support for the EPD Xplained Pro kit is available for download, free of charge, from the Atmel Gallery by typing "EPD" or "e-paper" to search or directly through Atmel Studio 6 Extension Manager.