3PEAK – Low Power Operational Amplifiers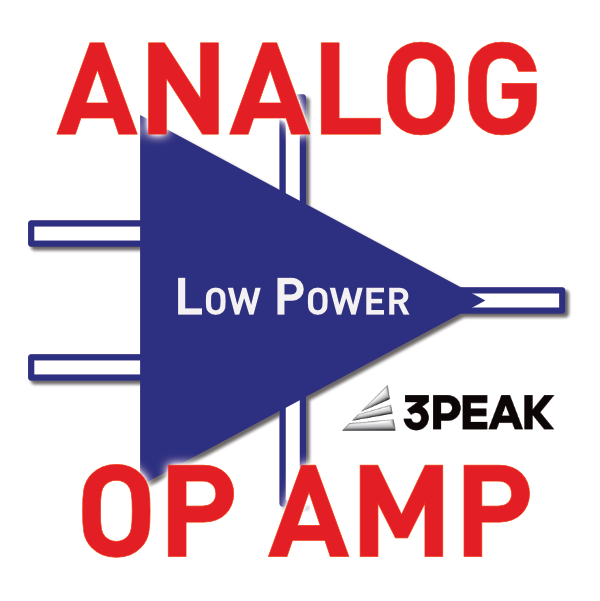 Let's take a closer look at the low-power operational amplifiers from the manufacturer 3PEAK. The portfolio includes amplifiers with quiescent current in the nano-ampere range and low bandwidth in the kilohertz range up to amplifiers with bandwidths in the megahertz range and quiescent current in the micro-ampere range.
The 3PEAK portfolio offers solutions for various applications with different power consumption requirements. From sensor interfaces, filters, motor controllers, white goods and medical applications to battery-powered mobile and portable devices as well as applications using energy harvesting.
Highlights in 3PEAK's Low-Power OpAmp Portfolio
TP211x
Supply Voltage: 1.8V…6V or ±0.9V…±3V
Quiescent Current: 300nA (typ.) / 500nA (max.)
Input Bias Current: 0.1fA (typ.)
Input Offset: ±1.5mV
Input Offset Drift: 0.4µV/°C
Bandwidth: 10kHz
Rail-to-Rail I/O
Supply Voltage: 2.5V…6V
Quiescent Current: 600µA (typ.)
Input Offset: ±3mV
Input Offset Drift: 1µV/°C
Input Noise Density: 19nV/√Hz (@1kHz)
Bandwith: 6MHz
Rail-to-Rail I/O
---
Application example with TP211x
The TP211x can be used for signal amplification of oxygen sensors. An exemplary schematic can be found in the diagram on the right.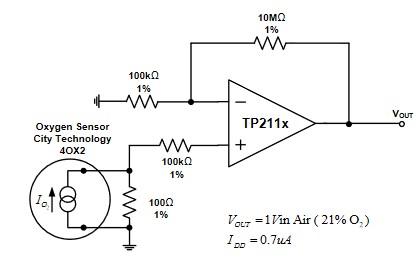 For the version with one channel (TP2111), 2 versions are available – with and without shut-down pin. In shut-down mode, the TP2111N typically consumes only 3nA typical and its output is switched to high impedance.
The operating temperature range of -40°C to +125°C enables use in many different applications, even if high temperatures occur close to a sensor due to the process environment.
---
Actual portfolio of Micro- & Low-Power-OpAmps by 3PEAK
The following table gives an overview of the currently available derivatives. All listed products are Rail-2-Rail I/O operational amplifiers
| | | | | | | | | | | | |
| --- | --- | --- | --- | --- | --- | --- | --- | --- | --- | --- | --- |
| Part Number | Product Grade | CH | VDDmin(V) | VDDmax(V) | GBWP(MHz) | eN@1kHz ( nV/√Hz ) | VOS TC(µV/°C) | IBIAS(pA) | IQ(Typ.)(per CH)(μA) | IQ(Max.)(per CH) | Package |
| TP2111 | I | 1 | 1,8 | 6 | 0,01 | 265 | 0,4 | 0,0001 | 0,3 | 0,5 | SOT353,SOT23-5 |
| TP2112 | I | 2 | 1,8 | 6 | 0,01 | 265 | 0,4 | 0,0001 | 0,3 | 0,5 | SOP8,MSOP8 |
| TP2121 | I | 1 | 1,8 | 6 | 0,018 | 170 | 0,5 | 0,001 | 0,6 | 0,8 | SOT353,SOT23-5 |
| TP2122 | I | 2 | 1,8 | 6 | 0,018 | 170 | 0,5 | 0,001 | 0,6 | 0,8 | SOP8,MSOP8 |
| TP2124 | I | 4 | 1,8 | 6 | 0,018 | 170 | 0,5 | 0,001 | 0,6 | 0,8 | SOP14,TSSOP14 |
| TP1511 | I | 1 | 2,1 | 6 | 0,15 | 95 | 0,6 | 1 | 4 | 5,6 | SOT353,SOT23-5 |
| TP1512 | I | 2 | 2,1 | 6 | 0,15 | 95 | 0,6 | 1 | 4 | 5,6 | SOP8,MSOP8 |
| TP1514 | I | 4 | 2,1 | 6 | 0,15 | 95 | 0,6 | 1 | 4 | 5,6 | SOP14,TSSOP14 |
| LMV321TP | I | 1 | 2,1 | 6 | 1,27 | 39 | 0,6 | 1 | 40 | 51 | SOT353,SOT23-5 |
| LMV324TP | I | 4 | 2,1 | 6 | 1,27 | 39 | 0,6 | 1 | 40 | 51 | SOP14,TSSOP14 |
| LMV358TP | I | 2 | 2,1 | 6 | 1,27 | 39 | 0,6 | 1 | 40 | 51 | SOP8,MSOP8 |
| TP321 | I | 1 | 2,1 | 6 | 1 | 45 | 2 | 10 | 45 | 87 | SOT353,SOT23-5 |
| TP324 | I | 2 | 2,1 | 6 | 1 | 45 | 2 | 10 | 45 | 87 | SOP8,MSOP8 |
| TP358 | I | 4 | 2,1 | 6 | 1 | 45 | 2 | 10 | 45 | 87 | SOP14,TSSOP14 |
| TP6001 | I | 1 | 2,1 | 6 | 1 | 27 | 2 | 1 | 80 | 130 | SOT353,SOT23-5 |
| TP6002 | I | 2 | 2,1 | 6 | 1 | 27 | 2 | 1 | 80 | 130 | SOP8,MSOP8,TSSOP8 |
| TP6004 | I | 4 | 2,1 | 6 | 1 | 27 | 2 | 1 | 80 | 130 | SOP14,TSSOP14 |
| LMV324B | I, C | 4 | 2,5 | 5,5 | 1 | 35 | 2 | 1 | 80 | 130 | SOP14,TSSOP14 |
| LMV321B | I | 1 | 2,5 | 5,5 | 1 | 35 | 2 | 1 | 80 | 130 | SOT353,SOT23-5 |
| LMV358B | I, C | 2 | 2,5 | 5,5 | 1 | 35 | 2 | 1 | 80 | 130 | MSOP8,TSSOP8,SOP8 |
| TP1561AL1 | I, A | 1 | 2,5 | 6 | 6 | 19 | 1 | 1 | 600 | 900 | SOT353,SOT23-5 |
| TP1562AL1 | I,I(AEC-Q100) | 2 | 2,5 | 6 | 6 | 19 | 1 | 1 | 600 | 900 | SOP8,MSOP8,TSSOP8 |
| TP1564AL1 | I,I(AEC-Q100) | 4 | 2,5 | 6 | 6 | 19 | 1 | 1 | 600 | 900 | SOP14,TSSOP14 |
| TPA6581 | I | 1 | 2,7 | 5,5 | 10 | 10 | 0,1 | 10 | 1200 | 1500 | SOT353,SOT23-5 |
| TPA6582 | I | 2 | 2,7 | 5,5 | 10 | 10 | 0,1 | 10 | 1200 | 1500 | SOP8,MSOP8,TSSOP8 |
| TPA6584 | I | 4 | 2,7 | 5,5 | 10 | 10 | 0,1 | 10 | 1200 | 1500 | SOP14,TSSOP14 |
Version: 2023-01-13
Do you need more information? Our team will be happy to advise you on the 3PEAK amplifier portfolio or help you find alternative components for your design. Get in contact with us by phone or sent us your enquiry using the following web form