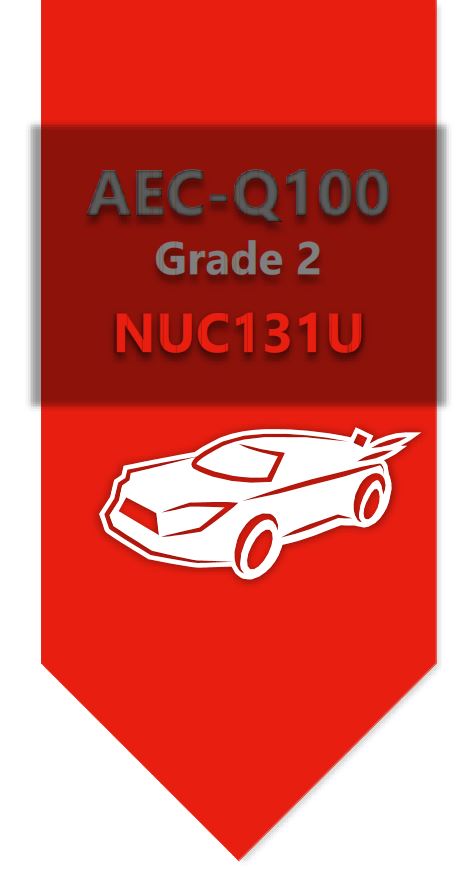 Nuvoton launches a new series of Arm® Cortex®-M0 NUC131U 32-bit microcontroller for automotive applications, running up to 50 MHz, qualified by AEC-Q100 Grade 2 and build-in Controller Area Network (CAN) 2.0 B interface. High performance, high reliability, and high immunity could be suitable for automotive body control, automotive CAN module, on-vehicle diagnostic system (OBD), dashboard control, and automotive lighting applications.
NuMicro® NUC131U has passed AEC-Q100 Grade 2 qualification with high quality and high reliability by implementing strict control procedures from design to manufacturing.
NuMicro NUC131U series features Arm Cortex-M0 core running up to 50 MHz, 68 KB Flash, 8 KB SRAM and 4 KB LDROM to support CAN boot loader update operating voltage from 2.5 V to 5.5 V, and operating temperature from -40 to 105oC. It is equipped with a rich peripheral including six sets of UARTs, two sets of I2Cs, 1 set of SPI, 24 channels of 100 MHz PWM to make precise control to drive both stepping motor or HVAC compressor. 12-bit ADC provides up to 800 k SPS to sense voltage, current, or temperature sensors for automotive applications to reduce the number of external peripheral components and the form factor of the end product.
NuMicro NUC131U series are available in LQFP48 (7mm x 7mm) and LQFP64 (7mm x 7mm) packages.
Multiple IDEs are supported, including the Keil MDK Nuvoton Edition, IAR EWARM, and NuEclipse. Among the IDEs, the Keil MDK Nuvoton Edition (for NuMicro Cortex-M0 family) and NuEclipse are free-to-use. Besides, easy-to-use software development tools including PinView, PinConfig to speed up the development time for time to market.