Nuvoton rolls out brand new M031/32 microcontroller series
Hsinchu, Taiwan-2019/03/04-Nuvoton releases brand new microcontroller M031/32 Series, it provides a rich product series based on Arm® Cortex®-M0 core with 16KB to 512KB flash, and 20pin to 128pin packages. The new generation M031/32 series offers a more flexible choice to implement different application. Full series provide powerful performance and more peripherals and serial interfaces, makes the expansion of external module and components easier, and it is the best choice for industrial control and consumer applications. Additionally, M031/32 series is pin compatible for the parts of different flash size. Users can easily extend systems or upgrade performance for either existing designs or new development.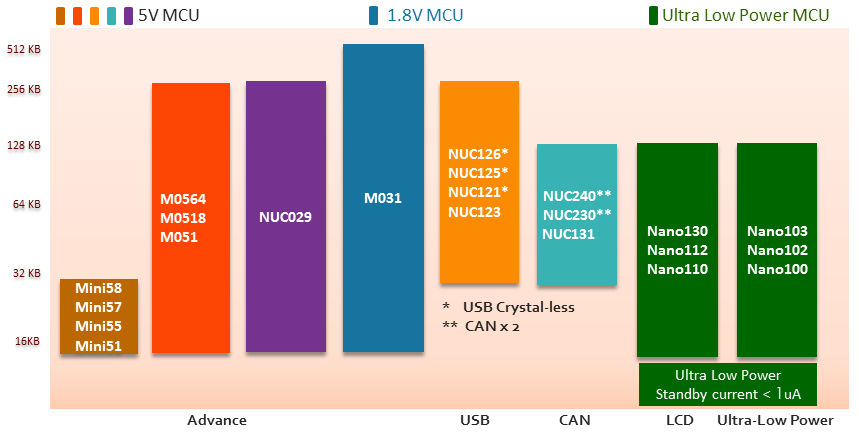 The NuMicro® M031/32 series is low voltage operation 32-bit microcontroller based on Arm® Cortex®-M0 core. It features 1.8 ~ 3.6V operating voltage, runs up to 48/72 MHz and operating temperature range from -40°C ~105°C, support 1.8V low-voltage interface and equip up to 512 KB Flash and up to 96 KB SRAM. Besides, M031/32 series upgrade system and peripherals performance, such as up to 2 MSPS conversion rate 12-bit ADC、96/144 MHz 16-bit PWM、24 MHz SPI and 6 MHz UART. System can acquire more sensor data by high sample rate ADC and do the data processing, then do precise control or transfer data to other device through high performance SPI and UART.
M031/32 series also provide plenty features and peripherals, such as up to 10 set UART, 4 set SPI, 4 set I2C, 24-ch PWM, 16-ch ADC、hardware Divider and comparators. About chip security, in order to protect customer Intellectual property, an embedded 2 KB SPROM (Security Protection ROM) providing a secure code execution area, 96-bit UID (Unique Identification) and 128-bit UCID(Unique Customer Identification) provide multiple protection for program development.
Part Numbers of M032 series are based on M031, it supports a crystal-less USB 2.0 full speed device that can generate precise frequency required by USB protocol without the need of external crystal to reduce the BOM cost and PCB size.
Furthermore, Nuvoton NuMicro® M031/32 series supported packages from small form factor TSSOP20, TSSOP28, QFN33, LQFP48 to LQFP 64-pin and LQFP-128.
Nuvoton NuMaker evaluation boards and Nuvoton Nu-Link debugger are available for product development. 3rd Party IDE is supported such as Keil MDK, IAR EWARM, NuEclippse IDE with GNU GCC compilers.
For more info, contact an Ineltek office within your area or contact us at info@ineltek.com.