Nuvoton Launches Its First ARM® Cortex®-M0 Audio SoC with Speed Up to 98MHz
ISD9300 – Enable Audio User Interface (AUI) with its unmatched performance and unprecedented audio features for the embedded audio applications
Following the success of the ISD9100 Series Audio SoC, Nuvoton Technology Corp., a leading worldwide provider of semiconductors for industrial, consumer and computing applications, today launched the ISD9300 series, the industry first 32-bit audio microcontroller powered by ARM® Cortex®-M0 with the speed up to 98MHz. As the newest member of the highly successful and features rich Audio SoC family, the ISD9300 series brings its unmatched performance with operating speed up to 98MHz while delivering same wide operating voltage, ultra-low power management system, a variety of high-speed communication interface and unprecedented audio and capacitive button sensing features. This makes the ISD9300 series ideal for use in a variety of the embedded audio applications such as capacitive button sensing for touch panels, portable medical devices, security systems, and public transit vehicles, as well as consumer designs, including wireless audio, home appliances, toys, and novelty items.
With a Cortex®-M0 core running up to 98MHz, the state-of-art power-management features, up to 145KB embedded Flash and 16KB SRAM memory, real-time clock (RTC) control, and multiple general-purpose IOs (GPIOs), the ISD9300 series enables designers to develop systems and individual products capable of delivering clear, reliable, easily managed audio recording and playback. The latest entry in Nuvoton's renowned Audio SoC line, the ISD9300 series also simplifies products' design time and reduces bill-of-materials costs; the chip's highly integrated architecture eliminates the need for various periphery chips. 
The ISD9300 series also allows an array of consumer products to carry branding messages. This enables manufacturers to outperform their products with high-quality digital playback of audio-grade sound alerts and corporate audio-logo clips.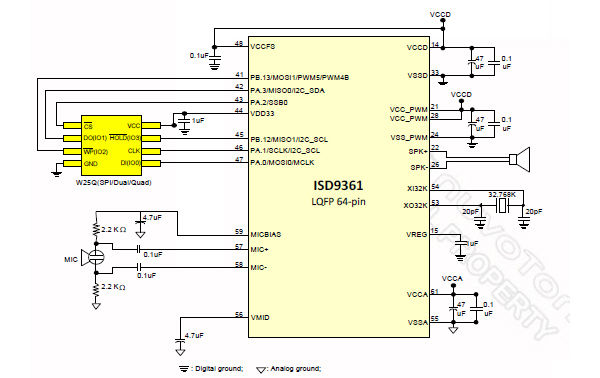 The ISD9300 series incorporates several audio interfaces – microphone, speaker driver and I²S – and sixteen analog GPIOs for capacitive sensing and analog functions.  It is also characterized by five power-saving modes that enable the device to operate under different power level allowances, making it ideal for portable/battery-powered products. Taking advantage of the 98MHz Cortex®-M0's processing engine, the ISD9300 series also enables applications with CPU-intensive features, such as voice recognition and capacitive sensing with audio/voice prompting – applications that at one time required DSPs and/or other high-end, ARM-based devices.
The ISD9300 series is now in mass production; it supports LQFP64 (7mm * 7mm) package and bare die for various application needs.
To receive more information please contact an Ineltek office within your area.
Or contact us at info@ineltek.com