Novosense – NSM301x Rotary Hall Encoder for Industry and Automotive
Hall sensors in versatile variants are used in many different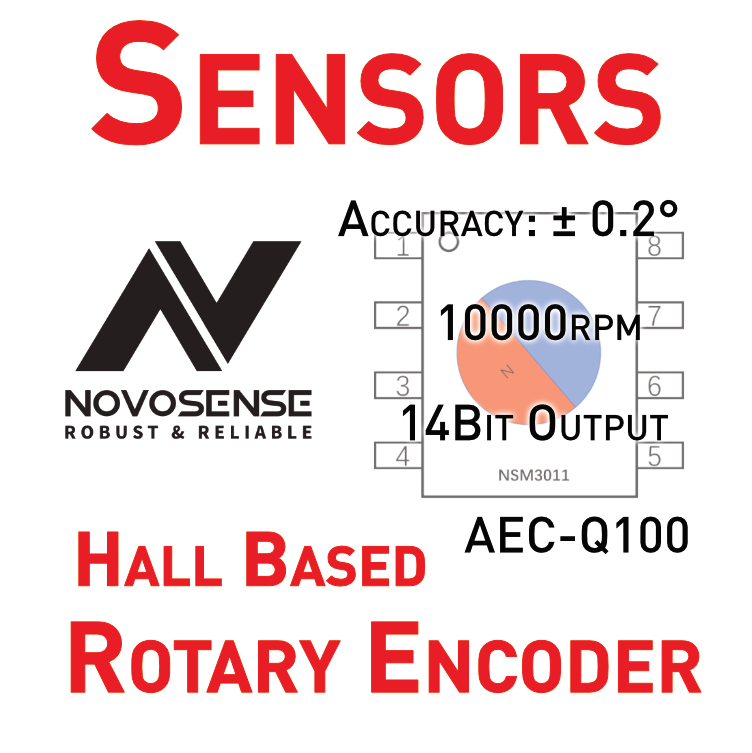 applications in the automotive, industrial and consumer market and are therefore important components of many devices and systems – like a NSM301x Rotary Hall Encoder of Novosense. Angle sensors in particular are important components for applications where rotational positions have to be measured, such as motor controls, actuators or rotary switches. Of course, accuracy and reliability play a major role in many of these applications. Two major advantages are also the significant price advantage of the NSM301x series compared to other solutions and the short delivery times makes the selection easier.
---
With the NSM301x series, Novosense offers suitable angle sensors not only for the industrial and consumer market, but also for the automotive sector.
Special Features
---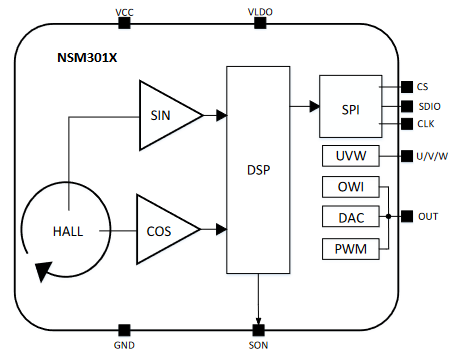 The sensors of the NSM301x series integrate various helpful features, which offer advantages while implementing an application and guarantee its later safe function, such as Automatic Gain Compensation (AGC), Zero Position Setting or an SON feature. In addition, Novosense also implemented dynamic angular error compensation into these sensors.
The sensor can adjust the gain of the signal path according to the strength of the sensed magnetic field. The input signal is amplified to occupy the most range of the internal ADC, thereby improving the sampling accuracy. The AGC feature allows the best possible gain to be set automatically. This ensure the adaption of the sensor to different mechanical constraints and magnetic fields.
---
With the Zero Position Setting the electrical angle can be aligned to the mechanical angle of the magnet.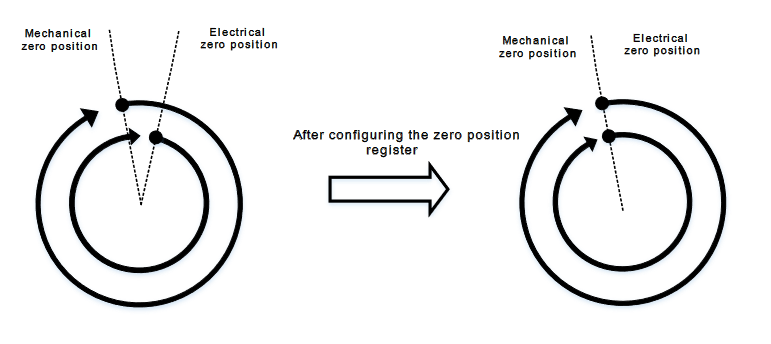 The sensor also measures the magnetic field in Z direction. On the NSM3013 this SON feature is used to determine the distance of the magnet to the sensor. Users can set high and low switching thresholds so that at a certain strength of the magnetic field the SON pin outputs a high or low signal. This feature can be used to implement functions like a rotary push button.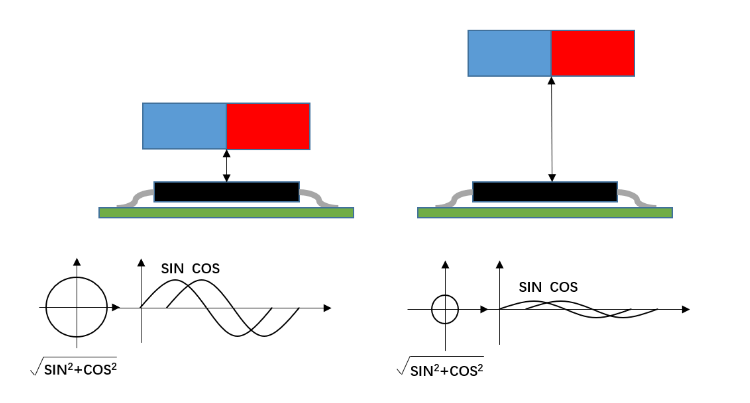 All 3 derivatives of the NSM301x family have an OWI, PWM and analogue output. If you need a digital SPI interface, the NSM3012 is the right choice. The NSM3013 does not have SPI but offers an UVW interface instead and the SON pin described above.
---
Key Features
---
14-bit Analog output DAC / 12-bit PWM output / UVW output
Automatic Gain Compensation
±0,2° accuracy after calibration
SON digital output for measuring strength of magnetic field in Z direction with programmable threshold
Diagnosis function for abnormal outputs
Differential Hall sensor for stray field suppression
Feature for offset temperature drift suppression
speed: 10000 rpm
Interfaces for configuration: SPI / OWI
Supply Voltage: 3,0V..5,5V / 4,5V..5,5V
Operating Temperature: -40°C..125°C
AEC-Q100 Grade 1 qualified
Package: SOP8
You need more information? Our team will be happy to advise you on the sensor solutions from Novosense. Call us or send us your request via the following form

---