Novosense – Reliable & Robust – Product Overview
Our partner Novosense Microelectronics (NOVOSENSE, SSE: 688052) offers extremely robust and reliable analogue and mixed-signal ICs: Isolators, Sensors & Drivers for industrial as well as automotive applications!
About Novosense as a company & product families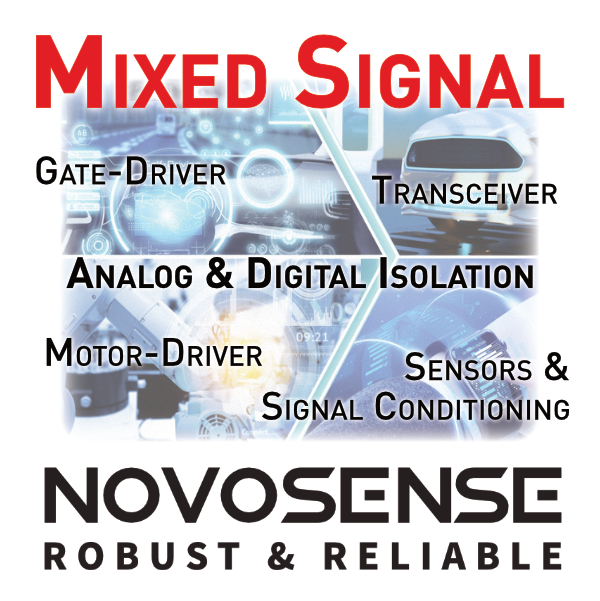 NOVOSENSE was founded in 2013 and focuses its product development on Isolators, Interfaces, Drivers, Sensors, and Power Supply, with more than 1400 IC products for sale.
The accumulative shipment has reached more than 4 billion pcs, widely used in automotive, industrial control, information & communication as well as consumer electronics etc. With the mission of
---
"Sense and Drive the Future, Build a Green, Smart and Connected World with Semiconductors",
---
NOVOSENSE has built partnership with thousands of customers worldwide.
---
Product Overview
Based on ten years' solid IC design & mass production experience, today NOVOSENSE offers a broad product portfolio
Gate drivers: isolated & non-isolated low/high-side and half bridge drivers up to 1200V
Isolation products

Digital isolators
Isolated Interface, including isolated RS485, CAN, I2C
Isolated Power
Isolated Sampling for current, voltage and fault monitoring

Sensors:

Current sensors
Hall-Rotary sensors
Pressure sensors & sensing elements
Temperature / Humidity sensors
Sensor front ends & signal conditioning solutions

LED Drivers for rear lights in car
Motor control drivers:

Brushed DC Motor driver
Relay and solenoid driver

General purpose: LDOs, Interfaces, PWM Buffers etc.
The company's core values "Robust, Reliable, Keep Learning, Long-Term Commitment" build the basis for their steady success on the Asian market.
Applications
With this offer, NOVOSENSE addresses applications ranging from level measurement in a white goods product, isolated interboard communication in industrial plants or the connection of sensors to control systems, to inverter applications, be it in the field of PV power stations or in automobiles.
Automotive is one of key sectors for NOVOSENSE. The company launched its first automotive IC in 2016, and achieved mass production in Tier 1s and OEMs. In 2021, NOVOSENSE was granted ISO26262 ASIL-D Functional Safety Certificate by TÜV Rheinland.
A general product selection guide, together with a document tailored to automotive applications and one for PV power stations, gives you a direct overview of the many possibilities offered by NOVOSENSE product portfolio.
Our team will be happy to provide you with detailed and comprehensive support on NOVOSENSE portfolio. Please contact us or send us your enquiry using the following form: