New supplier: Bosch Sensortec MEMS Sensors and Solutions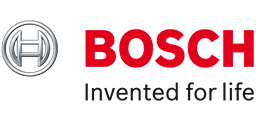 Bosch Sensortec GmbH is a fully owned subsidiary of Robert Bosch GmbH, dedicated to the consumer electronics world offering a complete portfolio of micro-electro mechanical systems (MEMS) sensors and solutions that enable mobile devices to feel and sense the world around them.
Bosch Sensortec develops and markets a wide portfolio of MEMS sensors and solutions for smart phones, tablets, wearable devices and IoTS (Internet of Things & Services) applications. The product portfolio includes 3-axis acceleration, gyroscope and geomagnetic sensors, integrated 6- and 9-axis as well as environmental sensors and a comprehensive software portfolio.
Bosch Sensortec product line-up: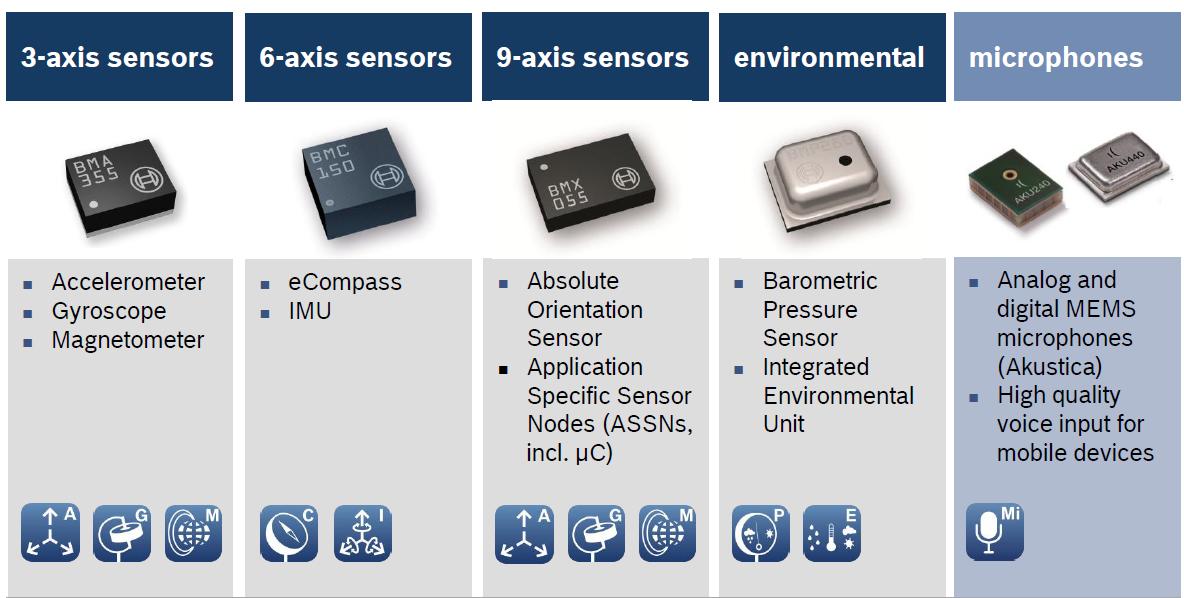 Three Sensor IC highlights out of 3-axis and 6-axis Bosch portfolio
3-axis sensor BMA355:
Industry's smallest 3-axis MEMS accelerometer from Bosch Sensortec set to become the new standard for wearable devices.
The BMA355 accelerometer is optimized to deliver high performance accelerometer functionality into highly space-constrained products
Applications include fitness tracker, pedometer in bracelets, life-style devices and jewelry
With the BMA355, Bosch Sensortec offers the world's smallest 3-axis MEMS accelerometer, featuring a wafer-level chip scale package with a size of just 1.2 x 1.5 x 0.8 mm3. With a current consumption of only 130 μA in full operation, the BMA355 is ideally suited for wearable devices. In low-power mode operation, the current consumption can be even further reduced by more than a factor of ten, making this device ideal for always-on applications.
For more information click here
3-axis sensor BME280:
First Integrated Environmental Unit opens broad range of applications Bosch Sensortec's BME280 sensor combines pressure, humidity and temperature measurement High accuracy and versatility, very small footprint
Fastest temperature and humidity measurement in the market
Supports many emerging smartphone applications such as home automation control and innovative sport and fitness use cases
Adds floor level tracking to indoor navigation
Bosch Sensortec announces a world first in sensor technology: the BME280 Integrated Environmental Unit combines sensors for pressure, humidity and temperature in a single package. This unique sensor has been developed to support a broad range of emerging high performance applications such as indoor navigation, home automation control, personalized weather stations and innovative sport and fitness applications. The precise altitude measurement function of the BME280 is a key requirement in applications such as indoor navigation with floor tracking where exceptional accuracy, low temperature drift and high resolution are needed. Additionally, the BME280 has a best-in-class response time of just one second for humidity determination, excellent ambient temperature measurement and low energy consumption.
For more information click here
6-axis sensor BMI160:
Bosch Sensortec launches first IMU with sub 1mA current consumption
High accuracy, low noise in industry's lowest current consumption and footprint
Ultra-low power, high precision 6-axis IMU in industry leading footprint
Enables always-on applications for wearable devices
Supports precise 9-axis sensor data fusion computation
Bosch Sensortec's new BMI160 Inertial Measurement Unit (IMU) integrates a state-of-the-art 16 bit 3-axis, low-g accelerometer and an ultra-low power 3-axis gyroscope into a single package. It has been designed specifically for high precision, always-on 6-axis and 9-axis applications in smart phones, tablets, wearable devices, remote controls, game controllers, head-mounted devices and toys. The BMI160 is available in a 14-pin 2.5 × 3.0 × 0.8 mm3 LGA package. When the accelerometer and gyroscope are in full operation mode, the typical current consumption is 950µA, best in class by a factor of two.
For more information click here
Please visit Bosch Sensortec for further details about these products.
We would be pleased to receive your inquiry
To receive more information please contact an Ineltek office within your area.