Neoway – N58 LTE Cat.1bis Cellular Module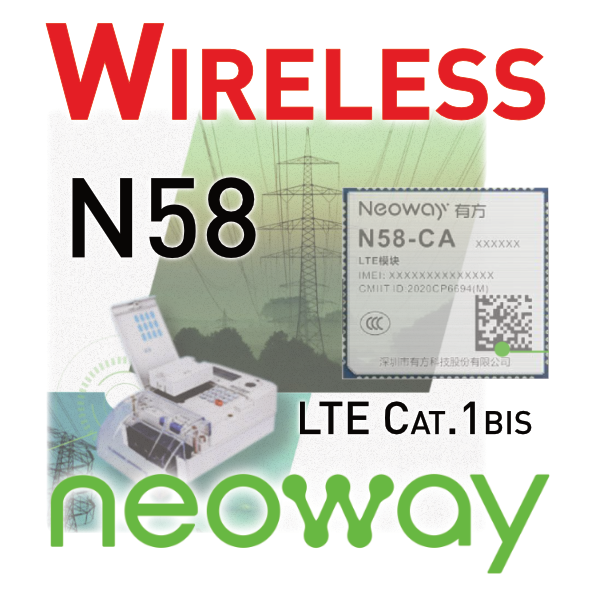 Depending on the application, different connectivity solutions are used in the Internet of Things. NB-IoT and LTE-Cat-M are two of the most common solutions for Low Power Wide Area (LPWA) mobile communications. However, one drawback is network coverage, which isn't available globally. And it is not clear how the expansion of coverage for these technologies will develop in the future.
For LTE Cat.1 things look different. In the near future virtually every region in the world will be covered. However, standard LTE Cat.1 module have also some disadvantages compared to the LPWA solutions, e.g. in the antenna count, as LTE Cat.1 always needs two antennas.
This is where the LTE Cat.1bis standard comes into play. LTE Cat.1bis requires only one antenna, but apart from that corresponds to the LTE Cat.1 standard. This now brings the advantage of possible smaller devices as well as global coverage to IoT applications.
With the N58, Neoway offers a suitable LTE Cat.1bis module for the IoT sector. It has excellent RF performance and supports low power consumption as well as wide operating temperature range. In addition to LTE also Bluetooth and WiFi capabilities are prepared on board and will be implemented soon.
Specification
Supply Voltage: 3.3V..4.3V (3.8V typ.)
Dimensions: 30.0mm x 28.0mm x 2.8mm
Package: 192-pin LCC + LGA
Memory: 64Mb ROM + 128Mb RAM
Interfaces
PCM / I2S
ADC x 1
I2C x 1
SPI x 1
UART x 2
USB 2.0
USIM (1.8 V / 3.0 V) x 2 (Dual card single standby)
SDIO
Frequency bands
CA:

LTE Cat.1: B1/B3/B5/B8/B34/B39/B40/B41
GSM|GPRS: 900/1800 MHz
EU/EMEA/SEA:

LTE FDD: B1/B3/B5/B7/B8/B20/B28
LTE TDD: B38/B40/B41
GSM|GPRS: 900/1800 MHz
GNSS (optional): GPS/BDS/GLONASS
BLE: supports Bluetooth 4.2 dual mode (BR/EDR und BLE)
WIFI: on support WIFI Scan
Protocols: TCP/UDP/TLS/MQTT/DNS/FTP/HTTP/HTTPS/NTP/NITZ
Regions: China(mainland)/EMEA/Australien
Certifications: CCC, SRRC, CTA, CE, RoHS, REACH, POPs, NBTC, GCF*, Anatel*
Firmware Over-The-Air (FOTA) feature
Several drivers for Windows, Linux and Android systems available
More products from Neoway
In addition to the N58 for LTE Cat.1 applications, Neoway offers a variety of other mobile radio modules such as for the NB-IoT or LTE Cat-M standards mentioned at the beginning. Furthermore, 5G Modules for various applications for Smart Infrastructures as well as the automotive sector is a key focus for Neoway.
Antenna design and connection is always an issue in cellular projects. Neoway can assist with in-house products as well as design support for the RF path.
This expertise reflects in Neoway's "ready-to-use" products. Are you looking for OBD, trackers, smart access, gateways or units for in-car applications? Ask us for more information.
---
You need more information on the N58 LTE Cat.1bis Module? Our team will be happy to advise you on the cellular solutions from Neoway