Micro Crystal – RV-3032-C7 RTC Module: high precision – extremely low power – temperature compensated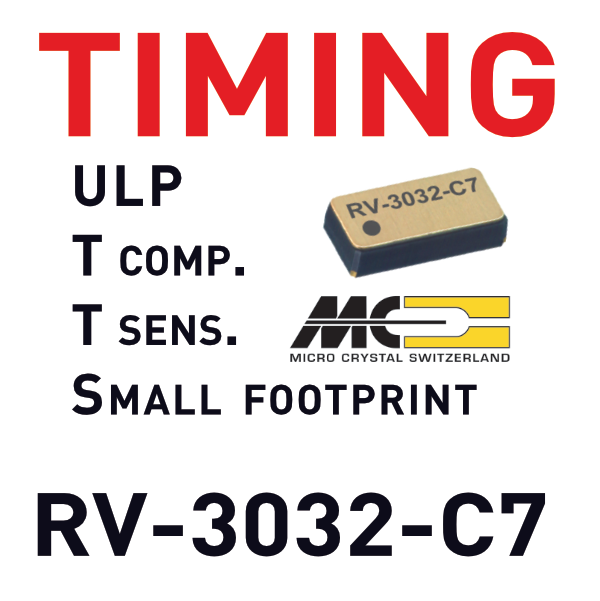 The RV-3032-C7 is the temperature compensated high-end real-time clock module with the world's highest accuracy over the complete industrial temperature range at extremely low power consumption.
The RTC in the size of a conventional clock crystal (3.2mm x 1.5mm) is connected via the I²C interface.
This module is designed targeting smart metering, industrial and consumer applications such as wearables and IoT. An AECQ-200 qualified version is also available.
---
Features of the RV-3032-C7 RTC Module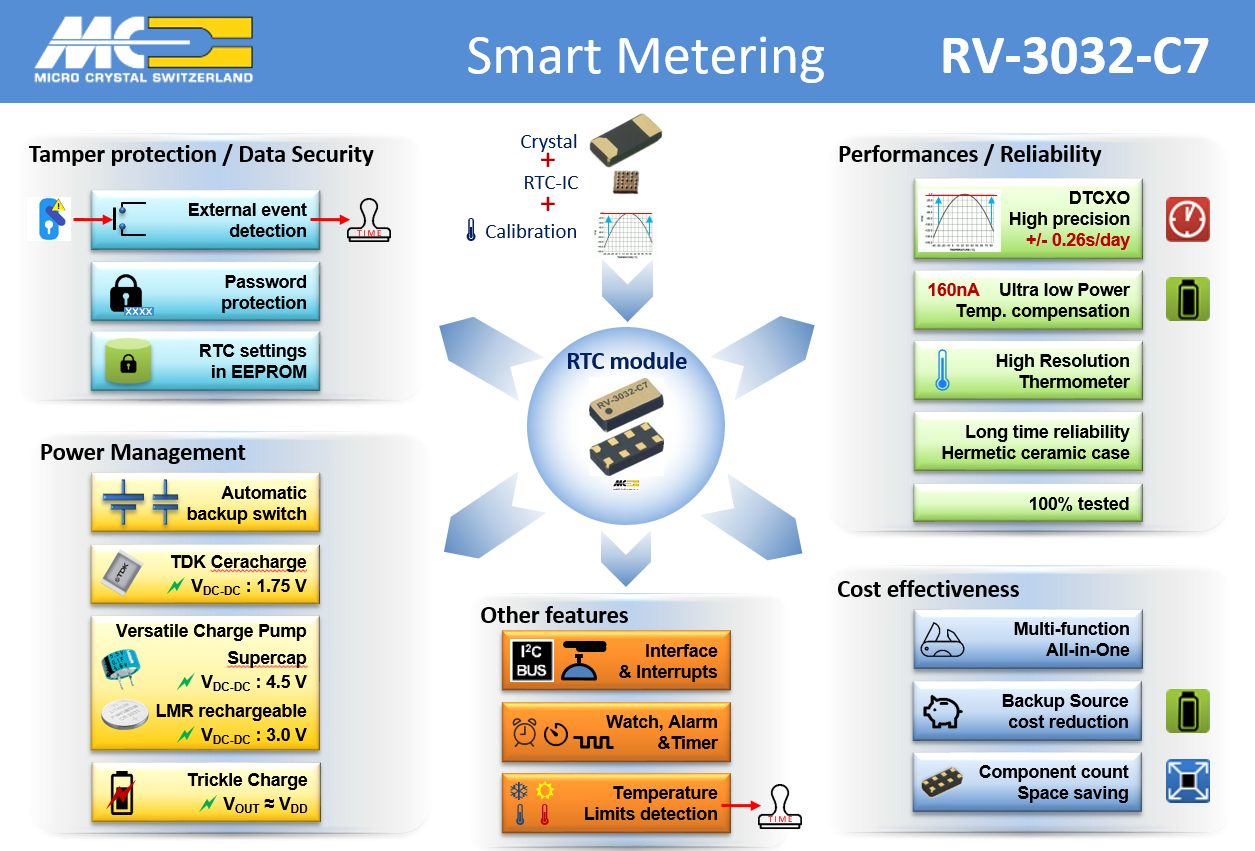 Temperature monitoring with 1°C accuracy and automatic time stamps when configurable limits are undershot or exceeded simplify use in loggers, e.g. for cold chain monitoring.
Thanks to sophisticated power management and wide supply voltage range, automatic backup switching, integrated charge pump and programmable trickle charger, the module can be powered from a small, rechargeable low-capacity battery, a low-cost coin cell or for short-term buffering from a capacitor. This reduces the size and manufacturing cost of the final product while optimizing battery life.
---
Features at a glance
A look at the key features of the RV-3032-C7 shows its superiority over other solutions:
Temperature compensation: +/-2.5ppm (-40°C to +85°C)
Extreme power saving: 160nA @ 3V & 25°C
Battery backup switching & trickle charger
Internal memories (16 bytes RAM / 32 bytes EEPROM)
Password protection for memory
Event input pin for e.g. tamper detection
12Bit temperature sensor (accuracy +/-1°C typ.)
VDD = 1.8V … 5.5V
RTC vs. clock crystal
At first glance, using a clock crystal on the internal oscillator of a microcontroller is cheaper than using an RTC module. This may be true if you only look at these two system components. However, if you look at the entire system, an RTC module offers many advantages, such as cost savings on batteries, buffer capacitors, switching logic, and other components. In addition, a system with an RTC module performs better in failure analysis. Read more in our article here.
Micro Crystal's RTC portfolio currently includes 13 derivatives. We would be happy to advise you on the selection for your development. Call us or send us your request using the form below.