Micro Crystal – The RV-3028-C7 is the first ultra-low power RTC-module requiring just 40nA!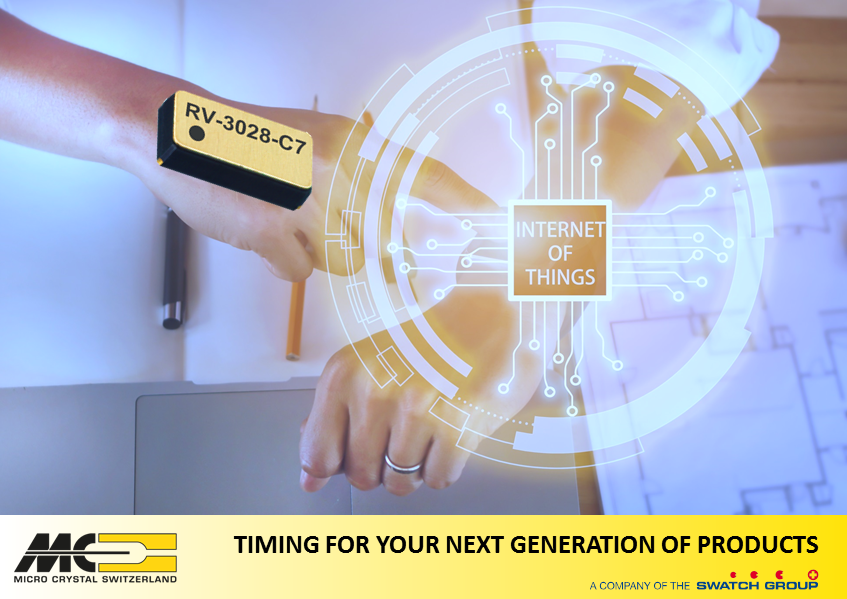 The new Real-time Clock Module RV-3028-C7 sets the new benchmark for lowest power consumption: 40 nA at a supply 3 V. The high accuracy of ±1 ppm at room temperature eliminates any calibration during manufacturing. The tiny package of just 3.5 x 1.5 x 0.8 mm combines the quartz crystal with the RTC circuit, offering also an integrated battery-back-up switch. The extreme low power consumption allows using MLCC capacitors to cover the back-up time. Together with an event detection input it features all the prerequisites for Wearables, Medical Healthcare and power sensitive IoT applications.
Industries lowest current consumption of only 40 nA at 3 V supply
Factory calibrated time reference ±1.0 ppm at 25°C
Integrated 32.768 kHz Quartz Crystal
Event input for time-stamping during system power-down
Battery back-up switch with trickle charge ideal also for MLCC and Supercap
Wide voltage range 1.2 to 5.5V
Ultra-miniature ceramic SMD package: 3.2 x 1.5 x 0.8 mm
Provides year, month, date, weekday, hours, minutes and seconds
32 bit Unix time counter e.g. for security code calculations
I²C interface 400 kHz
Specific link to the home page: http://www.microcrystal.com/index.php/products/real-time-clocks
To receive even more information like technical data sheets, samples, EVBs or price information please contact an Ineltek office within your area or contact us at info@ineltek.com.