MAS Piezo Buzzer Drivers
The MAS6240 is a piezo driver device that can drive outputs up to 18Vpp from 3V supply. It may be be used in both single ended and differential Output configurations. Moreover it features three selectable sound levels. Its similar brother the MAS6241 is a piezo driver suitable for driving self-drive type piezoelectric sounders or diaphragms.
An internal three-mode charge pump generates boosted supply voltage for the piezo driver.
Both products are available in available in an extra small 3x3mm QFN-12 package. Both MAS 6240 and 6241 are easy and low-cost solutions for piezo driving applications, since only 4 small value capacitors are needed in addition to the sound element. Therefore the use of inductors can be avoided. As consequence the inductorless design also causes significantly less disturbance to the surrounding circuits making it an ideal choice for EMI sensitive applications.
| | | |
| --- | --- | --- |
| Specification | MAS6240 | MAS6241 |
| Piezo Terminals | 2 | 3 |
| Integrated Charge Pump | x | x |
| Max. Output (Vin=3V) | 18V(pp) | 18V(pp) |
| 3x Volume Adjust | x |   |
| Package | 3x3x0.75 mm, QFN-12 | 3x3x0.75 mm, QFN-12 |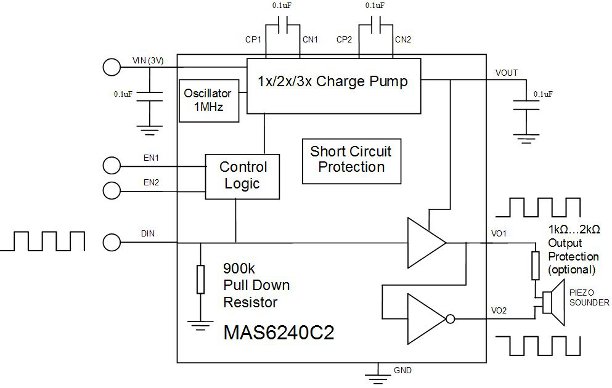 Applications
Heart Rate Monitors
Diving Computers
Watches
White goods
Energy Meters
Smoke detectors
Wireless sensors
Electronic paper
Alarm systems
To receive even more information like technical data sheets or price information please contact an Ineltek office within your area or contact us at info@ineltek.com.