SIMCom Launches Its New-Generation LPWA Module Solution – SIM7070G/SIM7080G
SIMCom offers a new-generation LPWA module solution SIM7070G/SIM7080G. The two modules both adopt Qualcomm's new-generation narrow-band IoT cellular chip – MDM9205, which supports LTE Cat M1 (eMTC), NB-IOT (NB1/NB2) and 2G/E-GPRS. It can well satisfy the demand for network connection in different vertical industries. Compared with the previous-generation SIM7000X module series, SIM7070G/SIM7080G have more highlights as the new-generation LPWA module solution: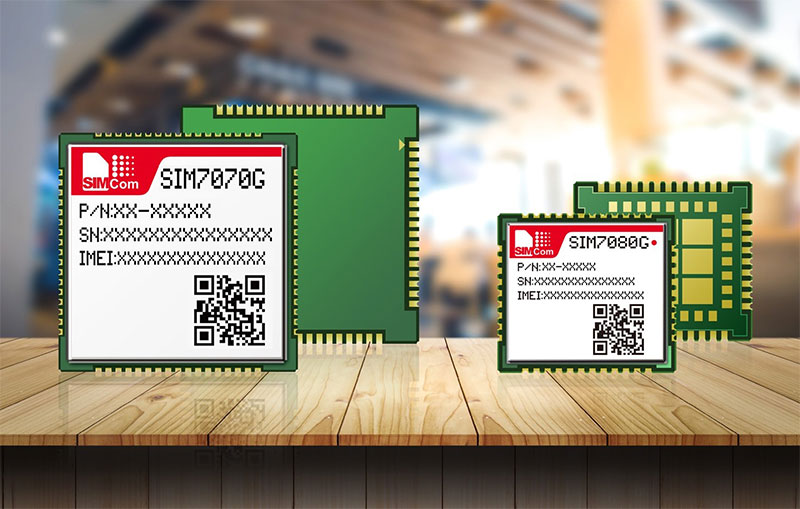 Features
Compatibility with all bands: they support a band range between 450M~2,100MHz and can meet customer demand for different network types in different countries and regions.
They support 3GPP Rel.14 LTE Cat M1(eMTC), NB-IOT(NB1/NB2); SIM7070G is compatible with 2G/E-GPRS compared with SIM7080G.
High integration: they integrate flash memory, RAM and RF front end; at the same time, the chip size is reduced by 50%, so the module cost is optimized.
Low power: compared with the previous-generation module design, their power consumption in PSM mode is reduced by 70%.
The ultra-small module size can satisfy customers in different areas of application.
They support TheadX/AliOS system, Openlinux and FOTA function, and are compatible with mainstream cloud platform systems.
They support VoLTE function and can realize single voice transmission.
They have better security protection mechanisms.
Their complete AT command set and application cases make direct use and development easier for customers.
In addition, full consideration was given to product compatibility in the design process. In terms of hardware, SIM7070 is compatible with SIM900 and SIM800F, while SIM7080 is compatible with SIM868 and SIM800C, which can prepare customers for product upgrades and evolution.
With the continuous development of LPWAN by global operators and the deepening of application in vertical industries, the new highlights of the new-generation LPWA modules SIM7070G/SIM7080G can better meet the demand of end customers for networks in different industries. We believe they can provide customers with better network connectivity in asset tracking, medical monitoring, wearable offering as well as other fields.
Product Advantages
SIM7070G:
With Power Saving Mode(PSM) and Extended Discontinuous Reception(eDRX), SIM7070G can extend battery life to 10 years.
CAT-M, NB-IoT , GPRS triple mode
The package of SIM7070G is compatible with SIM7000/SIM800F/SIM900
SIM7080G
With Power Saving Mode(PSM) and Extended Discontinuous Reception(eDRX), SIM7080G can extend battery life to 10 years.
CAT-M, NB-IoT dual mode
The package of SIM7080G is compatible with SIM868