Inova launches INAP395R APIX 2 Receiver with HDCP and touch control support
New APIX2 receiver device supports HDCP 1.4 content protection and touch screen operation.
INOVA Semiconductors, creator of APIX standard for real time gigabit links especially in automotive applications, introduced the APIX2 receiver INAP395R with touch control support and HDCP-1.4-cryptography for transmitting HD motion pictures. The INAP395R is an INAP375R pin compatible APIX2 receiver device supporting the reception of copyright protected digital entertainment content. The device incorporates the decryption mechanisms as well as the required keys to receive HDCP 1.4 encoded video and audio content over the APIX2 link.
APIX2, the current APIX technology, is a DC-balanced, AC coupled low latency, point-to-point link over shielded twisted pair (STP) copper cables. Its scalable physical layer provides bandwidth from 500Mbit/s of up to 3 Gbps at lowest EMI. The INAP395R offers a flexible video interface, optimized for TFT panels or graphic processing SoCs, with input interfaces such as parallel RGB or OpenLDI LVDS. Software adjustable driver characteristics, selectable interfaces and configurable operating modes allow maximum transmission distances of up to 12m @ 3Gbps. In addition to the video transmission, the INAP395R allows completely independent full duplex communication channels. Using the internal AShell protocol, data transfers such as panel control or touch control information are protected by error detection and retransmission mechanisms.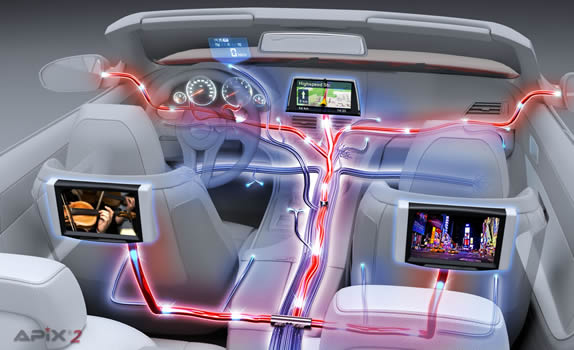 The INAP395R offers various interfaces to directly drive and connect to graphic display- or touch controllers and is optimized for Dual View Displays. Besides an I²C compliant interface, the link is optimized to carry low latency GPIO signals for reset or hardware signal switching. Various data integrity features like CRC on video data, monitoring of control signals support secure data transfer over the APIX2 link. The device is offered in a 100 pin LQFP package, and qualified according to the AEC-Q100 automotive standards.
INOVA recommends using the INAP395 receiver in combination with ADI´s ADV780 or ADV7682 device as APIX transmitter.
Please come and visit the INOVA booth at embedded world 2014 in Nuremberg. You will find there members of the management, sales people and support engineers, who will be delighted to welcome you to discuss the advantages of the APIX technology including the new APIX2 receiverINAP395R.
Features
Supports High-bandwidth Digital Content
Protection according to HDCP 1.4
Pin compatible to INAP375R
video data rates up to 2591 MBit/s
up to 187.5 MBit/s upstream link bandwidth
Supports 2 independent HDCP encrpyted video streams
Configurable video interface
– Parallel RGB (10,12,18 or 24 Bit)
– openLDI compliant LVDS interface
– Single Channel (18 or 24 Bit)
– Dual Channel (18 or 24 Bit)
– Parallel Bulk Data Mode (10,12,18,24 Bit)
Video resolutions up to HD resolutions
AShell protected full duplex communication channel
Daisy chain output to a 2nd receiver
Media Independent Interfacc
Media Independent Interface
Flexible data interface
– SPI Master/slave
– I²C Master
Optimized I²C Touchscreen controller support
Low latency GPIOs
I²S Audio interface
– supports 16/24/32 Bit word length
– supports up to 192kHz sampling
– TDM support for up to 8 channels
Diagnostic Features:
– Built-In PRBS Checker
– Embedded diagnostics
Up to 12m distance at 3 GBit/s
More detailed information please visit here
<