EM Microelectronic & Ineltek – Europe-wide distribution agreement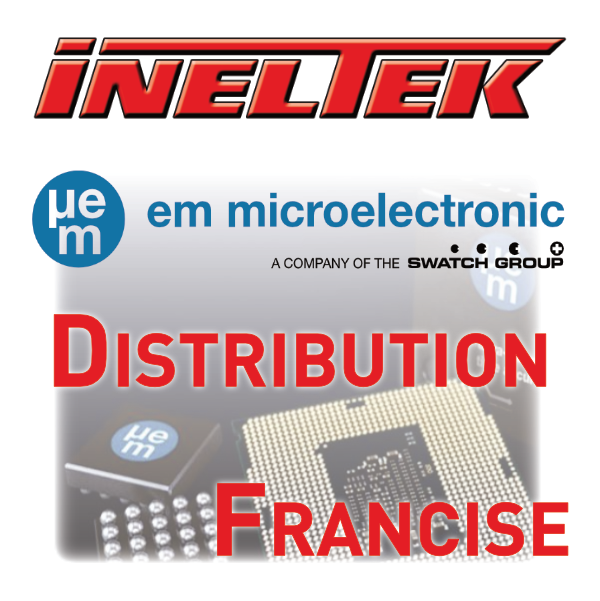 Ineltek new distribution agreement EM Microelectronic: EM, a company of Swatch Group, and Ineltek GmbH sign a Europe-wide distribution agreement
EM Microelectronic-Marin SA, begun its activities in the 1970s with the development of miniaturised integrated circuits with very low power consumption for watches.
Since 1985, EM Microelectronic has been part of Swatch Group. Starting with the electronic watch, a mass-produced product requiring very little power and low voltages, the company has entered new markets and is now a leader in supplying highly optimized electronic circuits for battery-powered and field-operated applications.
EM Microelectronic has its own semiconductor and display production facilities in Switzerland. They are headquartered in Marin (Switzerland) and have development centers in Prague (Czech Republic) and Colorado Springs (USA) as well as production facilities in Asia.
In a nutshell, EM Marin offers integrated circuits, modules and displays with extremely low power consumption and high timing accuracy.
EM Microelectronic's product portfolio includes RFID circuits, smart card ICs, ultra-low power microcontrollers, power management, LCD drivers and displays, sensor and optoelectronic ICs as well as 32-bit MCUs and standard analogue ICs.
---
EM offers comprehensive solutions from 6 major product groups
Communication
Bluetooth LE SoC
Bluetooth LE Beacons
Proprietary 2.4 GHz RF protocols
RAIN RFID
Dual-frequency RAINFC
NFC and high frequency RFID
Low frequency RFID
Interfaces / Display Solutions
Ultra-low power displays
Custom designs for display stacks with any display technology
Optical Bonding Service
Touch sensor design and integration
Coverlens design & customization
LCD drivers
Ultra-low power polyphonic sound generators
Sensing
Temperature, pressure, sensor interfaces
Capacitive, resistive sensing
Optical sensors
Humidity sensors
Magnetic sensors
Touch sensors
Sensor fusion
Timing
Real-Time clocks
Oscillators
Stepper motor driver
Energy
Thermal harvesting
Solar harvesting
RTC and sensors
Battery power management
Harvest power balancing
Battery Charger
Smart Processing
Microcontrollers (8-bit, 16-bit)
Ultral-low power, low voltage memory
Cryptography and security
If you are looking for a state-of-the-art Bluetooth Low Energy solution, a solution for integrating a display into your product or if your application has general low-power requirements, please contact us by phone or use the following form for the appropriate product selection.