Ineltek – Recommended actions for our customers and business partners on procurement situation for semiconductor components
Dear customers & business partners,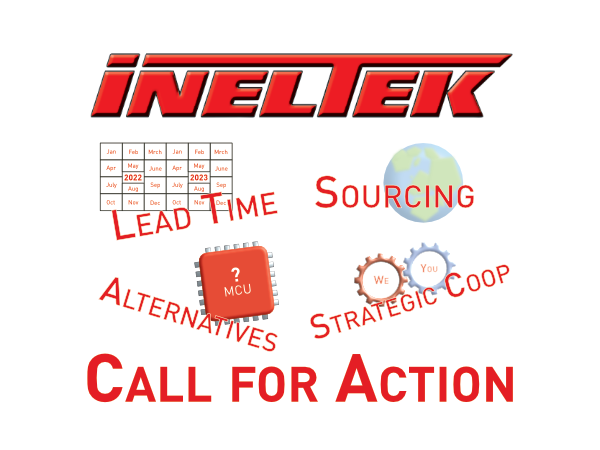 Over the past 2 years the whole world has faced the immense challenge getting the pandemic and all its consequences under control. More recently, the Russian invasion of Ukraine has added a further tragic event such as we have not experienced for decades.
With regard to the already challenging component availability situation, it is still unclear what the knock-on effects of the invasion and accompanying economic sanctions will be over the coming weeks and months.
The known consequences in the semiconductor market so far:
Delivery times of up to 24 months
Repeated postponements of goods already ordered in long-term contracts
Price adjustments due to partly daily increasing freight costs, shortage of resources, capacity assurance in the production process, and many others
Short-term EOL / PCN process of entire component families
Our service to you:
Forward-looking demand planning for your high runner articles
Working with the manufacturers we represent to find solutions for your supply situation, so that you can maintain your production process.
Evaluation on alternative components and adaptation tasks/opportunities
Evaluate new international sources of supply for all components in all categories of semiconductors.
Here the most important recommendations we have for you:
Please consider even longer-term planning in your materials procurement strategy (mandatory covering them in 2022, urgent recommendation: extending them to 2023).
In addition, place your already placed frame orders in proper time
For a detailed assessment of your assemblies, please contact our sales department.
Let us know your BOM so we can support you with

alternative sources of supply for the required component or
alternative solutions from other manufacturers
Lead time overview
At the moment we can offer you interesting delivery times for the following manufacturers within these product categories:
Bolymin
Dapu Telecom
E&E Magnetics
Epson
Espressif
FMD
Haechitech
Link-PP
Magnachip
Micro Crystal
OriginGPS
Premo
Renata Batteries
SIMCom
Zentel
Display Solutions
Timing Device Solutions
Inductive Solutions
Sensor Solutions (IMU & Gyro)
Wireless Solutions
Memory Solutions (EEPROM)
Sensor Solutions
Connector Solutions
Power Solutions (MOSFET)
Timing Device Solutions
Wireless Solutions
Inductive Solutions
Battery Solutions
Wireless Solutions
Memory Solutions (DRAM)
10 – 20 weeks
2 – 14 weeks
13 – 18 weeks
12 weeks
13 – 16 weeks
8 weeks
16 weeks
12 – 16 weeks
18 – 20 weeks
8 – 20 weeks
12 – 14 weeks
16 – 20 weeks
2 – 26 weeks
8 – 12 weeks
16 – 24 weeks

Please contact us if you would like to receive further information on the above-mentioned manufacturers.