Holtek – The ideal buck converter for every smart home application!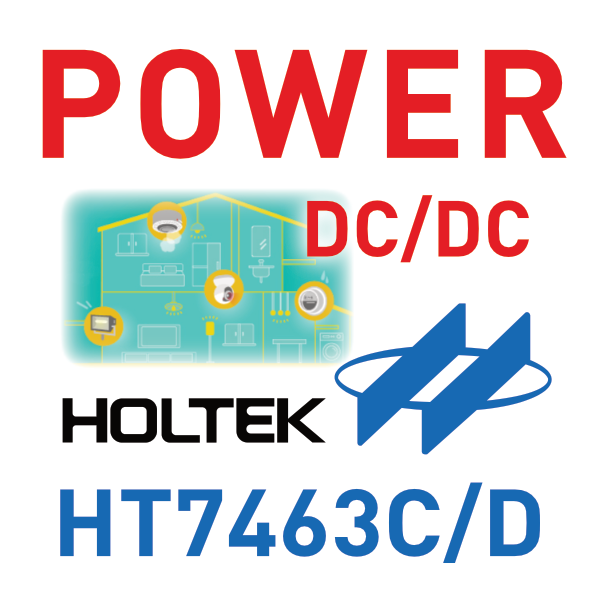 Holtek has released two new asynchronous step-down converter devices, the HT7463C and HT7463D, which are suitable for 48V systems, smart lighting, security products, smart meters and smart home appliances.
These new devices have an input voltage range of 4.5V~60V with an input voltage maximum rating of 66V. The devices are ideal for 5V/12V/24V/36V/48V input voltage applications, such as 12V/24V adaptors, 36V security bus products and 48V battery packs. With their 0.6A output current capability a stable  voltage supply for WiFi modules, PLC modules or LED application is guaranteed.
What is inside HT7463C and HT7463D?
Let us have a quick look of the key features of both:
Wide Input Voltage Range 4.5V to 60V
60V / 0.9Ω Internal Power MOSFET
600mA Peak Output Current
Up to 90% Efficiency
1.25MHz (HT7463C) and 550kHz (HT7463D)
Fixed Operating Frequency
Ultra Low Shutdown Current < 1μA
Output Short Circuit Protection
Thermal Shutdown Protection
Package Type: 6-pin SOT23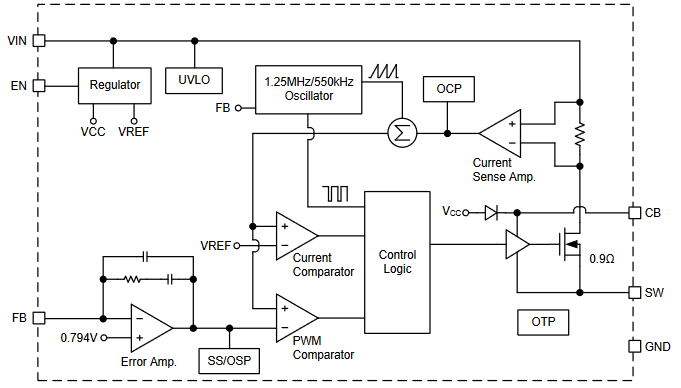 More features can be seen in the block diagram of this DC/DC converter series. For input power applications with power limitations, such as for bus power, the inrush current during power on should be limited to avoid large input voltage drops. On HT7463C and HT7463D this can be simply done by connecting resistors and capacitors to the EN pin.
Over current protection, under voltage protection, over temperature protection and a frequency fold-back funktion to limit the current on a shortend output help design engineers to realize robust power supplies with a small form factor for applications like
Power Meters
Distribution Power Systems
Battery Chargers
Pre-Regulator for Linear Regulators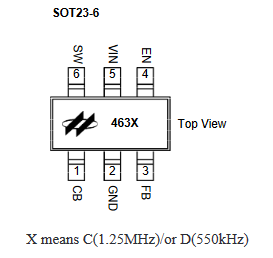 Which converter to choose?
Which converter is the correct choice? They differ in their switching frequency. The HT7463C has a switching frequency of 1.25MHz, which is suitable for applications which have a low voltage difference between their input and output and which have a low-output-ripple requirement. For smart meter applications, by using suitable inductors and output capacitors, a 1‰ output ripple value can be achieved. The HT7463D has a switching frequency of 550kHz, making it more suitable for applications which have larger voltage differences between their input and output, such as security products and 48V systems.
Finally a recommendation regarding the application circuit: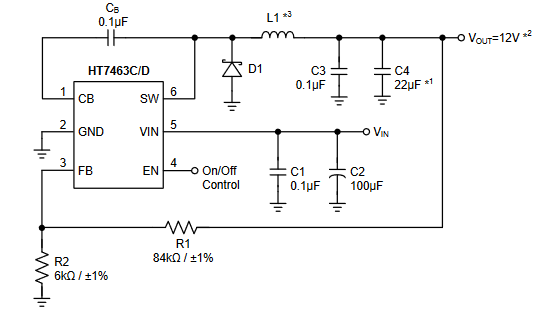 *1. C4=330μF is recommended to achieve 1‰ output ripple requirement
*2. Set R1=84kΩ and R2=6kΩ for VOUT=12V application
*3. Typically recommended that L1=22μH for HT7463C and L1=47μH for HT7463D. Electromagnetic interference situation suggest L1=100μH or more
The HT7463C and HT7463D are two new members of Holtek's power management products. AC/DC Flyback converter, synchronous, asynchronous and charge pump DC/DC converter, LDOs, voltage detectors and Li battery chargers can be found in this product group. Call us or sent us your request using the following web form