Holtek – Protect your Li-Battery with a new generation of MCUs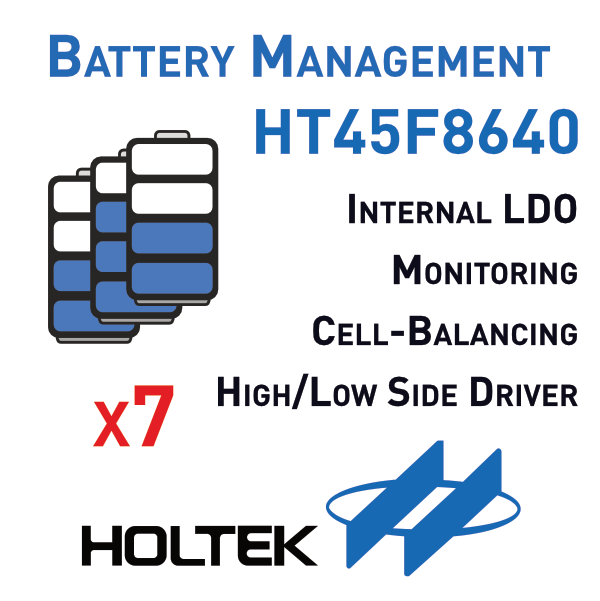 Holtek announced the release of its new second generation Li-battery protection Flash MCU, the HT45F8640. With its 4K×16 of Flash Program Memory, it further increases the comprehensiveness of the previous second generation device range of the HT45F86xx Series, namely  the HT45F8650 and HT45F8662.
This new device retains all the main characteristics of the other devices such as the Li-battery voltage detection circuitry which has an accuracy of ±24mV, a zero standby power consumption function, passive balance circuitry, high voltage MOSFET gate-drivers in addition to other functions. One special feature is that the internal LDO has an output current capability of up to 50mA. The device is suitable for 3 to 7-cell Li-battery products, such as BMS boards, power tools, wireless vacuum cleaners and so on.
A closer look at the HT45F8640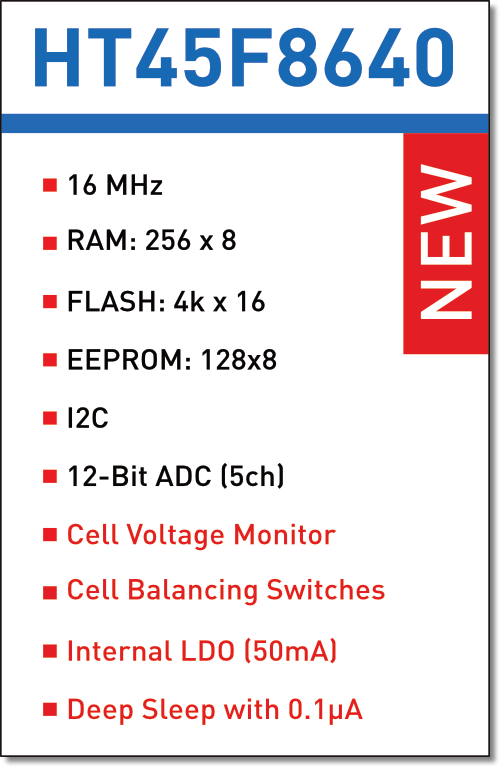 The HT45F8640 is an 8-bit high performance RISC architecture microcontroller with an integrated accumulative cell voltage monitor module, designed for Li-Battery Protection applications.
It contains 4K×16 of Flash Program Memory, 256×8 of Data Memory and a 128×8 EEPROM as well as 11 multi-function I/Os. The device includes a 12-bit multi-channel A/D converter function. For communication interfaces, it includes a fully integrated I²C interface, which can be used together with the internal IAP function to implement online program updates. An integrated low-side gate- and a high-side gate-driver enable the direct drive of external MOSFETs. The integrated zero standby power consumption and high voltage wake-up functions ensure increased battery standby times. Together with the integrated passive balance circuitry, all of these features combine to greatly reduce the number of external component requirements, which results in reduced PCB areas.
---
Core Features
Operating Voltage: 1.8V~5.5V
Power down and wake-up functions to reduce power consumption
Fully integrated internal oscillators require no external components
Watchdog timer function
Up to 11 bidirectional I/O lines
Programmable I/O port source current for LED applications
Multiple timer modules for time measure, compare match output, PWM output function or single pulse output function
Up to 5 external channel 12-bit resolution A/D converter with programmable internal reference voltage
Dual time-base functions for generation of fixed time interrupt signals
5V/50mA internal voltage regulator with ±1% accuracy
Accumulative cell voltage monitor: 7-to-1 analog multiplexer with divided ratio accuracy of 1/n ±0.5%
Internal cell balance switches
Single discharge N-type MOSFET gate driver
Single charge N-type MOSFET gate driver
Sleep mode with 0.1μA ultra-low standby current
Direct high voltage wake-up function
Package type: 28-pin SSOP
For a better overview the Block Diagram of the Series:
---
Overview of the HT45F86xx Series
As already mentioned, the HT45F8640 is not the start of the new generation. The HT45F86xx Series already includes the HT45F8650 and HT45F8662. Their biggest difference are the memory options, like a bigger flash, RAM and EEPROM. They also differ in some cases like the ADC, Multiplexer and the included drivers.
The HT45F8640 includes an ADC with up to 5 channels, while the xx50 and xx62 come with up to 8 channels. They also include 2 discharge MOSFET gate drivers.
So what to choose? If you are looking for a small and price-sensitive solution, then the HT45F8640 is the right choice. If you need more features, like more ADC channels, then go with the HT45F8650 or HT45F8662.
---
In addition to the battery management microcontrollers presented here, we are happy to advise you on components for all parts of these application. Our partners like Bruckewell, 3PEAK, Nuvoton or Qorvo offer a variety of products to simplify your next development. Call us or send us your request in the following form
---