Holtek – New 5V Arm® Cortex®-M0+ Touch MCU
Holtek's new 5V wide voltage HT32F542xx Arm® Cortex®-M0+ MCUs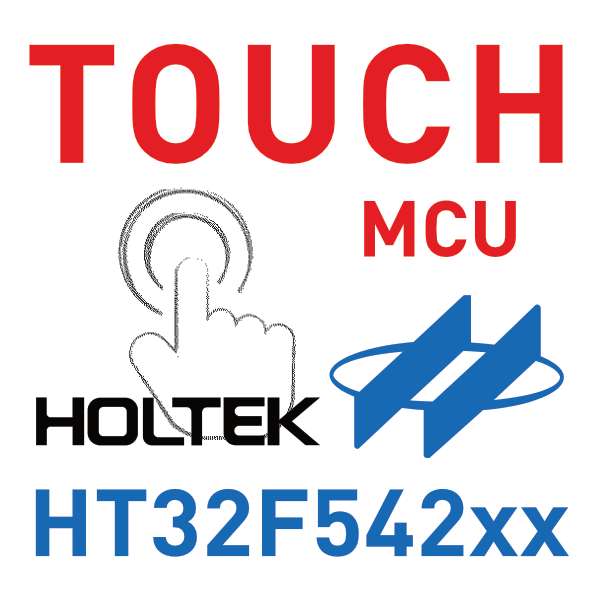 have an operating frequency of up to 60MHz and provide up to 28 touch keys, all of which have passed a conductive susceptibility 10V dynamic test. The integrated LED controller is used to drive up to twelve 8-segment LED displays.
The devices are especially suitable for use in a wide range of electrical products such as air fryers, coffee machines, rice cookers, smart door locks, washing machine panels etc. as well as a wide range of other products.
---
HT32F542xx Touch Key functionality and Features
---
The touch key function is fully integrated and requires no external components, allowing touch key functions to be implemented by the simple manipulation of internal registers. Touch Keys are organized into modules of four touch keys each. Capacity variations on the external touch pad change the frequency of the internal touch key sense oscillator. Touch actions can be sensed by measuring these frequency changes. Each touch key has its own oscillator.
Four touch key oscillator frequencies: 1 MHz / 3 MHz / 7 MHz / 11 MHz
1024 level reference oscillator internal capacitor
Single 16-bit C/F Counter
Three scan modes: Manual mode, Auto scan mode and Periodic auto scan mode
Hardware upper or lower threshold comparators
General Features
---
The HT32F54231/54241 devices contain a 32KB/64KB Flash Program Memory and 4KB/8KB of SRAM Data Memory. They also include up to 24 touch keys which have an automatic detection function in both Deep-Sleep1 Mode and Deep-Sleep2 Mode, making the devices suitable for low power consumption product applications.
Peripherals:
1x USART
2x UART
2x I²C
2x SPI
10-ch 1Msps SAR ADC
and more
This series of devices are supplied in 28-pin SSOP, 32/46-pin QFN and 48-pin LQFP package types.
The HT32F54243/54253 devices contain a 64KB/128KB Flash Program Memory and 8KB/16KB of SRAM Data Memory. They also include up to 28 touch keys.
With regard to other peripheral resources, in addition to all peripheral functions of the HT32F542x1 series, these devices provide a 6-channel PDMA and two comparators in addition, making the devices suitable for use in an even wider range of applications. The devices are supplied in 32/46-pin QFN and 48/64-pin LQFP package types.
---
Development Tools
---
Besides its standard ICE e-Link32 Pro, peripheral driver Firmware library and application example source code, Holtek will also provide a Starter Kit and touch key library for this touch MCUs. These are also fully supported by IDEs like IAR and Keil. A free Keil MDK Holtek Edition for Holtek's Cortex-M0+ MCUs is available from Keil.
Are you looking for 32-bit MCUs with touch functionality for your applications? Then contact us about the solutions from Holtek!
---