Nuvoton – Ultra Low Cost High-Performance 8051-MCU – N76E003

The new N76E003 is based on a fast 1T 8051 core, has a rich set of sophisticated peripherals and comes in very small packages.
Key Features
1T 8051 Microcontroller running up to 16 MHz
Fully Static design and 100% compatible to 8051 instruction set
Operating voltage from 2,4V to 5,5V
Operating Temperature -40°C to 105°C
Up to 18KB Flash Memory
Flexible Bootloader and EEPROM memory
1KB SRAM
16MHz RC Oscillator trimmed to 2% accuracy over full temperature range (at VCC=5V)
18 individual interrupt sources, each can be set to one of four interrupt priorities
Up to 18 GPIOs with 2-level slew rate control (Quasi bidirectional and true Push Pull modes up to 20mA/port
Two 16 bit timer compatible with standard 8051
One 16 bit timer with input capture
One 16 bit timer which can be used for UART clock sourcing
Up to 10 PWM outputs – three pairs can be used for motor control with dead time control and fault brake function
One SPI port with master and slave function
One I2C port with master and slave function
Two full duplex UARTs
One 12 bit ADC, up to 500ksps with hardware trigger and window comparator
Flexible power management and power monitoring
8 Pin interrups functions with edge/level detection
Strong ESD (g. 7000V HBM) and EFT immunity
Packages
Block Diagram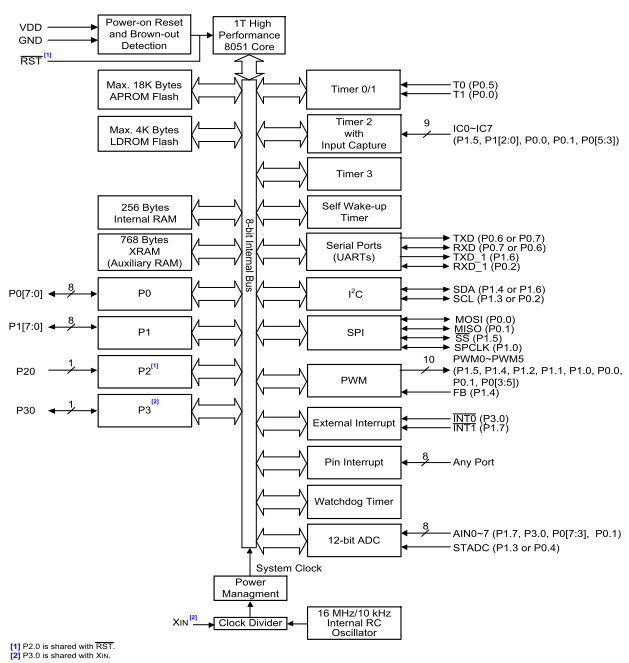 Development tools
Nuvoton On-Chip-Debugger (OCD) with KEIL development environment.
Nuvoton In-Circuit-Programmer (ICP).
Nuvoton In-System-Programming (ISP) via UART.
To receive even more information like technical data sheets or price information please contact an Ineltek office within your area or contact us at info@ineltek.com.