FMD – Fremont Micro Devices supplier for EEPROM, MCUs and more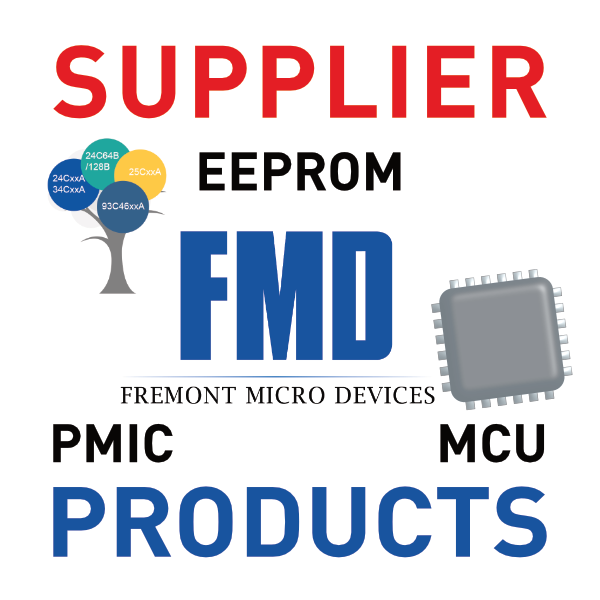 Fremont Micro Devices (FMD) was founded in 2005. The starting point of the own products was the development and research for an own EEPROM technology. Already in the founding year, the first EEPROM ICs were produced. Based on this, the first power management products were developed in 2007, NOR flash memories were added in 2013 and finally the first microcontrollers were launched on the market in 2015.
---
Product portfolio EEPROM
For many years we have been offering the EEPROM products with FMD. Here FMD has concentrated on the usual interfaces on the market:
FT24Cxxx with I2C interface / FT34xxx (with SPD function) (up to 1MHz)
FT25Cxxx with SPI interface (up to 20MHz)
FT93Cxxx with 3-Wire interface (up to 2MHz)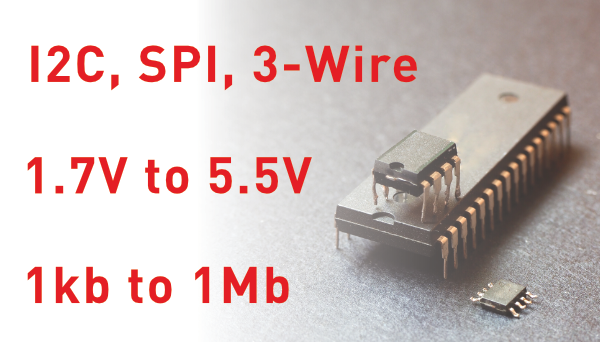 FT24Cxxx are available with memory densities from 2kb to 1Mb. SPD functionality is covered at 4kb and 8kb, 3-Wire derivatives are represented from 1k to 4k, and the FT25Cxxx between 8kb and 64kb.
The range of supply voltage is typically starting at 1.8V up to high 5.5V – a few products offer 1.7V as the lower Vcc limit.
All common package types like DIP8, SOP8, TSSOP8, MSOP8, WSOP8, DFN8 as well as SOT23-5 and TSOT23-5 are available. For space saving designs there are additional WLCSP derivatives.
With the FT24A256A1, FMD has now completed AEC-Q100 Grade 1 (-40°C to +125°C) certification in February 2023.
MCU product portfolio
The range of microcontrollers includes 8-bit as well as 32-bit types. In the 8-bit range FMD uses a RISC architecture and in the 32-bit range a Cortex-M0 core.
8-bit portfolio
The microcontroller line-up essentially includes:
Flash sizes: 1kB to 16kB
RAM: 64 bytes to 2kB
EEPROM: 128 bytes to 256 bytes
Main clock: 16MHz
I/Os: 4 to 46
VDD: 1.9V(2.0V) to 5.5V
Operating temperature: -40°C to +85°C
Package: SOT23-6, DFN6/8, SOP8 – SOP28, MSOP10, TSSOP14 – TSSOP28, DIP8 – DIP20, QFN20/32, LQFP32/44/48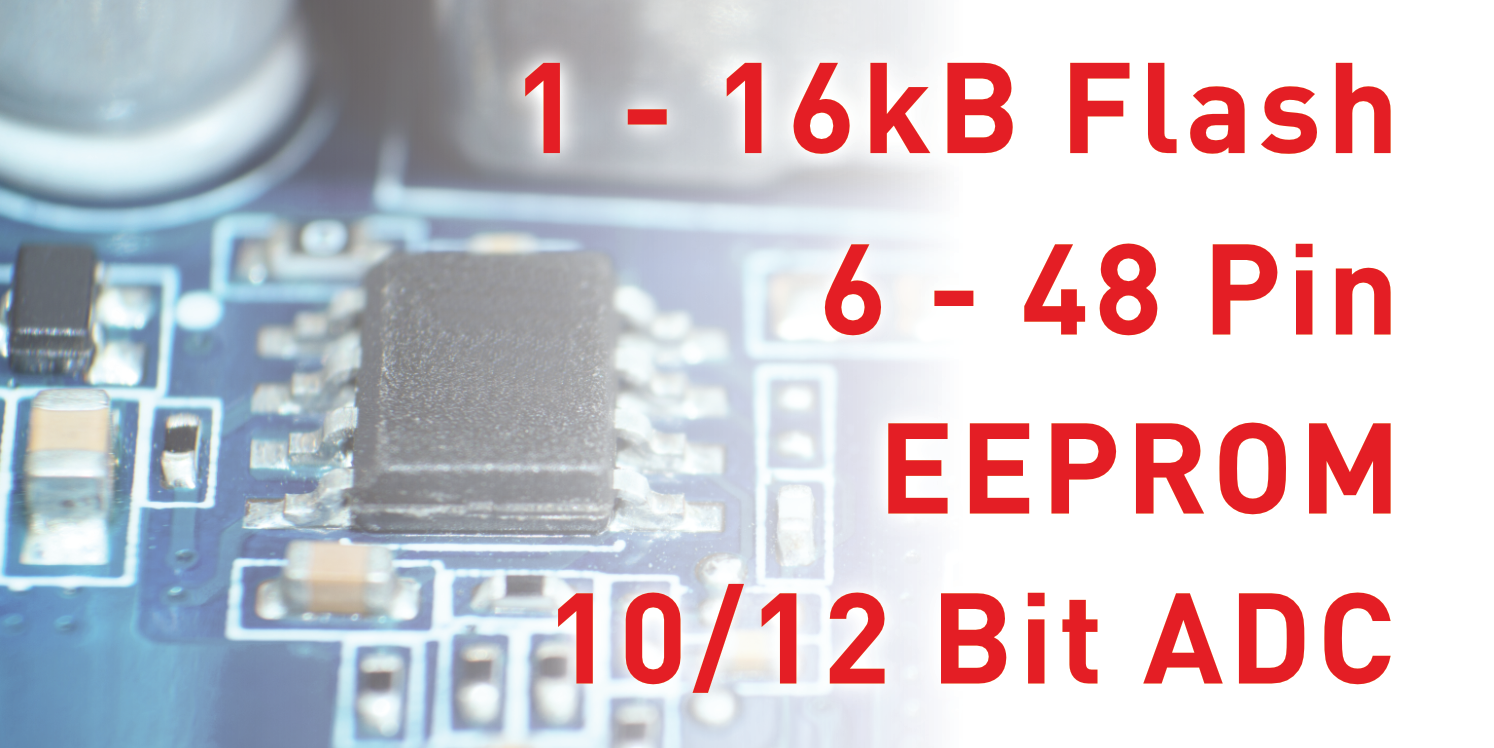 Special features of the FT60/61/62/64 MCUs are for example derivatives with small Flash and comparatively large EEPROM, e.g. the FT60F11F-MRB. It features 1kB Flash, 256 bytes EEPROM, 64 bytes RAM as well as a 16-bit timer, 3 PWM channels and 8 I/Os with high source / sink currents (<32mA / <79mA) in a space saving MSOP10 package.
Or a FT61FC20-URT in SOT32-6 with 2kB Flash, again 256 bytes EEPROM, 128 bytes RAM, 4 I/O pins, 6 timers (8 to 16-bit), 10 bit ADC @ 60kHz, 1 ECCP PWM channel (Enhanced Capture Compare PWM), 2 comparators (C2 only inverted input available) as well as LVD and LVR/BOD.
As a third example, consider the FT62F0G8A-LRB. In a 7x7mm LQFP32 package 16kB Flash, 2kB RAM, 128 bytes EEPROM, up to 30 I/O pins, 7 timers, a 12-bit ADC with 26 channels, 2 comparators, one OPA, 3 UARTs, 1 SPI, 1 I2C as well as 9 PWM channels are usable, plus an LCD controller.
32-bit portfolio
FMD's 32-bit microcontrollers integrate a Cortex-M0 core and run at 72 respectively 96 MHz. Serial interfaces like SPI, I2C and UART are available in all derivatives as well as 12 bit ADCs with up to 16 channels. The operating temperature range of -40°C to 105°C is ideally suited for industrial use.
Some derivatives (FT32F072) additionally support USB 2.0 FS device with integrated USB PHY. In addition, these also bring 1 or 2 OPAs as well as 2 or 3 comparators. Up to 24 capacitive touch channels are supported as well.
With the FT32A072RBBT3, FMD has completed AEC-Q100 Grade 1 certification in February 2023.
---
PMIC Products
FMD's PMIC product group includes AC/DC controllers, DC/DC regulators using FMD's proprietary and patented sNPN technology, LED drivers, and non-isolated buck regulators for very price sensitive applications.
In this area FMD is working on English language documentation. Please contact us directly if you are looking for products in these application fields.
---
Application specific products
A still young product line are the application specific products. In this area FMD offers the FT34C04A EEPROMs for use in DDR4/5 modules to support the Serial Presence Detect (SPD) feature according to JEDEC JC42.4 (EE1004-v). The FTSPD5118 is also a SPD EEPROM but with additional temperature sensor and SPD5 hub according to JEDEC SPD5118.
Furthermore, an 8 bit, FT61 series based, as well as 32 bit solution (FT32F030 based) for driving 3 phase motors up to 36V is available. Both integrate the drivers for the MOSFETs for motor control.
---
In addition to the EEPROMs FMD now offers more product groups not only for OEM customers. We will be pleased to inform you about further details. Contact us directly or send us your inquiry in the following form. We will then get in touch with you immediately.