DAPU Telecom – Ethernet PHY Portfolio DAP8201/11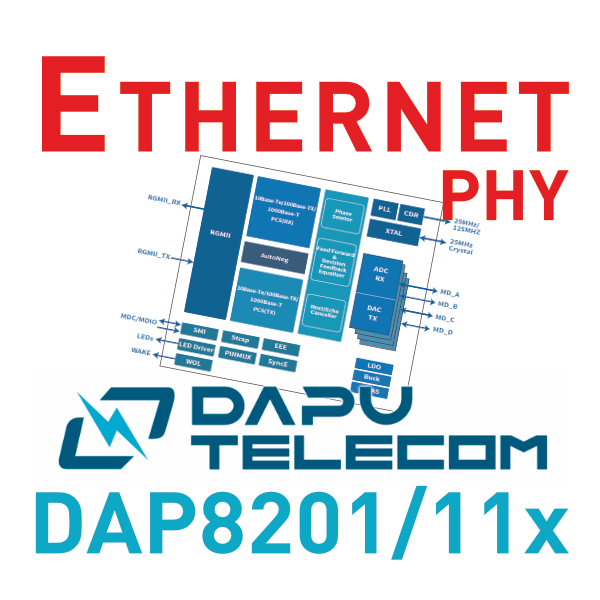 The Ethernet PHY IC portfolio of DAPU Telecom is currently being built up. A product group which is currently also difficult to source on the world market. New: The derivatives for the industrial temperature range are in mass production now!
In the following, we would like to introduce to you the currently available products from DAPU Telecom in combination with a short system overview and the offer of our partners.
---
Ethernet PHY Portfolio DAP8201/11
DAPU Telecom focuses on the design and development of products for telecommunications systems. In addition to the time/clock elements from high-precision clock modules like STRATUM Master Clock, OCXO and TCXO to silicon-based oscillators and crystals, Ethernet PHYs are also offered.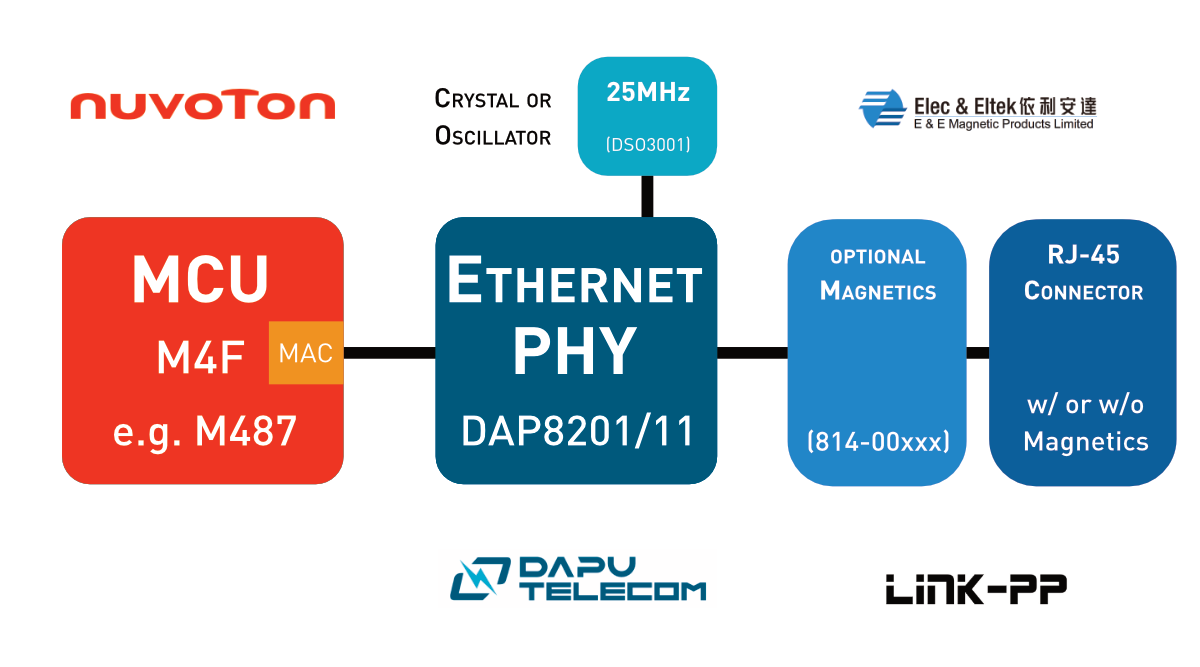 For a typical functional group in hardware with an Ethernet interface, DAPU can offer the main components PHY IC and clock. Available matching RJ-45 connectors are offered by Link-PP and Elec & Eltek.
As described above, the Ethernet PHY portfolio at DAPU is currently being built up. Available PHY ICs are the DAP8201M for 10Base-Te/100BASE-TX and the DAP8211R for 10Base-Te/100Base-TX/ 1000Base-T with an operating temperature range of 0°C to 70°C. The extension to the industrial temperature range -40°C to +85°C is now done and both grades are available in mass production. In addition, DAPU Telecom is developing products for data rates above 1Gbit.
Functions such as a power-down/sleep mode, auto-negotiation, Wake-on-LAN (WoL), automatic polarity correction, clock output for the connected MAC, simple power supply (only one VDD required) and drivers for (network) status LEDs are offered by both ICs.
Additional Spec of DAP8201M and DAP8211R
DAP8201M
MII or RMII Interface
EEE (IEEE802.3az-2010)
BLW Correction
Auto MDIX
Consumer & Industrial Grade
QFN32 (5mm x 5mm)
DAP8211R
RGMII Interface
EEE (IEEE802.3az-2010)
BLW Correction
SyncE Support
Configurable RGMII I/O voltage (3.3V, 2.5V, 1.8V)
Consumer & Industrial Grade
QFN40 (5mm x 5mm)
We will be happy to provide you with further, detailed information on request, for example to which competitor products the Ethernet PHYs DAP8201M and DAP8211R are pin-compatible. Our team is ready to help you with any further questions you may have regarding the challenging timing market.
Contact us by phone directly or send us an enquiry using the form below!
---