ETA – Powering 2W with almost no consumption, the ETA1061 Step-Up DC-DC converter
With ETA solutions we provide ICs power supply related.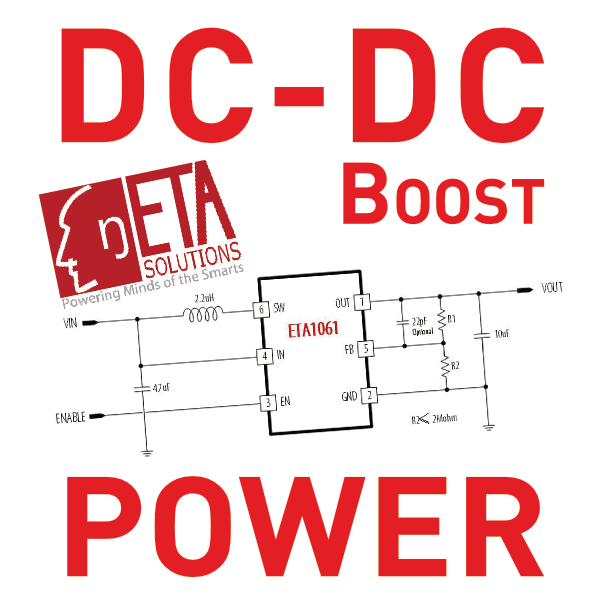 Their portfolio is spanning more than 10 categories like DC/DC converters, AC/DC, LDOs, Battery Management and PMICs. They are widely used in various market products, such as mobile phones, security equipment, smart devices, routers, Bluetooth headsets, UAV, mobile power supplies and smart home products.
Now we would introduce one of their highlight products, the ETA1061. A step-up DC-DC converter in a small package and with an ultra-low power consumption.
The ETA1061 is a high-efficiency synchronous step-up converter with ultra-low quiescent current down to 1μA. It is capable of delivering at least 2W of power from a low input voltage source (i.e.0.4A at 5V output). It also provides a true shutoff function that disconnects the input from the output, under the condition of shutdown and output short-circuit. This eliminates the need for an external MOSFET and its control circuitry to disconnect the input from output and provides strong output overload protection.
Overview of the ETA1061 core Features
Ultra-low IQ current

1uA for adjustable version
2uA for fixed voltage version

8V Startup
5V/0.4A Output Capability at Vin=3V
Up to 94% Efficiency
Internal Synchronous Rectifier
Short-circuit Protection
SOT23-6 & DFN2x2-6 Package
Fixed output voltages are available for 3.3V and 5V output voltage. The adjustable output can be anything less than 5V (considering the input voltage).
Design example: PCB layout for the DFN 2×2- 6 Pin Package
---
The ETA1061 minimizes your PCB footprint by allowing the use of tiny and low profile inductors and ceramic capacitors. An internal synchronous MOSFET provides highest efficiency and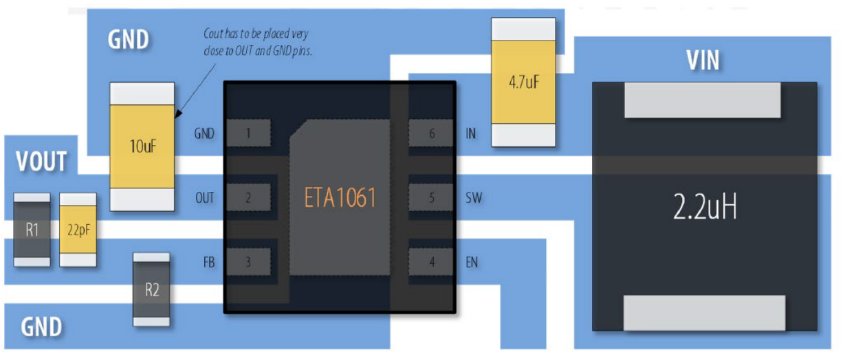 with a current mode control that is internally compensated, external parts count is reduced to minimal. With its ultra-low IQ feature, ETA1061 Step-Up DC-DC is the ideal for solution where low standby power and compact board size are required such as IoT applications (tablets, MIDs, smart phones, power banks, etc.).
---
The R2 is recommended to be 2Mohm or less, which will add about 0.5uA or more at output. The output voltage is set by following equation:

Are you convinced by the low power consumption of the ETA1061? We can support you to start your design quickly.
---