Espressif – ESP32-C5: The first ESP32 supporting Wi-Fi 6 (Dual-Band) and BLE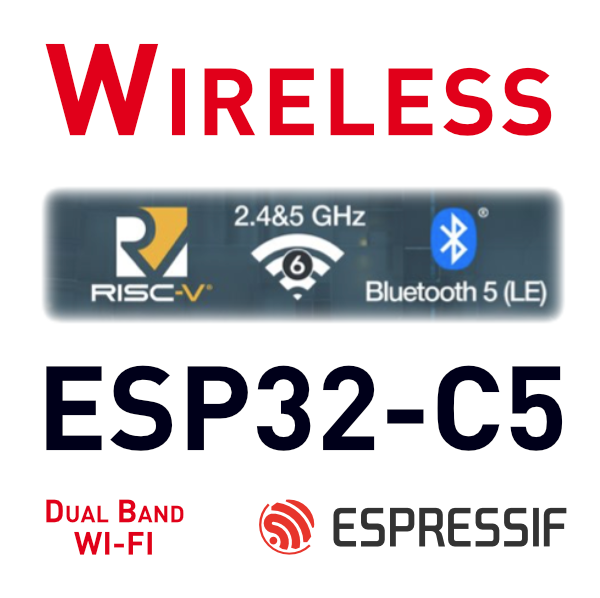 Espressif's is still going strong this year and announcesanother SoC for the upcoming year. After their newest cost-sensitive BT and Wi-Fi SoC – the ESP32-C2 – and their first Wi-Fi 6 SoC – the ESP32-C6  – they now follow up with the ESP32-C5, their first wireless SoC supporting Wi-Fi6 dual-band!
The ESP32-C5 is the industry's first RISC-V SoC solution that supports 2.4GHz and 5 GHz dual-band Wi-Fi 6, along with Bluetooth LE. It is designed for applications that require high efficiency and robustness in their wireless communication.
What comes with the ESP32-C5?
---
The ESP32-C5 SoC has a 32-bit, RISC-V, single-core processor running with a main clock up to 240 MHz. It embeds a 400kB SRAM and 384kB of ROM memory.
The external flash can be fit to the application needs for program memory. More than 20 programmable GPIOs are available, while supporting all the commonly-used peripherals and the best-in-class security features.
A SDIO 2.0 Slave interface guarantees enough bandwidth for fast data transmission.
It combines a dual-band Wi-Fi 6 (802.11ax) radio, along with the 802.11b/g/n standard for backward compatibility.
The Wi-Fi 6 support is optimized for IoT devices, as the SoC supports a 20MHz bandwidth for the 802.11ax mode, and a 20/40MHz bandwidth for the 802.11b/g/n mode
The block diagram of the ESP32-C5 gives an overview about this features.
---
Why switch to Wi-Fi6 Dual-Band?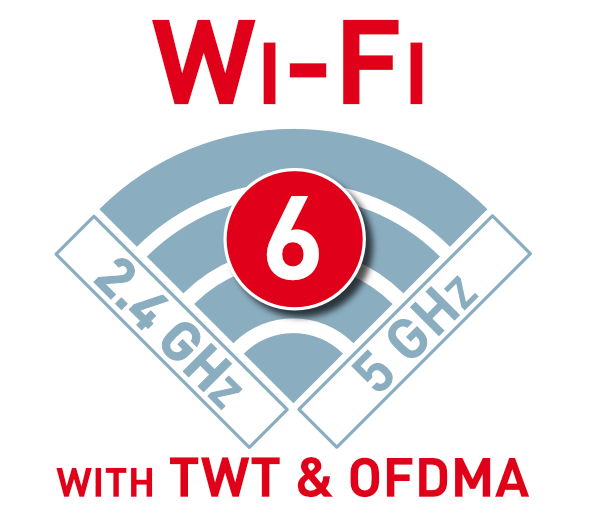 For those who are not sure whether to use 2.4GHz or 5GHz – Why switch to Dual-Band?
The support for the 5GHz band provide customers a more stable and low-latency wireless connectivity.
The 2.4GHz is used by different wireless standards and is in more common use for WI-FI capable embedded appliances. Switching to the less crowded 5GHz band brings lower interference needed for critical applications.
The 5GHz band also supports hosts of high throughput and low latency applications, such as live-streaming devices, Wi-Fi dongles, IP Cameras and more.
By integrating a dual-band connectivity into their devices, customers get the maximum flexibility, while future-proofing their solutions. It gives end-users the option to decide which IoT device has to be assigned to which band to get the highest robustness where needed.
---
Further wireless advantages of Wi-Fi 6 at the ESP32-C5
---
The 802.11ax standard (Wi-Fi 6) used in ESP32-C5 contains a variety of new added features which provide benefits especially for IoT devices. For example, ESP32-C5 supports the OFDMA (Orthogonal Frequency Division Multiple Access) mechanism for both uplink and downlink communications, as well as the MU-MIMO capability for downlink. Both of these features enable high efficiency and low latency in congested wireless environments, while also improving connectivity in high density environments.
Another important feature of the 802.11ax standard is the Target Wake Time (TWT), which allows devices to sleep for an extended time-period, with assistance from an 802.11ax-capable Wi-Fi access point. This feature makes possible the use of ESP32-C5 in battery-operated devices that can last for years, while remaining connected.
To sum it up
---
Espressif will support dual-band Wi-Fi 6 soon. Espressif's ESP32-C5 has everything you need to develop the next generation of IoT devices:
Wi-Fi for the 2.4GHz and 5GHz band
low-latency & high data-rates
new Wi-Fi 6 features like

OFDMA to omit long waiting times to transmit for devices with low data rates like IoT sensors
TWT (up to 5 years) to stay connected to the access point for long time without sending interim messages between your device and the access point
Don't hesitate to get in contact with us now. We will be glad help you to be up-to-date regarding Espressif's upcoming ESP32 products with new cores and module families!
---
Call us or sent us a short message using the following form